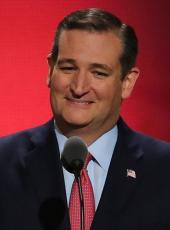 Cruz Campaign Press Release - Ted on the Trail: Sen. Cruz Completes Texas is #CruzCountry Tour Through the Lone Star State
"Cruz is the man to beat in the March 1 Texas primary"
HOUSTON, Texas – Yesterday, U.S. Sen. Ted Cruz, R-Texas, brought his presidential campaign back to his home state of Texas where he was greeted by thousands of courageous conservatives across the Lone Star State. Below is a sampling of some of the press coverage from the Texas is #CruzCountry tour:
Austin American-Statesman: Cruz Brings Crowd To Their Feet In Fort Worth, And They Never Sit Down

U.S. Sen. Ted Cruz brought an enthusiastic crowd of about 2,000 supporters to their feet Thursday at the Stockyards with his recitation of how he would set about undoing President Barack Obama's legacy on a very busy first day in the White House.
The crowd never sat down...
The crowd roared its approval, and then many surged toward the candidate, surrounding him as, one by one, family unit by family unit, he shook hands, signed books and had photos taken.
For Cruz, it was an exhilarating launch to a day of campaigning for president in his home state that would take him to an afternoon Cruz Country Rally in Tyler and a Kingwood Tea Party Freedom Rally in the evening.
Cruz is the man to beat in the March 1 Texas primary, which has the second-largest cache of delegates, behind only California.
Tyler Morning Telegraph: Texans Flock to See Cruz

Ms. Carson, who serves on the Kaufman County Tea Party Patriots steering committee, said the main draw to the senator in the crowded GOP field is the strength of his word. "He believes in the Constitution and will govern based on the Constitution," she said. "When he says something, he stands by it."
On the opposite end of the row sat 59-year-old Terry Watkins, who drove 100 miles to "cheer him on to the White House." She said it was the fifth time she heard Cruz speak. Ms. Watkins, of Bogata, Texas, said Cruz "is the smartest guy in the room." "If they give him a chance in the debates, he (will do well), because he is so intelligent."
@PatrickSvitek: .@tedcruz addresses a pretty big crowd here in Tyler — there's 800 seats, but the room holds well over 1,000.
CBS-DFW: In Texas, "Support is Extraordinary" for Cruz

Senator Ted Cruz received a hero's welcome during the start of his campaign swing through his home state of Texas. The Republican presidential candidate attracted 1500 supporters to the Fort Worth Stockyards Thursday morning. Most of them stood during his entire speech and repeatedly interrupted him with applause and cheers.
Texas is the big prize during the Super Tuesday primary on March 1, which is also being called the SEC primary. When asked if he believes he'll win most of the votes in the Lone Star State, Cruz said, "The political support we're seeing has been extraordinary here in the State of Texas. I feel we're in a strong position, but we're taking nothing for granted. We're going to continue the work to earn the votes."
@teddyschleifer: "It is good to be home," @TedCruz says as he begins his rally at a pretty loud stockyard crowd here in Fort Worth.
Dallas Morning News: 2000-plus Out to Hear Cruz's Message

Presidential contender Ted Cruz came home Thursday, telling more than 2,000 supporters at the Fort Worth Stockyards that he was the "consistent conservative" needed to move America forward.
"All across this country, Americans are waking up. And let me tell you, help is on the way," the Republican senator said as boisterous supporters waved the Cruz campaign fans given to them to help beat the outdoor heat.
Since he was elected in 2012, Cruz has become the most popular Republican in Texas and the face of the state's tea party movement.
Texas Tribune: Cruz Campaigns Hard in Texas

All but a few of the 17 GOP hopefuls have visited Texas this summer, hoping to take advantage of its expanded influence in the 2016 nominating process... While many candidates have turned to the state to fill their campaign coffers, their "fundraising has not yielded a whole lot of results," Cruz said. He went on to repeat his increasingly common boast that his campaign has reported raising nearly six times the amount of money from Texas than the campaign of former Florida Gov. Jeb Bush.
Speaking earlier with reporters, Cruz was more measured, saying he plans to "compete hard" in Texas like he does in every other state. "We're taking nothing for granted," he said.
KVTX: Cruz Has "Done Everything He Said He Would Do"

"You know, in the Texas Senate race, every political observer said we didn't have a chance," Cruz told reporters outside the event. "And the entire political establishment was against us. Just like in the presidential race, we're taking on the Washington cartel. We're taking on the career politicians in both parties."
That take no prisoners style helps to explain Cruz's appeal among the grassroots members of the party.
"He's the best conservative candidate," said Kat Fox, who traveled from Kaufman County. "He's done everything he said he would do and he sticks by his word."
Ted Cruz, Cruz Campaign Press Release - Ted on the Trail: Sen. Cruz Completes Texas is #CruzCountry Tour Through the Lone Star State Online by Gerhard Peters and John T. Woolley, The American Presidency Project https://www.presidency.ucsb.edu/node/315122