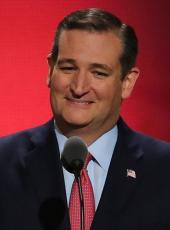 Cruz Campaign Press Release - Ted on the Trail: I Don't Respond To Insults
Cruz Stays Above the Fray as He Campaigns Across Virginia
HOUSTON, Texas — Presidential canaidate Ted Cruz campaigned at Regent University where he was greeted by a packed house. Below is a round-up of some of the coverage:
Cruz: I don't respond to insults and I'm not going to.

It was a packed house to hear Ted Cruz speak here at Regent University.
Right out of the gate, he tackled issues supporters say were important to them like Planned Parenthood and the Supreme Court.
Senator Cruz wasted no time as soon as he hit the stage...
"One more Liberal justice and the court will overturn Heller and conclude that not a single one of us has the individual right to keep and bear arms," he said.
Not only did he speak on those issues and his support in defunding Planned Parenthood, he spoke about the GOP race overall, saying attacks have become "nasty and personal".
"They've thrown some nasty insults my way. They've gone after my character. They've gone after my character. I don't respond to that. I don't respond to insults and I'm not going to."
Cruz: If we get head-to-head with Donald, we win

"If we get to a head-to-head choice between Donald and a proven conservative, we will win," Cruz told Regent Chancellor Pat Robertson Friday. "And I believe Super Tuesday will set that up."
The most emotional question of the night in the Q&A forum came from a member of the audience, who asked if Cruz would consider further action against Planned Parenthood if elected president.
"I don't think there's anything wonderful about Planned Parenthood," Cruz said. "And like anyone else, they would be prosecuted if they violated the law."
#cruz at regent university w/Pat Robertson. Cruz getting enthusiastic reception. pic.twitter.com/REabJ942Fr

— Maria Recio (@maria_e_recio) February 27, 2016
Cruz: A Trump win would be very dangerous

Texas Sen. Ted Cruz warned a receptive audience Friday night at Regent University that if he's not elected president, a liberal Supreme Court justice could be appointed.
This would, Cruz said, create a leftist court that would lead to the loss of all gun rights, the tearing down of religious text in public buildings and the legalization of all forms of abortions, while requiring government to pay for them...
"The next four days are critical. Super Tuesday, I believe, will be the most important day in this entire presidential election," Cruz said. "It is possible that Donald Trump will steamroll through with massive victories and be unstoppable. I hope that does not happen. I think that is a very dangerous outcome..."
Cruz, 46, has long been a strident critic of President Barack Obama and also has challenged fellow Republicans, accusing them of being too willing to negotiate with Democrats.
When asked by Regent Chancellor Pat Robertson what he would do first if elected, Cruz promised to launch a criminal investigation of Planned Parenthood, claiming the nonprofit is protected "by some political hack in the White House." A grand jury in Texas that was investigating the nonprofit decided last month to indict the leader of an anti-abortion group that recorded covert videos of the organization's employees.
https://t.co/Z5Fd7HLasB

Nice having Jay Sekulow and Pat Robertson coming along side #TedCruz

— Chris lady patriot (@ChrisMinshew1) February 27, 2016
Cruz: We're One Justice Away from Losing Our Rights

As Super Tuesday draws closer, Republican presidential hopeful Ted Cruz sought to rally religious liberty voters in an appearance at televangelist Pat Robertson's Regent University, warning that the wrong Supreme Court nominations could even lead to veterans' memorials being "torn down."
Cruz said that the high court is on the verge of a "left-wing majority" that would "undermine our basic rights," painting a dark picture of what could come if the balance of the high court shifts toward the Democrats...
Cruz told the audience that his father's story is why he is "so passionately opposed to Obamacare," arguing that his father would have either been laid off or been unable to earn a livable wage under the healthcare policy.
"I think our focus for everyone should be easing the means of ascent up the economic ladder, empowering them, what I've called opportunity conservatism, that every focus should be on individual responsibility, on helping people climb the economic ladder," Cruz concluded.
Ted Cruz, Cruz Campaign Press Release - Ted on the Trail: I Don't Respond To Insults Online by Gerhard Peters and John T. Woolley, The American Presidency Project https://www.presidency.ucsb.edu/node/314951