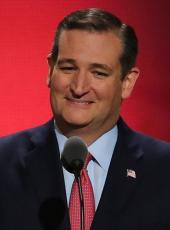 Cruz Campaign Press Release - Ted Cruz Names Bob Barr National Chair of "Liberty Leaders for Cruz" Coalition
Releases Video of Former Ron Paul Organizers Endorsing Ted Cruz for President
HOUSTON, Texas — U.S. Sen. Ted Cruz, R-Texas, today named former U.S. Congressman Bob Barr National Chair of the "Liberty Leaders for Cruz" coalition. The campaign also released a video of eight leaders in the Liberty movement who are actively working for the Cruz campaign, featuring their personal stories of why they supported Ron Paul, and why in 2016, they support Ted Cruz for President.
"The U.S. government is crushing liberty at nearly every turn. Our Constitutional rights are under attack like never before and we must fight back," Cruz said. "I am thrilled to have Congressman Barr, a proven defender of liberty in this country, chair our Liberty Leaders coalition. Bob's long history of protecting our Constitutional freedoms and his consistent, conservative record make him best equipped to lead this important coalition."
"I am truly honored to be asked by Sen. Cruz to chair 'Liberty Leaders for Cruz,'" said Barr. "More than any other candidate for President in 2016, Cruz understands that the oath the President takes is a solemn commitment to always act in accordance with the Constitution, which is after all, the mechanism whereby our individual and collective freedoms as a country are secured. It is that commitment to the Constitution and to Liberty that has drawn me to serve Sen. Cruz."
Bob Barr is Chairman of Liberty Guard, Inc., a non-profit and non-partisan organization dedicated to protecting individual liberty. He also heads a consulting firm, Liberty Strategies, Inc. From 2003 to 2008, Bob occupied the 21st Century Liberties Chair for Freedom and Privacy at the American Conservative Union. He is a member of The Constitution Project's Initiative on Liberty and Security.  He represented the 7th District of Georgia in the U.S. House of Representatives from 1995 to 2003, served as a U.S. Attorney under President Ronald Reagan, and currently practices law in Atlanta, Georgia. Additionally, he serves on the Board of Directors of the National Rifle Association and the Interactive College of Technology, headquartered in Atlanta.
The Liberty movement leaders featured in the video, in order of appearance, are listed below, followed by excerpts of their video testimonials. All are members of the Cruz for President Leadership Team and actively working to elect Sen. Cruz to the White House.
Joel Kurtinitis, founding member of Liberty Iowa, and Ron Paul 2012 Regional Director
Tony Seliquini, Campaign for Liberty Precinct Coordinator, 'Voices of Reason' Podcast Founder and Co-host
Jason Schultz, District 9 Iowa State Senator, endorsed Ron Paul in 2011
Vance Nordaker, 2012 Ron Paul supporter
Crystal McIntyre, Warren County, Iowa Supervisor
Tom German, Ron Paul 2008, 2012 County Chair
Kelsey Kurtinitis, Ron Paul 2012 volunteer, pro-life grassroots leader
Shawn Dietz, Franklin County Republican Party chairman, 2014 candidate for Iowa State Senate, endorsed by Liberty Iowa and Rand Paul
Sean Dietz: "I took notice of Ted Cruz early on when Ron Paul endorsed him in his Senate campaign... I see the same courage of conviction in him that I've seen in Ron Paul... We have to form a conservative/libertarian wall. Ted Cruz is the candidate that can do that."
Joel Kurtinitis: "There are a lot of things that impress me about Ted Cruz and the way that he's really picked up the mantle of Ron Paul in a lot of ways... And that's been a consistent message of his that it's not really a divide between left and right it's a divide between Washington and the American people... I've seen him lead against unnecessary foreign intervention, when he talked about staying out of the Syrian civil war. He led on Internet freedom, when net neutrality came up... There's really not a liberty position that he hasn't had a record on."
Kelsey Kurtinitis: "He's a champion of the constitution just like Ron Paul was... He's not afraid to stand up to leadership when leadership is wrong, regardless if they are team Republican or Team Democrat."
Vance Nordaker: "When it comes to the issue of pro-life, when it comes to the Constitution, when it comes to religious liberty, when it comes to the rule of law... he really has the full spectrum of conservative issues that he's proven that he'll fight for."
Tony Seliquini: "I think he's shown himself to be consistent."
Tom German: "I think his message matches his actions."
Jason Schultz: "Very few people can combine the principle, the communication skills, the presence, the personality... He brings together the entire movement. Evangelical, liberty, fiscal conservatives... This is the candidate we've been waiting for to come carry our message and successfully restore the hope, the promise of America."
Crystal McIntyre: "The biggest thing about Ted Cruz was I knew that he had been endorsed by Ron Paul and by Rand Paul."
Ted Cruz, Cruz Campaign Press Release - Ted Cruz Names Bob Barr National Chair of "Liberty Leaders for Cruz" Coalition Online by Gerhard Peters and John T. Woolley, The American Presidency Project https://www.presidency.ucsb.edu/node/315211