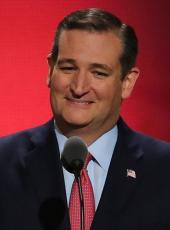 Cruz Campaign Press Release - Ted Cruz Has Been Leading the Fight to Stop the Nuclear Iran Deal
SIMI VALLEY, Calif. — Ted Cruz has been leading the fight to stop this catastrophic nuclear deal with Iran, that will in no doubt, if it goes through create a path for Iran obtaining nuclear weapons.
"The specter of a nuclear-armed Islamic Republic of Iran is the single greatest threat facing our nation, and if President Barack Obama's catastrophic nuclear deal with the mullahs goes forward, there will be nothing to stop them from obtaining a nuclear bomb," Cruz wrote in Politico.
Today I sent Senate Majority Leader Mitch McConnell and House Speaker John Boehner a letter that lays out the legal authority they possess as leaders in both Houses of Congress to actually stop this deal.

If we believe what we say about this deal—that it is a profound threat to our national security, to the survival of our friend and ally the nation of Israel and potentially to the lives of millions of Americans—then we should act like it. No show votes that are destined to lose; instead, the leadership should exercise their legal authority to actually prevent more than $100 billion from going to the Ayatollah Khamenei.

The approach I recommend entails a three-step process, and McConnell and Boehner should seize this opportunity to demonstrate leadership and make it happen.

First, both leaders should formally declare that President Obama has not submitted the agreement to Congress as required by Corker-Cardin...

Second, Leader McConnell should schedule a vote on a resolution expressing the sense of the Senate that, if the agreement had been introduced as a treaty, it would not be ratified...

Third, given President Obama's regrettable history of lawlessness, it is reasonable to assume that he will simply ignore the law and declare that he is lifting sanctions under the agreement anyway.
Ted Cruz, Cruz Campaign Press Release - Ted Cruz Has Been Leading the Fight to Stop the Nuclear Iran Deal Online by Gerhard Peters and John T. Woolley, The American Presidency Project https://www.presidency.ucsb.edu/node/315099