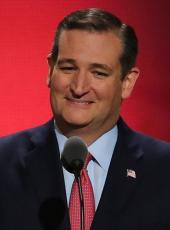 Cruz Campaign Press Release - Ted Cruz Has Been Leading the Fight to Defend American National Security and Destroy ISIS
NORTH CHARLESTON, SC – In the sixth Republican primary debate, Presidential candidate Ted Cruz pledged to defeat ISIS and keep America safe.
Cruz has introduced legislation to ban refugees from terrorist-ridden regions and to protect governors' authority to opt-out of allowing refugees to settle in their states and endanger their citizens.
"I have introduced the Terrorist Refugee Infiltration Prevention Act of 2015. This constitutionally sound, common-sense measure would immediately bar any refugee who is from any country that contains territory controlled in substantial part by ISIS, al Qaeda, or any other designated foreign terrorist organization ascribing to the radical, totalitarian Islamism dedicated to the destruction of the United States and our allies, and whose proponents find anyone who does not share their faith—from couples dining in cafes to Jews shopping in a kosher market to satirical cartoonists—equally offensive," Ted Cruz wrote.
He continued, "The American people already know the truth President Obama will not utter, which is that the threat we face is radical Islamic terrorism, not random violence. The fact of the matter is that no Christian or Yazidi has systematically executed concert-goers while shouting "Allahu Akbar." Pretending all the refugees are equally likely or unlikely to commit terrorist acts prevents us from helping those we can while protecting ourselves from a real threat. And the insistence of the Obama Administration that the terrorist threat is "not Islamic" gives no confidence that any screening mechanism they would design would actually identify the radical Islamic terrorists whose stated goal is to murder Americans.
"After the horror of Paris, it would be downright reckless not to take basic steps to protect ourselves from the threat of terrorist infiltration. It takes just one jihadist to cause enormous damage and take countless lives. This is a small, first step toward protecting America, and I will never apologize for defending this nation."
Ted Cruz, Cruz Campaign Press Release - Ted Cruz Has Been Leading the Fight to Defend American National Security and Destroy ISIS Online by Gerhard Peters and John T. Woolley, The American Presidency Project https://www.presidency.ucsb.edu/node/314887