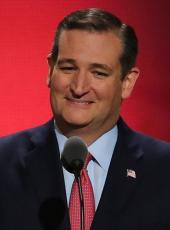 Cruz Campaign Press Release - Ted Cruz Has Been Leading the Fight Against Judicial Activism
SIMI VALLEY, Calif. — Ted Cruz has repeatedly fought to defend life and stand up for marriage when it has come under assault from activist judges.
"This week, we have twice seen Supreme Court Justices violating their judicial oaths. Yesterday, the Justices re-wrote Obamacare, yet again, in order to force this failed law on the American people. Today, the Court doubled down with a 5-4 opinion that undermines not just the definition of marriage, but the very foundations of our representative form of government. Both decisions were judicial activism, plain and simple. Both were lawless," Cruz wrote in National Review.
On the substantive front, I have already introduced a constitutional amendment to preserve the authority of elected state legislatures to define marriage as the union of one man and one woman, and also legislation stripping the federal courts of jurisdiction over legal assaults on marriage. And the 2016 election has now been transformed into a referendum on Obamacare; in 2017, I believe, a Republican president will sign legislation finally repealing that disastrous law...

Not only are the Court's opinions untethered from reason and logic, they are also alien to our constitutional system of limited and divided government. By redefining the meaning of common words, and redesigning the most basic human institutions, this Court has crossed from the realm of activism into the arena of oligarchy.

This week's opinions are but the latest in a long line of judicial assaults on our Constitution and the common-sense values that have made America great. During the past fifty years, the Court has condemned millions of innocent unborn children to death, banished God from our schools and public squares, extended constitutional protections to prisoners of war on foreign soil, authorized the confiscation of property from one private owner to transfer it to another, and now required all Americans to purchase a specific product, and to accept the redefinition of an institution ordained by God and long predating the formation of the Court.

Enough is enough.
Ted Cruz, Cruz Campaign Press Release - Ted Cruz Has Been Leading the Fight Against Judicial Activism Online by Gerhard Peters and John T. Woolley, The American Presidency Project https://www.presidency.ucsb.edu/node/315016