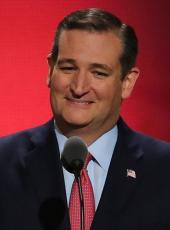 Cruz Campaign Press Release - Ted Cruz Climbs to Top of This Week's Fox News 2016 Presidential Power Index
Cruz #1 in Fox News's Weekly Analysis of Candidates' Ranking in 2016 Race
HOUSTON, Texas – Yesterday, in the weekly update of Fox News's Presidential Power Index, Digital Politics editor Chris Stirewalt offered his analysis on America's Newsroom with Gretchen Carlson for why Ted Cruz replaces Jeb Bush as this week's number one pick to win the 2016 GOP Primary, citing Cruz's strong positioning to compete for "the long haul" against the party's establishment candidate
To view the full TV segment, please click here. Excerpt of segment transcript included below:
Gretchen Carlson: Time now for the 2016 Presidential Power Index, where we look every week at who's up, who's down in the race to the White House. Well this week, there's a huge shakeup in the Republican contest. Chris Stirewalt, the Fox News Digital politics editor and author of Fox News First joins me now, as he does every Monday. Okay let's get right  to it — Ted Cruz, up one, knocking Jeb Bush out of your top spot...Why the shift Mr. Stirewalt?
Chris Stirewalt:  Jeb Bush has been number one in this index since the day it started. It has been Jeb Bush all the way along for a very simple reason, that the Republican establishment usually gets its way.  In the end, the guy with the most money and the core support of elected officials, etcetera, outlasts his challengers and wins it.
That's what's happened the last two cycles, it's what usually does happen. And Jeb Bush has been in that position — even though as many people who have emailed and tweeted, "Well this guy's in fifth place, he's not winning, why is it Jeb Bush?" – well, we care about things other than just how are you in the polls today, we care about how do you look for the long haul.
And here's how Jeb Bush looks like for the long haul right now. He looks like a guy that might be able to pull off winning that establishment wing of the party and locking that in, but Marco Rubio is a real and genuine threat to his chances to lock down that part of the party. And what that means is that Rafael Edward Cruz, Senator from Texas, that guy has a better shot if he does in fact make it to the finals against Jeb Bush to win the Republican Party's nomination.
Ted Cruz, Cruz Campaign Press Release - Ted Cruz Climbs to Top of This Week's Fox News 2016 Presidential Power Index Online by Gerhard Peters and John T. Woolley, The American Presidency Project https://www.presidency.ucsb.edu/node/315323