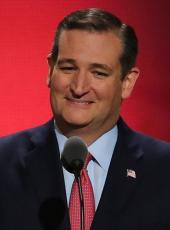 Cruz Campaign Press Release - Ted Cruz Announces Endorsement of Key Baptist Leader
Dr. Paul Chappell personally supports Cruz for President
HOUSTON, Texas — Presidential candidate Ted Cruz today announced the personal endorsement of Dr. Paul Chappell, a nationally recognized leader of independent Baptist Christians.
"I am humbled and grateful to have the support of Dr. Chappell," said Cruz. "All across the country, people of faith are waking up to realize that their values are not being represented in Washington. I am encouraged by Dr. Chappell's leadership in getting Christians to understand that they must get involved."
Cruz went on to point out that if even a fraction of evangelicals who routinely don't vote were to turnout, they could change Washington almost overnight.
"I have long admired Senator Cruz's courage, especially on issues of concern to Christians." Dr. Chappell said. "The time has come for men and women of faith to rally around righteous leaders. Our culture is wrestling with questions about life and death and good and evil, and churches and Bible-believing Christians must not be silent on such matters."
Dr. Paul Chappell is the senior pastor at Lancaster Baptist Church in Lancaster, California, which under his leadership has grown from an average attendance of twenty to become one of the largest independent Baptist churches in the country. He is also founder and president of West Coast Baptist College and Lancaster Baptist Schools. In 2000, Dr. Chappell led Lancaster Baptist Church in launching a publications ministry, Striving Together Publications, to provide leadership training materials and Christian growth resources to other local churches.
"We are thrilled to have the personal support of Pastor Chappell, and look forward to working with the more than 3 million independent Baptists promoting our shared Biblical values," said Reverend Rafael Cruz, father of Ted Cruz.
Dr. Chappell has authored 29 books, in addition to Sunday school materials and booklets. He hosts the annual Spiritual Leadership Conference, a large gathering of independent Baptists each year, with more than 2,000 pastors and attendees from all 50 states. Dr. Chappell and his wife Terrie married in 1980 and have four adult children – who are all serving the Lord in ministry with their spouses – and eight grandchildren.
*Titles and affiliations of Dr. Paul Chappell are provided for identification purposes only.
Ted Cruz, Cruz Campaign Press Release - Ted Cruz Announces Endorsement of Key Baptist Leader Online by Gerhard Peters and John T. Woolley, The American Presidency Project https://www.presidency.ucsb.edu/node/314933