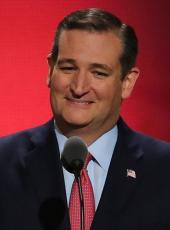 Cruz Campaign Press Release - Steve Strang Endorses Ted Cruz for President
Leading Christian Publisher: "[Cruz's] courageous conservatism is indisputable among the Republican candidates"
HOUSTON, Texas – Presidential candidate Ted Cruz today announced the endorsement of Steve Strang, founder of Charisma magazine, one of the nation's most widely circulated Christian publications. The magazine is read by more than 200,000 monthly, with four million unique online visitors per month.
In an editorial in the print edition of Charisma Magazine, Strang said, "People are beginning to wake up. There is more concern and more prayer than I've seen in years. ...Let's coalesce around one candidate who shares our values and worldview and who can win – Senator Ted Cruz."
Strang continued in an online op-ed: "Pastors and leaders, speak to your sphere of influence. Turn out for the primaries and caucuses and encourage others to do the same. The first is February 1 in Iowa. By mid-March, one of the candidates will have the momentum to go all the way. ...To me this is not about Democrat or Republican. I've been registered in both parties. It's about conservative and liberal policies that either line up with our understanding of God's Word or oppose it with public policy."
"I enjoyed our interview and am grateful to have Steve's endorsement," said Cruz. "Steve is right, people of faith cannot afford to split their vote or their influence. Together, our voices our strong – voices for religious liberty, for Israel, for economic growth, and for our Constitution. People of faith continue to coalesce around our campaign, demonstrating that this cycle, their impact will be powerful."
Steve Strang is the CEO and founder of Charisma magazine and an award-winning journalist and businessman. In 2005, he was listed by TIME Magazine as one of the 25 most influential evangelicals in America. Strang is also the founder and president of Charisma Media, which publishes a variety of Christian publications, including Spanish-language books under Casa Creacion. Charisma House, their book division, sells more than three million Christian books each year.
*Titles and affiliations of Steve Strang are provided for identification purposes only.
Ted Cruz, Cruz Campaign Press Release - Steve Strang Endorses Ted Cruz for President Online by Gerhard Peters and John T. Woolley, The American Presidency Project https://www.presidency.ucsb.edu/node/314778