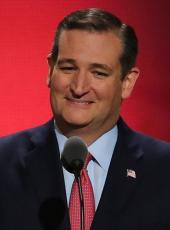 Cruz Campaign Press Release - Sen. Cruz Names U.S. Sen. Bob Smith, Congressman Jim Bridenstine, and Texas Sen. Brian Birdwell co-chairs of "Vets for Ted," Bill Connor to Serve as National Director
HOUSTON, Texas – U.S. Sen. Ted Cruz, R-Texas, today named former U.S. Sen. Bob Smith of New Hampshire, Congressman Jim Bridenstine of Oklahoma, and Texas State Sen. Brian Birdwell as co-chairs of the Cruz for President military coalition, "Vets for Ted." Bill Connor will serve as national director.
"I am humbled and proud to have Bob, Jim, Brian, and Bill leading the 'Vets for Ted' military coalition," Sen. Cruz said. "Each of these men has bravely served our country and put their lives on the line to defend the liberties we enjoy today. Their support is an honor. I am committed to ensuring our military forces are provided the resources they need to protect our homeland and promote America's interests across the globe—and to making sure we fulfill our obligations to our veterans and their families when they return home."
Sen. Bob Smith, who also serves as co-chair of Sen. Cruz's New Hampshire leadership team, enlisted in United States Naval Reserve during the Cuban Missile Crisis in 1962. He served two years of active duty with the United States Navy (1965-1967), which included one year of active duty in the Vietnam conflict aboard the U.S.S. Navasota. He afterwards served five additional years in the U.S. Naval Reserve. Smith represented the state of New Hampshire in the U. S. House of Representatives for six years (1985-1990) and the U. S. Senate for 12 years (1990-2003).
Congressman Jim Bridenstine is a decorated Navy pilot and flew combat missions off the USS Abraham Lincoln in Operation Enduring Freedom in Afghanistan, Operation Southern Watch in Iraq, and Operation Shock and Awe in Iraq. Later, he transitioned to the F-18 Hornet fighter at the Naval Strike and Air Warfare Center, the parent command to TOPGUN, where he flew "Red Air" and was also an instructor. He is currently a Lieutenant Commander in the U.S. Navy Reserve where he has flown the E-2C Hawkeye, a surveillance and operations command aircraft, in Central and South America in support of America's war on drugs. He currently represents Oklahoma's First District and serves on the House Armed Services Committee and the Science, Space and Technology Committee.
Lt. Col. (Ret.) Brian Birdwell is a decorated military veteran and Texas Senator. He is a Distinguished Military Graduate of the Lamar University Army ROTC program and served the U.S. Army in numerous training deployments and two operational deployments. During his deployment to Operation Desert Shield/Desert Storm, he was awarded the Bronze Star for Exceptional Meritorious Achievement. Birdwell is a survivor of the 9/11 terror attack on the U.S. Pentagon, which left him critically wounded and severely burned. Following 39 operations, months of hospitalization and numerous skin grafts, Birdwell made a miraculous recovery, was awarded the Purple Heart and the Legion of Merit, and went on to win special election to the Texas Senate in 2010 where he has twice been re-elected and he serves today.
Bill Connor is a decorated U.S. Army combat Infantry officer (Airborne Ranger) and served as senior U.S. military advisor in Helmand Province, Afghanistan. He is an expert in geostrategic national security issues, a member of the U.S. Counterterrorism Advisory Team, and founding partner of National Defense Consultants. A graduate of The Citadel and the University of South Carolina School of Law, Connor was a runoff candidate for Lt. Governor and a U.S. Senate candidate in South Carolina. He is also a past GOP chairman for South Carolina's 6th district. As national director of the Cruz for President military coalition, Connor will advise and direct the efforts to build-upon the already growing support for Cruz among military veterans and veteran-support organizations nationwide.
"This is a task I do not take lightly," says Connor. "Sen. Cruz has a proven record showing that he understands the criticality of shoring up and rebuilding our defenses, from securing our borders to providing for the needs of our deployed and stateside troops and their families. As president, he will protect veterans and enhance the necessary trust between our men and women in uniform and their Commander-in-Chief."
Ted Cruz, Cruz Campaign Press Release - Sen. Cruz Names U.S. Sen. Bob Smith, Congressman Jim Bridenstine, and Texas Sen. Brian Birdwell co-chairs of "Vets for Ted," Bill Connor to Serve as National Director Online by Gerhard Peters and John T. Woolley, The American Presidency Project https://www.presidency.ucsb.edu/node/315287