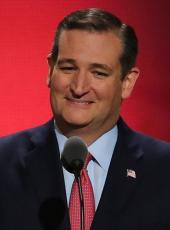 Cruz Campaign Press Release - Nevada AG Adam P. Laxalt Endorses Ted Cruz for President
Laxalt will serve as Chairman of the Cruz campaign in Nevada
HOUSTON, Texas – Today, the Ted Cruz for President campaign announced that Cruz has received the endorsement of Nevada's leading elected conservative and Iraq War veteran, Attorney General Adam P. Laxalt. Nevada's caucuses take place on Tuesday, February 23rd, and Laxalt has agreed to take on the role as Nevada Chairman of the Cruz for President campaign.
"After meeting with many of the Republican candidates for President and carefully considering their respective candidacies for office, I am proud to put my full faith, confidence and support behind Ted Cruz for President of the United States," Laxalt stated. "Ted Cruz will fight to reverse the harmful trends of this administration. We can no longer sit back and watch Washington leaders – from both parties – continue running up record deficits and debt, while rapidly growing government and its overbearing encroachment into our daily lives. Taking on entrenched bureaucrats and special interests requires courage, focus and determination. Many of our federal programs are inefficient, unfocused and unaccountable. I believe Ted Cruz has the necessary courage, focus and determination to get the job done. Like Ronald Reagan did in 1980, Ted Cruz will sweep in a new, courageous conservative movement and bring back the optimism and pride we once shared."
"I am truly honored to receive Adam's endorsement," said Cruz. "Adam has proven himself to be a great leader for Nevada. He is a principled conservative who has a great respect for our Constitution and the rule of law. Our campaign to reignite the promise of America has earned the support of thousands of courageous conservatives in Nevada, and Adam taking charge as our campaign chairman in the Silver State adds great momentum."
Laxalt is widely considered to be the top conservative in Nevada. He becomes chairman of the Nevada operation, which continues to gain the backing of conservatives throughout the state. Cruz has enlisted a grassroots organization consisting of congressional representative chairs in Nevada, as well as county chairs for all 17 Nevada counties, and 25 city/town chairs. In addition, the Nevada campaign has enlisted hundreds of precinct chairs and thousands of volunteers, donors and supporters.
Ted Cruz, Cruz Campaign Press Release - Nevada AG Adam P. Laxalt Endorses Ted Cruz for President Online by Gerhard Peters and John T. Woolley, The American Presidency Project https://www.presidency.ucsb.edu/node/315200