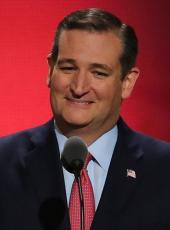 Cruz Campaign Press Release - More than 300 South Carolina Pastors and Faith Leaders Endorse Cruz for President
Cruz: Influx of Clergy Support Reminiscent of Reagan Coalition
GREENVILLE, SC — Presidential candidate Ted Cruz today announced the endorsements of more than 300 South Carolina faith leaders.
"I believe we need to reassemble the Reagan coalition, to unite conservatives and libertarians and evangelicals and women and young people and Hispanics and blue collar workers to build a grassroots army of courageous conservatives, sharing common values and reigniting the promise of America," said Cruz. "Our pastor and faith leader endorsements today are a strong signal that the Reagan coalition is in fact coming back together, especially here in the Palmetto State."
"While the endorsement of a single pastor is important, over 300 pastors and faith leaders endorsing a candidate like Ted Cruz sends an amazing message about Ted Cruz's character, his consistent conservative record, and his defense of our shared values here in South Carolina," said Pastor Mike Gonzalez, Senior Pastor of Columbia World Outreach Church and Co-Chair of the South Carolina Cruz for President campaign.
The Cruz campaign is moving rapidly in South Carolina, with volunteers making 50,000 calls a day and knocking over 7,000 doors each day. The Cruz campaign has over 11,000 South Carolina volunteers, along with hundreds of out of state volunteers helping in campaign centers throughout the state. In addition, the campaign has campaign chairs and faith leaders in each county.
Titles and affiliations of all endorsers are provided for identification purposes only. This is one in a series of releases announcing leaders of faith who support Ted Cruz for President.
Mrs. Crystal Aldridge, Women's Ministry Leader

Rev. Steven Aldridge, Pastor at Lighthouse Baptist Church

Rev. Marcus O. Almonte, Senior Pastor, Brandywine Baptist Church

Mrs. Cheryl Aloway, Adult Group Leader at Deer Park Baptist Church

Mr. Jim Aloway, Deacon at Deer Park Baptist Church

Evangelist Jose Alvarez Vargas, Traveling Minister, Belton 2nd Baptist Church

Pastor Bryan Alverson, Pastor at Solid Rock Christian Church

Mrs. Rhonda Alverson, pastor's wife & ministry leader

Mr. Dean Anderson, retired, Christian Community Activist

Pastor Brennan Aschleman, Associate Pastor at Calvary Chapel of Northeast Columbia

Rev. Xavier Baez, President of Xavier Baez Ministries

Rev. Sam Baker, Pastor at Calvary Baptist Church

Evangelist Bobby Barnes, Traveling Evangelist

Rev. David Battle, Pastor at Cameron South Methodist Church

Ms. Judy Battle, Peer Counselor

Rev. Tony Beam, Interim Pastor, VP of Student Affairs, North Greenville University

Pastor Larry Bennett, Associate Pastor at Community Bible Church

Pastor Joshua Berry, Preacher at Welcome Baptist Church

Representative Chumley Bill, Pro-Life Activist, State Representative

Mr. Adam Bishop, Street Evangelist

Pastor Todd Black, Pastor, Turning Point Free Will Baptist Church

Mrs. Christina Black, President of Women Active for Christ at Turning Point Free Will Baptist Church

Mrs. Ana Marie Blevins, Homeschool Group Leader

Mr. Lyle Blevins, Retirement Home Ministry Worship Leader

Chaplain Brian Bohlman, SC National Guard Chaplain

Mr. Bobby Bollin, Missionary at Rock of Ages

Mr. Daniel Bostic, Models for Christ

Mr. Curtis Bostic, Ministry Leader

Rev. Bobby & Joyce Bowers, retired Minister

Evangelist Michah Brackett, Gantt Street Baptist

Pastor William Bradley, Antioch Baptist Church

Rev. Walter Brigman Jr., Pastor at Redemption Church

Rev. Carl Broggi, Senior Pastor, Community Bible Church

Mrs. Audrey Broggi, Founder of National Mothering From the Heart Ministries at Community Bible Church

Dr. Mitch Brooks, Pastor at Belton 2nd Baptist Church

Mr. Javan Browder, Christian Camp Leader

Pastor Michael Brown, Pastor Church of God

Mrs. Gloria Bryant, Women's Ministry Leader

Rev. Aubrey Burton, CBC Director of Men's Ministry

Rev. Richard Busha, Blue Ridge Baptist Church

Ms. Cherie Cahoon, Community Bible Church

Mr. Tommy Caldwell, Sunday School Leader at Beacon Baptist Church

Pastor Shawn Caldwell, Home Church Pastor, Restoration Church

Pastor Wesley Campbell, Pastor at Wesley Campbell Ministries

Mr. Ryan Candill, Administrator at Florence Baptist Temple

Pastor Daniel Carpenter, Palmetto Land Baptist Church

Pastor Gene Carpenter, Palmetto Land Baptist Church

Evangelist Brenton Carr, Evangelist, Carr Family Ministries

Pastor Harley Case, Pastor at Open Bible Baptist Church

Mr. Scott Case, Christian Activist at Mt. Calvary Baptist Church, Greenville County Auditor

Rev. Kenneth Cash, Una First Free Will Baptist Church

Pastor Gordon Cashwell, Pastor at Hope Assembly of God, Director of Without Walls Ministry

Nicky & Sheri Chavers, Founders, Academy of Arts

Mr. Chris Chavis, Ministry Leader at Glory Land Baptist Church

Mrs. Sarah Chavis, Women's Ministry Leader at Glory Land Baptist Church

Rev. John R. Clayton, Retired Pastor, Church of the Nazarene

Rev. Herb Collins, Associate Pastor at Bamberg Church of God

Pastor Herb Collins, Pastor at Bamberg Church of God

Pastor William Coltrain, Pastor Riverview Baptist Church

Mr. Sidney Connelly, Church Teacher, Trident Baptist Academy

Pastor Sam Conover, Missions Pastor at Heritage Bible Church

Mr. Scott Cooper, Pro-Life Activist

Pastor Michael Corley, Youth Pastor at Restoration Church

Pastor Steve Croot, Anchor Baptist Church

Pastor Joey Curado, Pastor at Calvary Baptist Church

Rev. Allen Davis, Church Planter Lighthouse Baptist Church

Mr. Stan Dawson, Adjunct Professor at Charleston Southern University

Dr. Wayne & Mrs. Anita Dickard, Evangelist

Rev. Daniel Duncan, Assistant Pastor, Liberty Baptist

Pastor Shem Durham, Pastor at Cannon Mtn. Baptist Church

Pastor Gerald Eaves, Pastor at Lancaster Faith Baptist Church

Rev. Mitchell Edge, Pastor at FWB Church

Pastor Gary Edwards, Pastor at Landmark Baptist Church, Easley

Pastor Bill Egerdahl, Pastor, Grace Baptist Church

Pastor Matthew Egerdahl, Youth Pastor, Grace Baptist Church

Dr. Nse Ekpo, Homeschool Leader, Christian Activist

Pastor Chris Ellis, Pastor, Truth Independent Baptist Church

Mr. David Ellison, Leader of Vets for Jesus

Dr. David Entrekin, Professor of Economics

Mr. Nathan  Farmer, Teen Ministry Leader at Gethsemane Baptist Church

Youth Pastor Tyler Flemming, Youth Pastor at Turning Point Free Will Baptist Church

Mr. Ricky  Forschner, Director of Communications at Community Bible Church

Pastor Sean Fortner, Pastor at First Free Will Baptist Church

Pastor Tony Foster, Pastor at Restoration Worship Center

Pastor Michael Frisina, Senior Pastor at Calvary Chapel Northeast Columbia

Rev. Gabriel Galdo, Pastor at Grace Alliance Church

Ms. Betty Gaskins, Deer Park Baptist Church Management Team

Ms. Claudia Gay, Lay Leader, Community Bible Church

Mr. William Gay, Lay Leader, Community Bible Church

Mr. Kurt Gerstenberger, Sunday School Teacher at Gethsemane Baptist Church

Pastor Jermaine Geter-Samon, Youth Minister at Columbia World Outreach

Ms. Laura Godwin, Nightlight Christian Adoption

Ms. Anabell Gonzalez, Women's Co-Director, Columbia World Outreach Church

Ms. Dawn Gonzalez, Women's Ministry Director at Columbia World Outreach Church

Pastor Mike Gonzalez, Senior Pastor, Columbia World Outreach Church and Chair, South Carolina Pastor's Alliance

Rev. Carlos Gonzalez, Associate Pastor, Columbia World Outreach Church

Rev. Tracy Gooding, Pastor, Bay Springs Baptist Church

Rev. Barry Goodman, Pastor at Faith Baptist Church

Rev. Chris Gray, Senior Pastor, Gnoree Baptist Church

Chaplain Steve Greene, Prison Chaplain at Joel Baptist Church

Mrs. Debbie Greene, Ladies Prison Ministry Leader at Joel Baptist Church

Rev. Ricky Griffin, Evangelist

Mr. Leonard Griffin, Church Ministry Leader

Mr. Joe Grimaud, Board Member, Tony Evans Ministries

Mrs. Gladys Grimaud, Board Member, Tony Evans Ministries

Mr. Edward Gross, Dr. Vanguard Global Network

Rev. Jeff Gulish, Pastor at Westchester Baptist Church

Senior Pastor Michael Gullatte, Christ for the Nations Church

Pastor Tim Hackett, Pastor at Fairview Free Will Baptist Church

Col. Frank Hall, WWII Veteran, Faith Leader

Rev. Ray Hamilton, Minister of Hospitality at Turning Point Free Will Baptist

Dr. Al Harley, Psychiatrist Biblical Counseling, Florence Baptist Temple

US Army Chaplain Darrell Harlow-Curtis

Pastor Carroll Harrison, Pastor South Greenwood Assembly of God Church

Ms. Caren Harvey, Community Bible Church Financial Ministry

Rev. David Harvey, Pastor at Arrowhead Valley Baptist

Pastor Steve Hassell, Pastor, Goodrich Baptist/Working Charleston Campaign

Pastor Michael T. & Debra Haynes, Trident Baptist Church

Rev. Michael & Heidi Haynes, Associate Pastor at Trident Baptist Church

Mrs. Charlotte Hendrix, Lay Leader, Florence

Mrs. Julie Hershey, Live Free Inc., Greenville

Pastor Elton Adam Hinson, Pastor at First Free Will Baptist Church

Rev. William Hoff, Pastor, Life Baptist Church

Mr. Joseph Holcomb, Owner of Just Jesus Radio

Rev. Jack Holden, Retired Pastor

Rev. Tim Huckaby, Burnsview Baptist Church

Ms. Kay Hucks, Christian School Teacher

Pastor Micah Hucks, Bread of Life Tabernacle

Mr. Chad Hutchins, Lay Leader

Pastor Christopher Jackson, Riverside Baptist Church

Pastor Robert Jarvis, Pastor at Welcome Baptist Church

Rev. Don Johnson, Minister of Church Administration, Harbour Lake Baptist Church

Rev. Todd Johnson, Pleasant Grove Baptist Church

Pastor Jeffrey Johnson, Pastor at Restoration Church

Jeff Johnson, Minister of Education, Florence Baptist Temple, South Carolina

Pastor Jay Johnson, Pastor at Cedar Grove Baptist Church

Rev. Michael Jones, USAF-Retired

Dr. Bob Jones III, Chancellor, Bob Jones University

Mr. Gary Jordan, Ministry Leader, Norland Baptist Church

Ms. Iris Jordan, Ministry Leader

Rev. Jeff Jowers, Associate Pastor at Mount Mariah Baptist Church

Rev. Max Kaster, Pastor at Calhoun Baptist Church

Mr. Charles Kelcy, Sons of Abraham

Mrs. Deborah Kelcy, The Church of God

Pastor Jeff Kelley, Grace Baptist Church

Mrs. Phyllis Kelley, Christian Activist

Dr. Tommy Kelly, President South Carolina Baptist Convention & Pastor at Varnville First Baptist Church

Mr. Jay Kilmartin, Lay Leader

Rev. Allan Kircher, Pastor at Shell Point Baptist Church

Prof. Dan Kirsop, Music Professor at Bob Jones University

Mrs. Jamie Kneale, Administrator Colonial Christian Academy

Ms. Lana Koenig, Lee Road Baptist Church

Ms. Barbara Krell, Outreach Director at Refreshing Springs Church

Ministry Leader Bobby LaBombard, Ministry Leader at Gethsemane Baptist Church

Rev. Malcolm Lance, Highland Baptist Church

Mr. Nelson Lara, Deacon at Trident Baptist Church

Rev. Tim Larrimore, Pastor at Liberty Free Will Baptist Church

Mr. Geoffrey Lawson, Deacon at Community Bible Church

Rev. Cliff Leonard, New Providence Baptist Church

Pastor Matthew Leszczynski, Worship Pastor at Community Bible Church

Rev. Gene Scott Lewellen, Walnut Hill Baptist Church

Mr. Charles Lewis, Founder/Moderator, Save America Summit

Ms. Blake Lindsey, Director of Broadcasting GGR Radio

Ms. Melody Lindsey, Director of Child Care Services, Gethsemane Baptist Church

Rev. Brad Lindsey, Minister of Music, Gethsemane Baptist Church

Dr. Peter Link, Associate Professor at Charleston Southern University

Rev. Richard Lister, Pastor of Electric City Fellowship

Ms. Wanda Lloyd, Liberty FWB Church

Rev. James Locklair, Pastor at Clifton Church of God

Monsignor Ed Lofton, State Chaplain, Knights of Columbus and Parish Priest, St. Theresa Catholic Church

Rev. Brent Logan, Pastor at Liberty Baptist Church

Evangelist Doug Lowery, Evangelist, Heart Lifting Ministries

Mr. Josiah Magnuson, Americans for Constitutional Government

Dr. John Matthews, Cornerstone Fellowship Freewill Baptist Church

Rev. J. Philip McAlister, Pastor, Geer Memorial Baptist Church

Pastor Roger McCullough, Mt. Olive Baptist Church

Mr. Robert  McIntire, Christian Biker Leader & U.S. Navy Veteran

Mrs. Kristin McIntire, Midway Baptist Church

Ms. Gaye McNair, Women's Ministry Leader

Pastor Larry Melton

Pastor Frankie Melton, Pastor at Health Springs Baptist Church

Rev. Frankie Melton, South Carolina Pastors Alliance

Pastor Bill Monroe, Senior Pastor, Florence Baptist Temple and Past President, Baptist Bible Fellowship

Rev. Alex Morales, Columbia World Outreach

Rev. Jim Murray, Pastor at Forest Hills Independent Baptist Church

Representative Wendy Nanny, National Co-Chair, Pro-Life Coalition for Cruz

Dr. Paul Noe, Sweet Water Baptist Church

Mr. Jon Orcutt, Lay Leader

Mr. Walter Overbay, Deacon at First Baptist

Ms. Evelyn Owens, Children's Ministry, Community Bible Church

Dr. Skip Owens, Pastor at Calvary Baptist, former president of the SBC, and Retired Director of Denominational Relations at Southern Baptist University

Pastor Wayland Owens, Pastor at 1st FWB Church

Rev. Michael & Mrs. Bonnie Parnell

Rev. Jake Patterson, Pastor at Hurricane Baptist Church

Mr. Charles Peacock, Evangelist

Pastor Tony Pettit

Rev. Joel Phillips, Pastor Northside Baptist Church

Rev. Cliff Phillips, Pastor Highpoint Baptist Church

Rev. Kevin Phillips, Former Pastor, Retired Army Officer

Rev. Rob Pierce III, Pastor at Summerton Baptist Church

Mr. Rufus Pinckney, Greater Work Ministries

Rev. Wesley Pittman, Pastor

Rev. Bryan Plyler, The River Church, Lead Pastor

Rev. Ronnie Powell, South Carolina Pastors Alliance

Mr. Tony Powers, Christian Radio Talk Show Host

Youth Pastor Mitch Prosser, Harvest Baptist Church

Pastor Donald C. Prosser, Providence Baptist Church

Mr. Nathan Randall, Sunday School Teacher at Gethsemane Baptist Church

Mr. Gregory Rankin, Lay Pastor and President Engineering Consulting Firm

Mr. James Ray Richburg, Head Deacon at Cornerstone Fellowship Baptist Church

Mrs. Francis Richburg, Rep President Ladies Auxillary Cornerstone Fellowship Baptist Church

Rev. Randy Riddle, Pastor at Grace Presbyterian Church

Rev. John Riddle, Pastor at Westminster Presbyterian Church

Pastor Bill (W.C.) Rigsby, North Anderson Baptist Church

Mr. Jeff Riley, Ministry Leader and Special Olympics Representative

Mr. Justin Riley, Ministry Leader at Glory Land Baptist Church

Pastor Buddy Robbins, The Bridge Church

Pastor Glen Robinson, Church of Deliverance

Pastor Jimmy Robinson, Glenwood Baptist Church

Mr. Peter Robyn, Founder, Founder, History Strips

Reverend Alvin Rogers, Jr., Pastor at 1st Pentecostal Holiness Church

Pastor Kevin Rogers, Pastor at Joel Baptist Church

Rev. Robert Ryggs, Grace Baptist Church

Mr. Sean Andre Samon, Elder of Ministry Board, C.W.O. Ministry Leader

Dr. Terry Sartain, Calvary Chapel

Rev. Richard Saxon , Church of God Representative, Ministry to Israel

Rev. James R. Saxon III, Church of God

Mr. Greg Schafer, Deacon at Trident Baptist Church

Ms. Anne Schell, His Song and Greenville for Life

Pastor Joe Seay, Pastor, El Bethel Baptist Church

Mr. Peter Simms, Christian Activist

Pastor Bryant Sims, Pastor at First Mount Mariah

Ms. Penny Smalls, Columbia World Outreach Leadership

Rev. Larry Smalls, Associate Pastor, Columbia World Outreach

Rev. Jeremy Smith, Pastor at Whitefield Baptist Church

Pastor Vince Smith, Community Bible Church of Beaufort

Father Steven Smith, Episcopal Church of the Atonement

Rev. Al Smith, Pastor at Pinecrest Baptist Church

Representative Gary Smith, Pro-Life Activist

Pastor David Snodgrass, Pastor at Camden Nazarene

Rev. Bill & Mrs. Deborah South, Pastor, Pleasant View Baptist Church

Mr. Jarred Spencer, Deacon, Independent Baptist Church

Rev. Wayne Stafford, Pastor, Pilgrim's Way BC

Pastor David J. Stanton, Youth Pastor, Goodrich Baptist Church

Rev. James W. Starr, Vision 2020 Asia

Rev. Tony Stephens, Associate Pastor at Harbour Lake Baptist Church

Rev. Sid Stewart, Director Emeritus of Haven of Rest Ministries

Ms. Patricia Stewart, Christian Activist

Rev. Mary Stoney, Senior Pastor of LP Ministries

Mr. Craig Stouffer, Ministry Leader at Faith Baptist Church

Mr. Nathan Stouffer, Ministry Leader at Faith Baptist Church

Rev. N. Titus Stracener, Preacher, Missionary

Mrs. Susan Swanson, Augusta Care Pregnancy Center

Pastor Andy Thomas, Pastor at New Life Fellowship

Mr. Steve Thomas, Trustee at Cornerstone Fellowship Baptist Church

Ms. Elizabeth Tindall, Women's Ministry Leader at Glory Land Baptist Church

Pastor Dennis  Tolley, Pastor at Gaffney Freewill Baptist Church

Rev. Johnny Touchet, Pastor at Mount Mariah Baptist Church

Pastor Frank Townsend, Pastor at Concord Baptist Church

Rev. Darren Truel, Mission Pastor, Gethsemane Baptist Church

Rev. Travis Tucker, Music Director

Pastor Randy Valandingham, Rejoice Aiken Fellowship

Dr. Robert F. Vallair, Chaplain

Rev. Joe  Vaughn, Pastor at Faith Baptist Church

Rev. Ed Vernoy, Pastor of Care Ministry at Community Bible Church

Rev. Donnie Vick, Pastor

Pastor Todd Vick, Pastor, Calvary Baptist Church

Ms. Glenda Ware, Retired, Bessemer City First Baptist Child Care Ministries

Evangelist Bradley Wasson, Lexington Baptist Teacher and Evangelist

Pastor Steve Waters, Patterson Springs Baptist Church

Rev. Chad & Mrs. Cheryl Watson, Glory Land Baptist

Mr. Randall Watson, Director of Multimedia at Glory Land Baptist

Ms. Brittany Watson, Prison Ministry Leader at Joel Baptist Church

Mrs Lisa Watson, Church Secretary

Mr. Chip Watson, Church Leader

Mrs. Pat Wavle, Christian Leader & School Teacher

Pastor Jamie Weatherford, Pastor at Midway Baptist Church

Rev. Wesley Webb, Grace Baptist Church

Pastor Jo Ann Welch, Truth Pentecostal Holiness Church

Reverend Darby Welch, Truth Pentecostal Holiness Church

Rev. Andy Wells, Galilee Baptist

Rev. Aaron Wells, Associate Pastor at Galilee Baptist Church

Ms. Leah Whatley, Lay Leader & Christians for Israel Activist

Pastor Mark White, Pastor at Christian Assembly

Rev. Chris White, Missionary to Japan

Mr. Earl Whiteley, Deacon at Deer Park Baptist Church

Mrs. Jackie Whiteley, Children's Choir Director at Deer Park Baptist

Rev. Stephen (Scott) Williamson, Pastor at Gethsemane Baptist Church

Elder Wayne Williamson, Elder at Gethsemane Baptist Church

Pastor Scott Williamson, Song Leader at Gethsemane Baptist Church

Mrs. Jennifer Williamson, Leader of Women's Ministry at Gethsemane Baptist Church

Rev. Alfred Willis, Pastor, Life Baptist Church

Pastor Rhett Wilson, Pastor, The Spring Church

Pastor Steve Winburn, Pastor, Faith Holiness Church

Rev. Ted Windham

Youth Pastor Brian Winebrenner, Youth Pastor at Turning Point Free Will Baptist Church

Mr. Ken Wingate, Lay Leader

Mr. William Wiseman, The Oak Initiative

Rev. Kenny Wood, Pastor at McKown's Mtn. Baptist Church

Rev. Wm. Byron Wood, Holiday Church

Rev. Bob Woodard, SC Pastors Alliance

Ms. Alicia C. Wrenn, Allison Creek Presbyterian Church Webmaster

Mr.  Steve Yaffe, The Oak Initiative

Mrs. Marcia Yaffe, The Oak Initiative

Dr. Freddie Young, Senior Pastor, Grand Strand Baptist Church

Pastor David Young, Pastor at Antioch Baptist Church

Rev. Marshall Young, Associate Pastor at Harbour Lake Baptist Church

Pastor John Yount, Retired Pastor
Ted Cruz, Cruz Campaign Press Release - More than 300 South Carolina Pastors and Faith Leaders Endorse Cruz for President Online by Gerhard Peters and John T. Woolley, The American Presidency Project https://www.presidency.ucsb.edu/node/314703