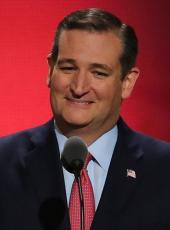 Cruz Campaign Press Release - Kelly Shackelford: "Cruz is Number One on Religious Liberty"
Endorses Ted Cruz for President
HOUSTON, Texas — Presidential candidate Ted Cruz today announced the endorsement of Kelly Shackelford, a top religious liberty litigator and spokesman for more than a quarter century.
Kelly Shackelford is the President and CEO of Liberty Institute, one of the nation's largest legal organizations dedicated entirely to defending and restoring religious liberty. He is a constitutional scholar who has argued before the U.S. Supreme Court, testified before Congress on constitutional issues, and won three recent landmark First Amendment and religious liberty cases. Texas Lawyer named Shackelford one of the 25 greatest Texas lawyers of the past quarter century. He is a frequent speaker and commentator on national news.
"For me, the number one issue is religious liberty, and on that issue the choice is easy," Shackelford said. "Ted Cruz not only believes in religious liberty, he champions it. I have fought alongside him and watched his willingness to sacrifice for our first freedoms. His brilliance, his understanding, and his proven commitment — not just words — are unequalled in this race. I don't have to worry about what he will do: I've watched him do it in battle. As someone who has been committed to fighting for religious liberty for over 26 years, I wholeheartedly endorse Ted Cruz for President. He is the clear choice."
Under Shackelford's leadership, Liberty Institute has become a legal powerhouse. A non-profit, they coordinate a national network of top attorneys who donate time to defend the religious liberty of vulnerable Americans at no cost to them. Liberty Institute is focused on defending the religious liberties of Americans in four key areas of attack – schools, churches, the military, and the public arena — and has a 90 percent win rate.
"Kelly has long been a friend – now I'm happy to have him as an ally in our campaign for the presidency," Cruz said. "Religious liberty is unquestionably the most important issue to people of faith in this election cycle. I have spent my career defending religious liberty, and I am pleased to have so many veterans of religious liberty leading our team. As radical ideologues around the world demonstrate increasing hostility toward people of faith, Americans want a president dedicated to defending our first freedoms."
During his tenure as Texas Solicitor General, Cruz defended "Under God" in the Pledge of Allegiance, the Ten Commandments monument, and a cross erected by veterans in the Mojave Desert. Cruz galvanized support for the Houston pastors subpoenaed by their mayor in 2014 and authored an amicus brief defending Hobby Lobby in January of that year. He introduced and successfully passed two amendments to the NDAA in the US Senate to protect the religious liberty of service members.
In Iowa in August and in South Carolina in November, Shackelford praised Cruz for championing religious liberty rights at two rallies for religious liberty hosted by Cruz in the early-voting states.
Ted Cruz, Cruz Campaign Press Release - Kelly Shackelford: "Cruz is Number One on Religious Liberty" Online by Gerhard Peters and John T. Woolley, The American Presidency Project https://www.presidency.ucsb.edu/node/315337