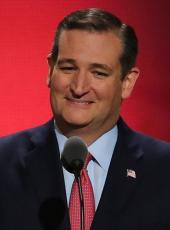 Cruz Campaign Press Release - Joe Carr Endorses Cruz for President
HOUSTON, Texas – Today, former three-term State Representative and U.S. Senate candidate Joe Carr endorsed U.S. Sen. Ted Cruz for President. Carr, a conservative stalwart in the Tennessee state legislature for six years, said Cruz's proven record of fighting for the issues that matter most to conservatives makes him the best qualified leader to restore American greatness.
"Ted Cruz is not only willing to stand firm on principle every time, but has done so when it mattered most," said Carr. "He has taken on the Establishment in both parties, even when it was unpopular and victory was far from certain. That's the kind of fighter we need in the White House defending the American people, the sovereignty of the states, and our constitutional rights. In our U.S. Senate race our campaign received over 271,000 votes. Those are Cruz voters and I am going to do all I can to make sure they understand Ted Cruz is our best candidate for President of the United States."
During his tenure in the Tennessee state legislature, Carr developed a reputation for his willingness to take on the leadership of his own party, especially on the issue of illegal immigration. While a member of the Tennessee General Assembly he authored, sponsored, and passed some of the strongest immigration laws at the state level in the country. He made the fight against amnesty a central piece of his Senate campaign in 2014 and convinced conservatives around the country — including nationally syndicated radio host Laura Ingraham – to support his campaign. He is also a passionate advocate for religious liberty and restoring constitutional principles in government.
"Joe Carr is a conservative's conservative," said Senator Cruz. "He is willing to stand firm and speak out even when his own party gets it wrong. That shows not only great respect for principle but estimable character, as well. Tennessee will play a critical role in the primary and, along with the top-notch team we've assembled in the state, having Joe's support gives us a big advantage."
"We are pleased to welcome Joe Carr to our Tennessee leadership team," added Tennessee State Chairman Kevin Kookogey. "Joe demonstrated a commitment to taking on the establishment in 2014, and we look forward to working with him to move Tennessee even further into the Cruz category."
Ted Cruz, Cruz Campaign Press Release - Joe Carr Endorses Cruz for President Online by Gerhard Peters and John T. Woolley, The American Presidency Project https://www.presidency.ucsb.edu/node/314715