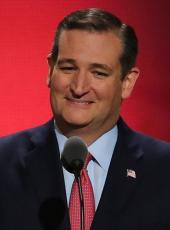 Cruz Campaign Press Release - ICYMI: Union Leader: Why liberty-minded conservatives should choose Ted Cruz
HOUSTON, Texas – Emily O'Neill, a small-business owner from Bedford, NH writes in the Union Leader that Cruz is the right presidential candidate to support because he can "unite independents and conservatives while remaining a strong defender of the Constitution and our economic freedoms." O'Neill continues, "Cruz has a solid record of fighting for our civil and economic liberties."
The article from the Union Leader may be viewed here and below:
OVER THE YEARS, our liberties have suffered a thousand razor cuts from neoconservatives who vote to sacrifice our natural privacy rights for security and progressives who push to expand the size and scope of government, supposedly in the name of social justice.

I've been actively involved in promoting libertarian causes and candidates since 2009. I've campaigned for Ron Paul, Rand Paul, Justin Amash, and even ran as a candidate for state rep last year.

I believe the right presidential candidate to support is one who can unite independents and conservatives while remaining a strong defender of the Constitution and our economic freedoms. I found that candidate in Sen. Ted Cruz.

In August, I had the fortune of meeting him at a campaign dinner. While I had been on the fence about whom to support, it didn't take long for me to make a decision afterward. I can tell you firsthand that Cruz is the type of leader whose presence is felt without speaking a word. He commands his audience and presents well-reasoned arguments. Beyond his speeches, Cruz has a solid record of fighting for our civil and economic liberties.

He rails against Republican leadership for failing fiscal conservatives, and he doesn't appease them in return for political viability. He's voted down the National Defense Authorization Act since he's been in office, as he's argued that certain provisions put Americans' fundamental rights in jeopardy. As a member of the Armed Services Committee, he's been outspoken about conflicts that contradict American interests and violate the Constitution. He's been a vocal critic of the TSA, NSA, IRS and countless wasteful and dangerous government programs.

Policy aside, I've witnessed how he brings a humanness and sense of humor to a political landscape that's full of talking points and devoid of emotion. During the dinner event I attended, Cruz wasn't immediately engaged in intense political conversation, which admittedly, I would have expected. Instead, he spent most of the time listening to guests talk about their viewpoints and living in New Hampshire, and he later shared funny stories from the campaign.

When heated issues were discussed, he cracked jokes and lightened the mood in a respectful way. It was refreshing to see a candidate make the event about everyone else, which demonstrated his emotional intelligence. It's easy to see how he can maintain such strong views, yet continue to gain supporters.

Sure, there are some stances that Cruz has taken that I'm either to the right or left of, namely a couple of national security positions and drug policy. For some liberty-minded folks, disagreements on these issues relegate candidates to the 'do not consider' category. This is where I differ.

I want progress in the right direction that will garner the most amount of support. I want to make libertarian views mainstream rather than fight in vain. It takes more than a strong ideology to accomplish these goals. It takes tenacity, personality, and a finesse that I believe Cruz possesses.

Many acknowledge Cruz's intelligence. His brilliance has translated into a very savvy, strategic ground game that will position him well to win the Republican nomination. He's already raised north of $50 million to fuel his campaign — second behind Gov. Jeb Bush. If you were to remove super PAC funds from the equation, the Cruz campaign has raised the most by far.

To me, this proves he has the resources to go up against any establishment candidate. Considering he's fought to rein in the NSA, abolish the IRS, and audit the Federal Reserve, it excites me that he's broadened his appeal, and should for real conservatives and libertarians alike.

In sum, my goal in sharing these views is not to knock other contenders, as I have a great deal of respect for a few others. I simply encourage fellow liberty leaning Republicans to take a second look at Cruz. Perhaps they will find, as I have, that we have a candidate with the right views, leadership qualities and strategy to win.
Ted Cruz, Cruz Campaign Press Release - ICYMI: Union Leader: Why liberty-minded conservatives should choose Ted Cruz Online by Gerhard Peters and John T. Woolley, The American Presidency Project https://www.presidency.ucsb.edu/node/314833