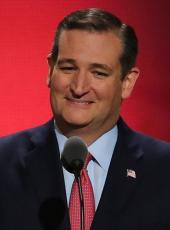 Cruz Campaign Press Release - ICYMI: Ted Cruz Holds Surrender Caucus to Account for Failure to Lead
HOUSTON, Texas – On Monday, U.S. Sen. Ted Cruz, R-Texas, went to the floor of the Senate to keep a promise he made to the American people: to fight to keep Congress from funding Planned Parenthood. He also sought to prevent Iran, a known sponsor of terrorism, from accessing more than $100 billion, which he pointed out would be used to fund more terrorist activities.
In his one-hour remarks, Cruz outlined how Republican Leadership has failed to lead on the issues important to the Americans who elected them to office. By immediately giving in to the demands of the Democrats, Republican leadership effectively joined with them and President Obama to fund their priorities. Despite his colleagues' frequent claims of wanting to defund Planned Parenthood and deny Iran money to support terrorism, not one made any attempt to back up their words with deeds. Instead, each sided with leadership's plan to surrender to the Democrats.
Below is excerpted news coverage from Sen. Cruz's speech:
Sen. Cruz: The REAL story of what is happening in Washington http://t.co/y6afkX6zf7

— Right Scoop (@trscoop) September 29, 2015
Politico: Cruz: Republican leaders capitulating On Monday night, Cruz's colleagues ignored his attempt to disrupt Senate Majority Leader Mitch McConnell's efforts to fund the government without attacking Planned Parenthood... ...Cruz was incredulous on Monday, calling it an "unprecedented procedural trick." "What does denying a second mean? Denying a recorded vote. Why is that important?" Cruz bellowed. "When you are breaking the commitment you've made to the men and women who elected you, the most painful thing in the world is accountability." Indeed, denying Cruz a vote prevents the Texas senator from dredging up the roll call in the future and using it to attack his colleagues... ..."One of the ways you avoid accountability is you somehow are somewhere else doing something really, really important instead of actually showing up to the battle," Cruz said, accusing Republicans of joining with Democrats to "roll over any parliamentary trick you might use."
Ted Cruz on Senate floor this evening. Must watch http://t.co/SFVM43yrXL

— Mark R. Levin (@marklevinshow) September 29, 2015
Breitbart: Ted Cruz Blasts GOP Leaders For Funding Planned Parenthood
Sen. Ted Cruz is excoriating the Republican leadership in the House and Senate for failing to "lift a finger to defend life" by eliminating taxpayer funding of Planned Parenthood...
...The 2016 Republican contender attempted to submit an amendment that would "restrict the use of Federal funds for Planned Parenthood Federation of America" as well as those to "implement the nuclear agreement with Iran or for assessed contributions to the United Nations until the President submits the agreement and all related materials to Congress."
Sen. Mitch McConnell, however, "filled the tree" of amendments on this bill to fund the government, preventing any other senators from offering amendments to change the measure, a tactic used on numerous occasions by Sen. Harry Reid when he was the Majority Leader. The strategy would prevent any amendments to bills and keep Reid's Democrat members from having to be on record for difficult votes...
...Despite all that has been exposed about Planned Parenthood, Cruz said, "You notice how much energy Majority Leader McConnell and Speaker Boehner have devoted to attacking conservatives? When has leadership shown that level of venom to President Obama?"
Cruz said that, in fact, Reid and the Democrats often laugh because the Republicans generally lead the onslaught against conservatives, dismissing them as "ignorant hicks and rubes." "Why, then, does it matter if we have a Republican or Democrat House or Senate?" Cruz asked, adding that Boehner's recent decision to resign was a direct manifestation of the "disconnect" between the base of the Republican Party and its leadership.
Breitbart: Ted Cruz: 'Republican Leadership Leads The Onslaught Attacking Conservatives'
Texas Sen. Ted Cruz slammed Republican leadership on Monday for slavishly serving the interests of major corporations — and worse, leading attacks from the Left on its conservative grassroots base.
The Democrats are "relentless" in pursuing their principles, Cruz said, which include ever-increasing government spending and unlimited abortion rights. They're "willing to crawl over broken glass with a knife between their teeth to fight for their principles," Cruz said.
Republican leadership "reflexively surrenders," Cruz said. "President Obama simply has to utter the word 'shutdown' and Republican leadership runs for the hills."...
...Republican leadership told voters they needed a majority in the House of Representatives in 2010, and a majority in the Senate in 2014 in order to effectively oppose Obama. Voters delivered in "tidal wave" elections, Cruz said. But now, nine months after the November election in which Republicans gained nine Senate seats, voters ask Cruz in town halls: "What exactly have those Republican majorities accomplished?" The spontaneous response to their own question is "absolutely nothing."
But Cruz said it's far worse than that. "It would have been better if the Republican majorities did 'absolutely nothing,'" he said, but they took the lead in imposing the cromnibus, Obamacare, executive amnesty, continued funding of Planned Parenthood, and confirming Loretta Lynch as attorney general — even after she promised to act as lawlessly as Eric Holder and to never oppose Obama.
"We keep winning elections but the people we put in office don't do what they said they're going to do," Cruz said. GOP leadership is "quite competent and willing to fight. The question is what they're fighting for." A list of major corporations' priorities would be identical to that of the GOP leadership's, Cruz said. Voters' are far, far down on the list. And defunding Planned Parenthood isn't among "the priorities of K Street," Cruz added.
Ted Cruz, Cruz Campaign Press Release - ICYMI: Ted Cruz Holds Surrender Caucus to Account for Failure to Lead Online by Gerhard Peters and John T. Woolley, The American Presidency Project https://www.presidency.ucsb.edu/node/315225