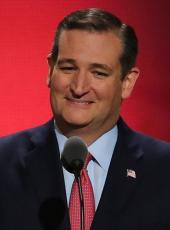 Cruz Campaign Press Release - ICYMI: Sen. Ted Cruz in Des Moines: End the War on Faith in America
Over 2,500 Iowans Rally for Religious Liberty
HOUSTON, Texas — Last night, U.S. Sen. Ted Cruz, R-Texas, hosted a Rally for Religious Liberty in Des Moines, IA, calling attention to the religious persecution of Christian business owners and employees who have been sanctioned by their government because of their religious beliefs. Joining Sen. Cruz at the rally were: Dick and Betty Odgaard, Barronelle Stutzman, Aaron and Melissa Klein, Blaine Adamson, Senior Master Sergeant (Retired) Phillip Monk, Former Atlanta Fire Chief Kelvin Cochran, and Naghmeh Abedini. Video of the rally is available here. A roundup of press coverage of the rally appears below:
Washington Post: Ted Cruz: There Is A 'War On Faith'
"There is a war on faith in America today," Cruz said, later noting that 54 million evangelical Christians stayed home during the 2012 election.
"I'm here to tell you, we will stay home no longer," he said as the audience, which filled a ballroom and the campaign estimated to number 2,500 people, cheered...
"If we cannot worship God, if we cannot live according to our faith .... all other liberties fade away," Cruz said.
The event highlighted the stories of people "victimized by government persecution," according to Cruz's Web site, including a former Air Force sergeant who said he was fired because of his religious views on gays, a former Atlanta fire chief who said he was fired for his religious beliefs and an Iowa couple who refused to host a same-sex wedding. Cruz lauded them as "heroes."
A closing prayer with @tedcruz as the Rally for Religious Liberty moves on to its musical act, @newsboys
Des Moines Register: Cruz: Threats Against Religious Liberty Never Greater
In his opening remarks during the "Rally for Religious Liberty," Cruz referenced a number of Supreme Court cases regarding religious issues that came down to a 5-4 decision.
"You want to know what this election is about? We are one justice away from the Supreme Court saying 'every image of God shall be torn down,'" said Cruz, a U.S. senator from Texas said.
The Cruz campaign invited multiple individuals that it said were "victimized by government persecution" for standing by their religious beliefs.
POLITICO: Ted Cruz Preaches To The Field
Ted Cruz was in full-on preacher mode Friday night here in the Hawkeye State as he hosted a rally for religious freedom that drew more than 2,500 Iowans, representatives of an evangelical constituency that will make or break the Texas senator's campaign here as he seeks to solidify support with this deeply conservative caucus electorate.
"You wonder why we have a federal government that comes after our free speech rights, that comes after our religious liberty, that comes after life, that comes after marriage, that comes after our values?" Cruz roared to the audience, packed into a cavernous ballroom in downtown Des Moines. To cheers, he continued, "It is because 54 million evangelical Christians stayed home [in 2012]. Well I'm here to tell you, we will stay home no longer."
Cruz: "If we cannot worship God, and live according to our faith, then all other liberties fade away."
New York Times: Ted Cruz Rallies Iowa Evangelicals
Senator Ted Cruz on Friday night drew one of the largest crowds in Iowa of any candidate this year: some 2,300 Christian conservatives, who turned out for an unusual program featuring people Mr. Cruz called "victims of government persecution."
The eight people included bakers, a florist, wedding planners and others from several states. All of them said they had been sued, fined or fired for refusing service to same-sex couples or for expressing opposition to homosexuality. Several of them were well known to audiences of right-leaning news media.
Indeed, Mr. Cruz's rally was aimed at the hearts and minds of evangelicals, who have picked the winners of the past two Republican caucuses in Iowa.
"Ladies and gentlemen, please welcome our heroes to the stage," Steve Deace, an Iowa radio host who supports Mr. Cruz, said in bringing out the guests. "They find themselves on the front line of the battle for the soul of this culture."
Washington Post: Cruz: 2016 Will Be A "Religious Liberty Election,"
Cruz has said that 2016 will be a "religious liberty election," and is working to woo the religious right, which has a strong constituency here, in the early voting state of South Carolina and in the rest of the South, which is set to play a major role in the Republican nominating contest.
Here in Iowa, 57 percent of Republican caucus-goers identified as evangelical Christians, according to entrance polls. Cruz has been courting faith leaders here, dispatching his father Rafael, a pastor, to speak at events around the state and announcing Friday that he wants to recruit a pastor in each of Iowa's 99 counties to do faith outreach...
While Cruz will be competing for the evangelical vote with candidates including former Arkansas governor Mike Huckabee, former senator Rick Santorum and neurosurgeon Ben Carson, few have been as vociferous about the notion that religious liberty is under attack than Cruz. He brought up the issue repeatedly during a bus tour of the South last week, repeatedly promising that on his first day in office he would direct federal agencies not to meddle with people who believe they have stayed firm to their religious beliefs in the face of social change.
"The persecution of religious liberty ends today," Cruz said to cheering crowds from the altar of a church in Chattanooga, Tenn., an outdoor stage in Little Rock and the flatbed of a pickup truck in Tupelo, Miss.
CNN: In Iowa, Ted Cruz Rallies Religious Right
At his "Rally for Religious Liberty," Cruz sought to appeal to evangelical Republican voters and frame himself as a fighter for religious rights...
Cruz spoke about his experience defending freedom of religion at the Supreme Court and what he said were the threats facing religious liberty.
"These threats have been growing, they have been growing for decades but never have the threats been greater to religious liberty than they are right here and now today," he said.
"These threats are not imagined, they're not made up. These are real people leading real lives who found themselves facing persecution simply for living out their faith. There is a war on faith in America today."
MichaelPatrick Leahy [email protected]
Ted Cruz Draws Huge Crowd at Iowa Rally for Religious Liberty — Breitbart http://bit.ly/1EKSefD  #tcot
POLITICO: Cruz Key Strategy to Engage Religious Conservatives
The rally reflects Cruz's push to engage religious conservatives — a key to his strategy in Iowa and beyond, particularly in the South...
His approach to Iowa up until this point has been lower-key: he has quietly courted prominent activists and pastors, focused on fundraising and spent time setting up infrastructure, including in later-voting states, with the goal of being able to focus more fully on the early states after the fundamentals were in place.
But his rally Friday, the biggest event he's held in the state to date — the biggest rally held by any candidate in Iowa, his campaign claims — appears to signal a new phase in his Iowa campaign.
CNN: Cruz's Message "Struck a Chord"
For many Iowan voters, Cruz's message struck a chord. "I love that Ted's faith defines who he is," said Dr. Jim Seward of Fort Dodge, Iowa. "I saw Rubio, I liked Carson, but as a believer in Christ, I really like that faith-based approach Ted has. It'll be a tough decision but, as of now, Ted's got my vote," he added.
But for undecided voter Bob Duchene, the event lacked substance on the issues. "It was informative. I would have liked to see a little more on the issues, but that's not what it was about," he said.
However, his wife, Karen, a Cruz supporter, walked away a believer. "I was so inspired," she said.
Ted Cruz, Cruz Campaign Press Release - ICYMI: Sen. Ted Cruz in Des Moines: End the War on Faith in America Online by Gerhard Peters and John T. Woolley, The American Presidency Project https://www.presidency.ucsb.edu/node/314537