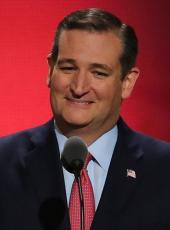 Cruz Campaign Press Release - ICYMI: Rep. Justin Amash: Why I Trust Ted Cruz
HOUSTON, Texas – Congressman Justin Amash (R-MI) today announced his endorsement of Ted Cruz for President in an op-ed published in IJ Review. See excerpts below and the full piece here.
Why I Trust Ted Cruz

Rep. Justin Amash
As a libertarian Republican, I have spent several months promoting the candidacy of my friend Senator Rand Paul, who is, in my view, the most passionate defender of our rights on the national stage today. Since his departure from the presidential race, I've been asked many times: what now?
It's easy to withdraw from politics when the positions and priorities of the candidates do not precisely mirror our own. But we owe it to our beliefs to find constitutional conservative political allies who not only respect our philosophy but also fight for our views to be heard.
We have found such an ally in Senator Ted Cruz.
Ted is not a libertarian and doesn't claim to be. But he is a principled defender of the Constitution, a brilliant strategist and debater who can defeat the Democratic nominee in the general election, and the only remaining candidate I trust to take on what he correctly calls the Washington Cartel.
The recent passing of Justice Antonin Scalia reminds us of the importance of electing a president committed to nominating justices to the Supreme Court who will uphold the Constitution and the Rule of Law. Because the Court has not lost a conservative in many years, this selection may become the most influential act of the next president. Replacing Justice Scalia with a poorly chosen justice could alter our country's identity on critical issues such as education, health care, criminal justice, privacy, and even the very meaning of the Constitution.
In this regard, history has given us a uniquely qualified candidate—Ted Cruz served as a Supreme Court clerk (an extraordinarily selective job held each year by fewer than 40 lawyers who work directly with the justices to shape the Court's opinions) and has the rare distinction of having argued many cases before the Supreme Court. The importance of these credentials cannot be overstated in the current context.
But the Supreme Court is not the only thing at stake. Our entire constitutional system is under threat.
An effective president for the people is going to face massive fights with the lobbyist class and Washington elites. It is not enough for a president to have smart advisers and well-rehearsed lines. Whether or not we agree on every issue, libertarian and conservative Republicans must choose a president who has the courage to stand up for the American people in the face of relentless attacks. Ted has shown that he is a true leader who can defend the principles of our constitutional republic, takes libertarian ideas seriously (even when he disagrees), and will not back down from the battles that must be fought.
....
Take, for instance, Ted's opposition to cronyism and corporate welfare. Unlike his competitors, Ted understands that when we allow the government to pick winners and losers, the American people lose. He isn't afraid to challenge the rampant corruption in Washington, and he isn't afraid to champion economic freedom. Ted won the Iowa caucuses with a principled stand against subsidies, even though pundits warned that no one could win the state without pandering to the ethanol lobby.
....
Like me, Ted believes that the United States must be well defended and respected around the globe. He stands with our troops and will not put them in harm's way unless necessary to protect our country. Unlike some other Republican candidates, Ted opposed intervening in Libya and voted against arming Syrian rebels, and he will not use our Armed Forces to engage in nation building.
To defend liberty, we must defend our Constitution. I'm supporting Ted because, knowing him personally and having served with him in Congress over the past few years, I trust him as a conservative ally who consistently listens to my perspective and stands firm for what he believes is right.
Ted Cruz, Cruz Campaign Press Release - ICYMI: Rep. Justin Amash: Why I Trust Ted Cruz Online by Gerhard Peters and John T. Woolley, The American Presidency Project https://www.presidency.ucsb.edu/node/315041