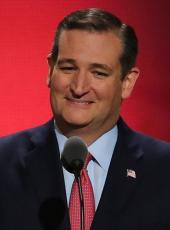 Cruz Campaign Press Release - ICYMI: Rep. Jack Kingston: Marco Rubio's Tough National Security Talk is Cheap
HOUSTON, Texas – Congressman Jack Kingston today penned the following op-ed in RedState setting the record straight on Rubio's weak national security record.
See excerpts below and read the full piece here.
Rep. Jack Kingston — Marco Rubio's Tough National Security Talk is Cheap 
On the campaign trail, Senator Marco Rubio has been pushing a media narrative that he is the most "serious" foreign policy candidate. It's an odd position since he missed all but one of the 19 votes connected to the National Defense Authorization Act last year! But far more damaging than his missed votes is his inability to learn from our past national security mistakes. Whether it's Libya, border security, or major security gaps in our visa and refugee programs, when he has voted, it's often on the side of misplaced liberal ideals and illegal immigrants instead of America's safety.
One disturbing example is Rubio's support for the Obama-Clinton intervention in Libya in 2011. As a member of the Defense Appropriations Subcommittee, I traveled to Sigonella Navy base to meet with our military commanders who were conducting our military intervention. Our briefings were shocking. It was clear we had no end game or definition of success. That is to say the decisions and confused strategy was the product of Obama's misunderstanding of the middle east. Yet in a speech at the Brookings Institution in 2012, after complaining that Republicans were so bad on foreign policy that he was forced to work on his policies with Democrats, Senator Rubio said the Libya regime change "turned out fine."  Senator Rubio had been in the Senate for two years at the time, and should have had some understanding of the conditions on the ground. In fact, our people were already being attacked in the region. In a month, Ambassador Chris Stevens would be pleading with Secretary Clinton for more security.  And in less than five months, Ambassador Stevens and three other Americans would stop complaining – because they were killed in the utter disaster that was the radical Islamic terrorist attack on Benghazi.
Even today, Senator Rubio refuses to learn the lesson of Libya.  For most Americans, the situation in Iraq and Syria—as Benghazi tragically showed us—is proof that the enemies of our enemies are not necessarily our friends. The result of not properly scrutinizing such movements is often more chaos, and the death toll, like our enemies, often multiplies. Just ask the ISIS brigades rolling around in our tanks and Humvees—and read about their victims.
....
And while fighting both sides of a civil war is bad enough, these mistakes are doubly harmful when we don't carefully watch who is coming into our own country.
Too often, immigration is considered a solely domestic issue. But border security is the first and necessary step to securing our nation against the jihadists who are not content to kill each other abroad—they want to kill Americans here at home. And when politicians insist on intervening around the world while voting to grant amnesty, expand refugee admittance – all the while not securing the border — we get the worst of both worlds: thousands of people coming to America from war-torn countries, and no system to tell the innocent from the terrorists. This why a major campaign issue has become the Rubio-Schumer Gang of 8 amnesty bill which prioritizes illegals over the safety of Americans.  This isn't a new problem – we need look no further than the evil perpetrators of 9/11. The lesson should have been learned more than a decade ago.
Even as Europe reaped the bloody consequences of a borderless welcome-mat policy that led to the Paris atrocity, Sen. Rubio refused to stop the flood of un-vetted Syrian refugees. When Senators like Ted Cruz and Rand Paul called to stop waving in thousands from Syria and other countries with murderous jihadist movements, Rubio did not join them.
Our nation's worst foreign policy failures were created by good intentions along with the inability to learn from the past.  These are dangerous uncertain times. We cannot risk electing another President who doesn't understand the threats. The next President must do everything he can to put America first and politically correct diplomacy last. Our future and survival is at stake.
Ted Cruz, Cruz Campaign Press Release - ICYMI: Rep. Jack Kingston: Marco Rubio's Tough National Security Talk is Cheap Online by Gerhard Peters and John T. Woolley, The American Presidency Project https://www.presidency.ucsb.edu/node/314998