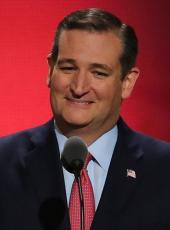 Cruz Campaign Press Release - ICYMI: Nevada AG Laxalt: Cruz will fight overreach by courts, federal agencies
HOUSTON, Texas – Nevada Attorney General Adam Laxalt today penned the following op-ed in the Reno Gazette-Journal.
Read excerpts below and see the full op-ed here.
As the attorney general of Nevada, I know firsthand the dangers of a lawless president who oversteps the states' authority and the people's rights. Whereas President Obama has seized every opportunity to usurp Americans' freedoms, a President Cruz will work daily to protect and preserve every constitutional liberty.
I have been proud to fight along Senator Cruz in several of the greatest threats to our liberties.
When it comes to the First Amendment, we have never before witnessed such a concerted effort to tear down our freedom to live our faith. Ted Cruz has fought to protect religious liberty for decades. He has successfully won historic decisions before the Supreme Court — including defending "under God" in the pledge of allegiance, ensuring the Ten Commandments monument remains on state capitol grounds, and keeping our crosses standing at the Mojave Desert Veterans' Memorial.
In a few weeks, the Supreme Court will hear the case of the Little Sisters of the Poor — a group of Catholic nuns who are being sued by the Obama administration for living by the dictates of their faith. I am proud to stand with the Little Sisters of the Poor, I am grateful for Ted Cruz's tireless leadership to protect the rights of these women who have devoted their lives to caring for the elderly and I am proud to fight alongside him.
....
When Ted arrived in the Senate, he fought against Mr. Obama's gun legislation. But this wasn't a new fight for Ted. In 2008, he won the landmark Heller v. D.C. case to protect Americans' Second Amendment rights, and this case in particular should remain fresh on our minds as it is one of the greatest achievements of the late Justice Antonin Scalia, who authored the opinion.
The federal government has overreached its power in countless cases – and one agency that perhaps best personifies this job-crippling regulation is the Environmental Protection Agency. Here in Nevada, we work hard to take care of our land, and yet the EPA, through rules like the "Waters of the U.S." rule, stifle economic growth and overstep the rightful authority of the states. I have filed suit to overturn this unconstitutional law, but I know that with a Cruz administration, I wouldn't have to wait on any court decision – Ted Cruz will abolish rules across the federal agencies that are neither constitutional nor conducive to economic prosperity. And, as he has pledged, he will work to return federal land to Nevadans – rather than continuing to allow the federal government to own about 85 percent of the state.
President Obama's executive amnesty is another example of his disregard for the states and for the rule of law. Nevada has stood with Texas and 24 other states to stop President Obama's lawless actions. Ted Cruz has led the fight against Obama's unconstitutional amnesty. As he's promised, on day one, he will rescind every unconstitutional and illegal executive order – and we can trust him at his word because he has never bowed down to Washington power brokers; he has stayed true to his word and the Constitution.
And right now the Constitution and the Bill of Rights have never been more at risk. With the passing of Justice Scalia, we mourn our nation's loss, and it is all the more critical that we elect a president who we know beyond a shadow of a doubt will have the courage to elect principled judges who will abide by the Constitution instead of propping up political agendas.
As a current attorney general and an Iraq War veteran, Ted Cruz is the leader I want in the White House because I know that he will always protect the Constitution and defend our nation. As a result, we will be infinitely more free to live in our communities, practice our faith, and achieve unprecedented prosperity.
Ted Cruz, Cruz Campaign Press Release - ICYMI: Nevada AG Laxalt: Cruz will fight overreach by courts, federal agencies Online by Gerhard Peters and John T. Woolley, The American Presidency Project https://www.presidency.ucsb.edu/node/314615