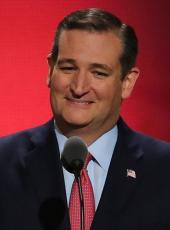 Cruz Campaign Press Release - ICYMI: National Right to Life Supports Ted Cruz

"National Right to Life Believes Senator Cruz is the Only Candidate for President Who Has Always Been Pro-life"

HOUSTON, Texas - Presidential candidate Ted Cruz welcomes the support of National Right to Life, the nation's oldest and largest pro-life advocacy organization. NRL is a federation of pro-life affiliates in all 50 states, made up of more than 3,000 local chapters.
In a statement National Right to Life said -
"Meeting in Arlington, Virginia, the National Right to Life Board of Directors Saturday voted to support Texas Sen. Ted Cruz in the upcoming Republican presidential primaries...
"In the week preceding the Board's vote, Donald Trump first said on Wednesday that were abortion illegal he would 'punish' women who had aborted. He said later the same day he wouldn't punish these women.
...
"National Right to Life believes Sen. Cruz is the only candidate for president who has always been pro-life, who has a 100% pro-life voting record with National Right to Life, who can win the Republican nomination, and who can defeat pro-abortion Hillary Clinton in November."
More than 22,000 Americans have joined Cruz's pro-life coalition. In this video, Ted Cruz summarized his position in defense of unborn life, as well as actions he would take on the issue as president. Cruz stated,
"A candidate that can't be trusted to protect the right to life can't be trusted to protect any of our other God-given rights either. When you look at the voting records of politicians, what you'll find is if they're bad on life, they're always - repeat always - bad on everything else too. If a politician will rob a fellow person of their right to life, rest assured they'll rob you of your private property rights, religious liberty, and look for new taxes and regulations to rob you of your hard-earned money as well. Liberty isn't safe in the hands of a politician that doesn't hold all life sacred." 
Ted Cruz, Cruz Campaign Press Release - ICYMI: National Right to Life Supports Ted Cruz Online by Gerhard Peters and John T. Woolley, The American Presidency Project https://www.presidency.ucsb.edu/node/317169