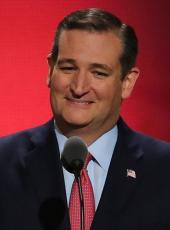 Cruz Campaign Press Release - ICYMI: Limbaugh, Luntz, Palin Post-Debate Reaction: Cruz Shined
Campaign Releases Web Video "When the Media Attacks, Ted Fights Back"
HOUSTON, Texas – Presidential candidate Ted Cruz has earned rousing praise from numerous conservative influencers for his strong debate performance earlier this week. The Cruz for President Campaign today released a web video "When the Media Attacks, Ted Fights Back," highlighting Cruz's command of the issues and ability to effectively communicate his message to the American people despite mainstream media bias.
Immediately following the debate, conservative influencers including Rush Limbaugh, Frank Luntz, and Sarah Palin recognized Cruz's powerful debate performance, excerpts below.
LIMBAUGH: "Ted Cruz, the one guy in the United States Senate that's trying to stop this decline of this country. The one guy trying to make something happen, the one guy trying to lead others, the one guy trying to turn the linguine-spined Republicans into spines of steel in the United States Senate."
LUNTZ: 'First off, the group erupted.  Now remember, they are watching television and they erupted in cheers, which never happens in a debate.  Second, we only had two people who walked into that room supporting Cruz. When the debate was done...six people had switched from other candidates to Ted Cruz.  Third, not only was this focused on the media, but Cruz demonstrated he had the capability to truly outperform the other candidates. I think over the next two or three weeks you're going to see Cruz's numbers go up. And I believe over the long-term he's going to have the money and he's got the message that this is going to be one of the finalists for the presidential campaign."
PALIN: "[Cruz] schooled the media.  And that's what the American people are craving, too.  Leaders who are already in these positions of authority to tell the media, 'start getting focused on the things that concern us.'
Many others shared their immediate reaction over Twitter:
Amen! https://t.co/eV6rN1SMJ2

— Mark R. Levin (@marklevinshow) October 29, 2015
I think @tedcruz is winning millions of votes right now.

— Hugh Hewitt (@hughhewitt) October 29, 2015
.@IngrahamAngle: "@tedcruz absolutely nailed it." #GOPDebate #Hannity

— Sean Hannity (@seanhannity) October 29, 2015
Cruz just hit it out of the park. CNBC has no idea what just hit it. #TTT16

— Brent Bozell (@BrentBozell) October 29, 2015
Now I know what a Cruz missile sounds like! (Ted takes on the MSM) Ted Cruz

— Glenn Beck (@glennbeck) October 29, 2015
Ted Cruz, Cruz Campaign Press Release - ICYMI: Limbaugh, Luntz, Palin Post-Debate Reaction: Cruz Shined Online by Gerhard Peters and John T. Woolley, The American Presidency Project https://www.presidency.ucsb.edu/node/315159