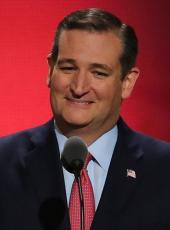 Cruz Campaign Press Release - ICYMI: Fox News: New Cruz Ad Slams Trump on Planned Parenthood Funding
HOUSTON, Texas — The Cruz for President campaign today released a new ad "Currency", highlighting Donald Trump's support for Planned Parenthood and his absence from the effort to defund the organization. Ted Cruz led the fight in Washington, D.C. against the establishment in order to defund Planned Parenthood after videos showed the organization's executives negotiating terms for the sale of aborted fetuses.
In the ad, Trump says to Fox News' Sean Hannity that, "Planned Parenthood serves a good function," and refuses to say whether Congress should defund the corrupt organization. While other Republicans stood on the sidelines of the fight to defund Planned Parenthood, Cruz spearheaded the effort in Congress to prevent taxpayer dollars from being used to fund abortions.
An excerpt of Fox News' Todd Starnes article below, full article may be viewed here.
Donald Trump accused Sen. Ted Cruz of lying about his position on Planned Parenthood during Saturday night's Republican Presidential Debate in South Carolina.
Cruz pointed out that for most of his life Trump had been "very pro-choice" and had once described himself as a "supporter of partial-birth abortion."
"Right now, today, as a candidate, he supports federal taxpayer funding for Planned Parenthood," Cruz said.
That statement caused Trump to unleash a torrent of bloviating towards Cruz.
"Currency"

TV: 30
CRUZ DISCLAIMER: "I'm Ted Cruz and I approve this message"
NEWS REPORTS:
"Between sips of wine and bites of salad, a Planned Parenthood doctor discusses getting money for tissue from aborted fetuses"
"Harvesting the organs of aborted fetuses for money"
ANNOUNCER: "Planned Parenthood treats the unborn like another form of currency. And yet some politicians still defend them."
DONALD TRUMP: "Planned Parenthood serves a good function."
SEAN HANNITY: "With the debt we have should we even give them a penny?"
TRUMP: "We have to look at the positive"
ANNOUNCER: "Donald Trump is just plain wrong"
Ted Cruz, Cruz Campaign Press Release - ICYMI: Fox News: New Cruz Ad Slams Trump on Planned Parenthood Funding Online by Gerhard Peters and John T. Woolley, The American Presidency Project https://www.presidency.ucsb.edu/node/315215