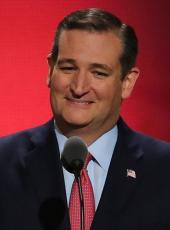 Cruz Campaign Press Release - ICYMI: Cruz: No More Talk, No More Show Votes, Get It Done: Stop This Deal
HOUSTON, Texas — Yesterday, U.S. Sen. Ted Cruz, R-Texas, delivered remarks on Capitol Hill where he protested the catastrophic Iran nuclear deal, that will allow billions of American dollars to flow to Iran, the largest state-sponsor of radical Islamic terrorism. Below is a sampling of some of the press coverage of Cruz's remarks.
Bloomberg: Ted Cruz rallies raucous conservatives against Iran Deal

An oppressively humid late-summer afternoon did nothing to dampen rowdy spirits at the rally, which had something for everyone opposed to President Barack Obama, including two presidential candidates who want to replace him..."If this deal goes through we know to an absolute certainty people will die," Cruz told the crowd. "You cannot wash your hands of that blood." He said Republican leaders in Congress have the power to stop the deal, even though Democrats have the votes to protect it, if they delay a vote on a resolution of disapproval on the grounds that the president violated the Iran Nuclear Agreement Review Act by failing to disclose "side deals" between Iran and the International Atomic Energy Agency.
Linda Suhler, Ph.D. [email protected]

Ted Cruz: Dems Must Reject Party Loyalty & Kill #IranDeal

#NoNuclearIran

http://bit.ly/1ieccuK
Washington Post:  Cruz warns of "catastrophic consequences" of Iran Deal

Business mogul Donald Trump and Sen. Ted Cruz (R-Texas) warned of catastrophic consequences should the Iranian nuclear deal negotiated by the Obama administration pass Congress, including death and the possibility of nuclear conflict.
Appearing during an hours-long rally on the Capitol lawn where speaker after speaker railed against the deal, Republican leadership and President Obama, Cruz warned that the Obama administration would become "the leading financier of radical Islamic terrorism" if he deal goes through.  "It's worth remembering that if this deal goes through we know to an absolute certainty that people will die," Cruz said.
Right Scoop [email protected]

Watch Ted Cruz's FULL SPEECH at Stop Iran Deal Rally http://bit.ly/1Qr3nsN
Dallas Morning News: Cruz: Lawmakers who vote to protect Iran deal will bear responsibility

"It is a disgrace for this administration to abandon Americans in Iranian hell holes," [Cruz] added, referring to a number of prisoners whose release wasn't part of the negotiations. Lawmakers who vote to protect the deal, he said, will bear responsibility for any murders Iran and its proxies perpetrate going forward.
"If you are directly responsible for sending billions of dollars to jihadists who use those billions to murder Americans, you cannot wash your hands of that blood," Cruz said. The rally drew a several thousand anti-Iran, anti-Obama protesters, though White House allies on Tuesday secured enough votes to protect the deal from a congressional backlash.
FOX Business [email protected]

Crowds gathering to hear from @realDonaldTrump, @tedcruz and more at the "Stop the Iran Deal" rally at the Capitol.
Newsmax: Cruz "would rip up the deal the day he enters the Oval Office."

Texas Sen. Ted Cruz, who played a role in organizing the event put on by Tea Party Patriots, said he would rip up the deal the day he enters the Oval Office.... Cruz said he hopes the 42 Senate Democrats support the deal will go home, pray, and reconsider their votes.
"I agree with former Democratic Sen. Joe Lieberman, that this vote is quite likely the most important vote that any member of Congress, any member of the Senate will cast in their entire career," Cruz said.
"Americans will die, Israelis will die, Europeans will die," Cruz said. "Osama bin Laden never had $100 billion. He was filled with bilious hatred, and using rudimentary tools, murdered nearly 3,000 Americans on September 11, 2001. We're now talking about giving the Ayatollah Khamenei, a theocratic homicidal maniac, who hates America every bit as much as bin Laden did, giving him $100 billion to carry out his murderous plan."
The Blaze: GOP Leaders can stop Iran Deal

Cruz also put heavy heat on Senate Majority Leader Mitch McConnell (R-Ky.) and House Speaker John Boehner (R-Ohio), saying they still have the ability to "defeat this deal."
Cruz said "the clock does not begin ticking until the president has handed over the entire deal," and since parts have still not been handed over, "the congressional review period has not started."
As such, Cruz said, "it is illegal for Obama to lift sanctions" on Iran at this point.
"Mitch McConnell and John Boehner can stop this deal if they simply enforce federal law," Cruz said heatedly.
ABC News: Cruz: Iran single greatest national security threat facing America

Speaking immediately before Trump, Sen. Cruz called the Iran deal "catastrophic" and the "single greatest national security threat facing America." "Stop this deal!" Cruz declared. Cruz has been one of the few Republican presidential candidates who hasn't gone after Trump.
"I want to thank my friend Donald Trump for joining us today," Cruz said at the rally. The two embraced, shook hands and chatted briefly before Trump took the stage.
The joint appearance of Cruz and Trump at the rally was the latest friendly gesture between the GOP presidential candidates. The two have spent the summer appearing to cultivate what might be the friendliest relationship possible for two men both vying to be the next commander-in-chief.
Ted Cruz, Cruz Campaign Press Release - ICYMI: Cruz: No More Talk, No More Show Votes, Get It Done: Stop This Deal Online by Gerhard Peters and John T. Woolley, The American Presidency Project https://www.presidency.ucsb.edu/node/315242