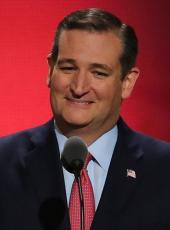 Cruz Campaign Press Release - ICYMI: CRUZ: Democrats Don't Want to Talk About The Fact They're United In Support Of Late Term Abortion
Speaks to Fox's Megyn Kelly regarding Planned Parenthood and religious liberty
HOUSTON, Texas — Last night, U.S. Sen. Ted Cruz, R-Texas, discussed the fight to defund Planned Parenthood and the assault the Obama Administration is waging on religious liberty.
Excerpts below, full video may be viewed here.
On the assault against religious liberty:
"Of course there is. It's great to be with you Megyn, you know the mainstream media they are not fair and impartial observers, they are partisans, they are Obama's number one protectors and they're rooting for Hillary. Pope Francis has been an incredible voice for life, he's been an incredible voice for marriage, he's been an incredible voice for religious liberty and in all three of them we are seeing an assault that is unprecedented in the history of our country.
"The Democrats and media don't want to talk about the fact that today Senate Democrats stood virtually united in support of late term abortion they don't want to talk about these horrifying Planned Parenthood videos that show them selling the body parts of unborn children, they don't want to talk about the assault on marriage that Pope Francis has stood up against, and they certainly don't address the continued assault on religious liberty. In Egypt when we saw 22 Coptic Christians beheaded by ISIS and the Obama White House described it as they're being killed because of their Egyptian citizenship, Pope Francis powerfully spoke out he said, 'their blood confesses Jesus Christ.' I'm very glad to welcome Pope Francis to America, I'm very glad he's with us."
On defunding Planned Parenthood:
"Well Megyn you're exactly right. And as you know I have pledged if I'm elected president on the first day in office I will instruct the Department of Justice to open an investigation into Planned Parenthood and these horrific videos and on the first day in office I will instruct every federal agency that the persecution of religious liberty ends that day and that will mean among other things that the case against the Little Sisters of the Poor will be dismissed. I mean this is an administration, the Obama administration that is litigating against a Catholic charity, the Little Sisters, attempting to force the nuns to pay millions of dollars of fines under Obamacare in order to try to force them to pay for abortion-inducing drugs it makes no sense it's radical and extreme and I'm curious if the mainstream media will ask Democrats how they feel about litigating against nuns while the Holy Father is here in America."
Ted Cruz, Cruz Campaign Press Release - ICYMI: CRUZ: Democrats Don't Want to Talk About The Fact They're United In Support Of Late Term Abortion Online by Gerhard Peters and John T. Woolley, The American Presidency Project https://www.presidency.ucsb.edu/node/314841