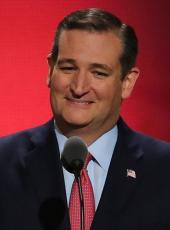 Cruz Campaign Press Release - Guam Governor Eddie Calvo Endorses Ted Cruz for President
HOUSTON, Texas – Today, the Cruz for President Campaign announced the endorsement of Governor Eddie Calvo of Guam. Calvo is in his second term as the elected Republican governor of Guam, the critically important U.S. territory in the Pacific. He will serve as the Guam chairman of Cruz for President.
"I'm honored to have the support of Governor Calvo," said Cruz. "He is a proven leader, who hasn't been afraid to fight Washington to ensure a better, brighter future for Guam."
"Ted Cruz is listening to voters in Guam like no other candidate," said Calvo. "He uniquely understands the issues facing not just Guam, but other Pacific Islanders. Guam will proudly vote to nominate Cruz as our party's nominee at the Republican National Convention."
Calvo previously served five terms as a senator in the Guam Legislature, where he served as vice speaker, acting speaker and chairman of the legislative finance, public works and health committees. Calvo has a bachelor's degree from the College of Notre Dame in Belmont, California.
As Governor, Calvo is a strong fiscal conservative and champion of the Second Amendment and has set in place strict fiscal reforms to pay down and refinance Guam's huge budget deficit. He has operated with consecutive budget surpluses.
In February 2014, Calvo signed Bill 146, which made the Castle Doctrine the law in Guam. Additionally, in May 2014 Calvo signed Bill 296 into law, which changed language for concealed firearms licensing from "may" to "shall", meaning that concealed firearm licenses shall be issued to an applicant who meets the various specifications.
Governor Calvo is fond of saying his family and faith are his "rock," the foundation of his life. They have supported him throughout his political career, which began when he successfully campaigned for the Guam Legislature in 1998.
Ted Cruz, Cruz Campaign Press Release - Guam Governor Eddie Calvo Endorses Ted Cruz for President Online by Gerhard Peters and John T. Woolley, The American Presidency Project https://www.presidency.ucsb.edu/node/315081