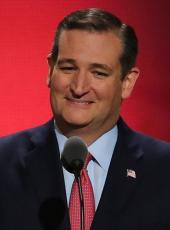 Cruz Campaign Press Release - Dr. Gary Frazier Endorses Ted Cruz for President
HOUSTON, Texas – Today, Presidential candidate Ted Cruz announced the endorsement of Dr. Gary Frazier, an evangelical leader, speaker, and author.
Frazier is the Executive Vice President of United in Purpose, and the President of Discovery Missions International. He has authored a number of books and video series, including It Could Happen Tomorrow, The Miracle of Israel, Hell is for Real, and The Arab Israeli Conflict. Frazier contributed to the LaHaye Prophecy Bible, and speaks regularly at the "Global Warning Conference on Bible Prophecy."
"Of all the candidates, we have the largest coalition of faith leaders, and this speaks to our campaign's credibility in the Christian community," said Cruz. "Gary is a committed Christian leader and spokesman as well as a strong addition to the faith and religious liberty team. I am pleased to have his support."
"I like Senator Ted Cruz's grit," said Dr. Frazier. "He has been at the forefront of standing up for Christians both domestically and abroad and he's not afraid to fight for what is right. Whether seeking to stop radical Islamic terrorists from persecuting Christians, or leading the fight for the sanctity of life and religious liberty, Ted Cruz understands the cultural battle that we as Americans are faced with. More importantly, Ted knows what it will take for us to win that battle. I firmly believe that Ted is the candidate best suited for the job on day one."
Ted Cruz, Cruz Campaign Press Release - Dr. Gary Frazier Endorses Ted Cruz for President Online by Gerhard Peters and John T. Woolley, The American Presidency Project https://www.presidency.ucsb.edu/node/314473