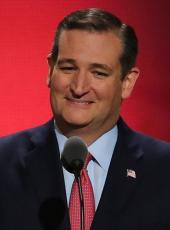 Cruz Campaign Press Release - Dr. Ben Chouake Endorses Ted Cruz
Cruz Welcomes Support from Leading Jewish Activist
HOUSTON, Texas – Presidential candidate Ted Cruz today welcomed the endorsement of Dr. Ben Chouake, national president of NORPAC, the nation's largest pro-Israel political action committee.
"Since entering the Senate, Ted Cruz has made support of U.S.-Israeli relations a priority," Dr. Chouake said. "He has used the legislative powers of his office to advance the relationship, and his bully pulpit to add a moral voice for America's most important ally in the Middle East. It is evident that Ted Cruz's support for Israel is heartfelt and effective."
"We are fortunate that there are several candidates for president who can be expected to have a positive outlook on U.S.-Israeli relations," he continued. "However, one of the candidates for president, Ted Cruz, has clearly shown that the safety and security of the Jewish Homeland is an emotional and religious priority. Ted has demonstrated a superior understanding of the issues in the Middle East and a deep commitment to America's historic role as the guardian of our ally, Israel."
"Ted Cruz has used his formidable talents in the Senate toward promoting this guardianship unequivocally to both the friends and adversaries of America and Israel. Our membership is grateful and fortunate to have such an outstanding advocate of U.S.-Israeli relations such as Ted Cruz running for our nation's highest office. He is a great moral voice for America and we are proud to support him."
"We are excited to welcome Dr. Chouake to our team," Cruz said. "His substantial experience at NORPAC in strengthening the U.S.–Israeli relationship among Senators and members of Congress, combined with his depth of policy expertise, will be an asset to our campaign. More importantly, he has become a valued friend, and I am proud that after the work he has done with multiple candidates of both parties in this race, he has seen fit to endorse our campaign."
A resident of Englewood, New Jersey, Dr. Chouake is a founder of Emergi-Med, an eight-physician primary care practice and holds certifications in internal medicine and emergency medicine. As president of NORPAC, which is bipartisan, Dr. Chouake has become a nationally recognized advocate of U.S.-Israeli relations. He sits on the National Council of AIPAC, and received its Community Leader Award in 2008.
NORPAC is a non-partisan political action committee whose efforts have resulted in a strong U.S.-Israeli relationship in the current Congress. NORPAC's primary purpose is to "support candidates and sitting members of the U.S. Senate and House of Representatives who demonstrate a genuine commitment to the strength, security, and survival of Israel." They are known for their superior effectiveness in shaping pro-Israel policies in Washington, D.C.
*Titles and any affiliations provided for identification purposes only.
Ted Cruz, Cruz Campaign Press Release - Dr. Ben Chouake Endorses Ted Cruz Online by Gerhard Peters and John T. Woolley, The American Presidency Project https://www.presidency.ucsb.edu/node/315182