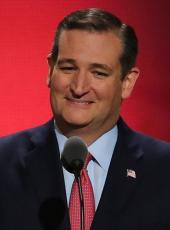 Cruz Campaign Press Release - Cruz names CJ Pearson as National Chairman of "Teens For Ted"
Adam Hoffman and Wyatt English to serve as National Co-Chairs
HOUSTON, Texas — U.S. Sen. Ted Cruz, R-Texas, today named YouTube sensation CJ Pearson of Georgia as National Chairman of the "Teens For Ted" coalition. Political activist Wyatt English of Iowa and Secretary of the High School Republicans of Texas Adam Hoffman will serve as co-chairs.
"Young people are looking for someone who does more than just talk a good game. They want someone who has walked the walk," Sen. Cruz said. "They're looking for a fighter. But most importantly, they're looking for someone who cares. Someone who cares about their struggle, cares about their future and has actually stood up and fought for it. In the Senate, I fought back against raising the debt ceiling and spending away their future, while many of my colleagues decided to lay down their arms and do just that. I fought for their Fourth Amendment rights, guaranteed to them by our Constitution, when the illegal and unconstitutional mass data collection practices of the NSA were exposed. Young people care about these issues, and so do I. I'm proud to have CJ, Wyatt, and Adam leading these efforts as we seek to capture the youth vote in 2016."
At 13 years old, CJ Pearson commands a brand, following, and political message that inspires the youngest of followers to even an older generation of conservatives. Since the age of 8, CJ has considered himself a conservative. With a Facebook base of over 45,000 followers and a YouTube channel viewership of well over 3 million, in less than five months, CJ Pearson's work has been seen on many networks. He's been featured on Fox News, the Washington Times, USA Today, and featured by commentators including Mark Levin and Laura Ingraham. Strongly believing that young people, regardless of political affiliation, must become involved in the political process, CJ founded the Young Georgians in Government. He served as Executive Director where he has introduced pieces of legislation to the Georgia General Assembly, including a House resolution seeking to lower the age to seek office in both the state House and Senate. He's fought for real solutions facing young people across Georgia and has made large strides to engaging young people in the political process.
Wyatt English, currently a junior in his family's homeschool, is a conservative activist in Iowa politics. He has been involved in speech, debate and drama, as well as various parts of the Iowa for Cruz campaign. He looks forward to connecting with teens across the nation to make a difference by electing a true conservative for our next President.
Adam Hoffman has been a staple in Texas politics. Throughout his years in the political arena, Adam has worked on the campaigns of Greg Abbott and recently served as an intern for Sen. Cruz's presidential campaign in the finance and policy department. In addition to those involvements, Adam currently serves as President of the Young Republicans Club at Robert M. Beren Academy in Houston, Texas and also serves as the Secretary of the High School Republicans of Texas. While Adam has been a mover and shaker in the political world, he has also sought to help the less fortunate. In 2013, Adam founded Food4them, a nonprofit organization which distributes more than 3 tons of food annually to food pantries in the Greater Houston Area
"It is truly humbling to be given the opportunity to serve in such a capacity within this campaign's youth operation," says Pearson. "Cruz For President is the first campaign, on both sides of the aisle in this 2016 presidential election, to specifically target teenage voters. In 25 states, seventeen year olds will be given the opportunity to cast their ballot in the presidential primaries. It is my firm belief that Sen. Cruz's bold message of limited government and constitutional conservatism will be a leading factor in our campaign capturing their much valued support. "
Ted Cruz, Cruz Campaign Press Release - Cruz names CJ Pearson as National Chairman of "Teens For Ted" Online by Gerhard Peters and John T. Woolley, The American Presidency Project https://www.presidency.ucsb.edu/node/315268