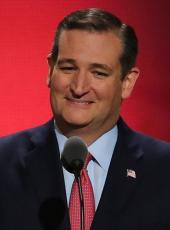 Cruz Campaign Press Release - Cruz Names Alessandra Gennarelli, Elliott Kelley, Neal Mehrotra National Co-Chairs of "Millennials for Cruz"
HOUSTON, Texas — U.S. Sen. Ted Cruz, R-Texas, today named Alessandra Gennarelli, Elliott Kelley, and Neal Mehrotra as National Co-Chairs of the "Millennials for Cruz" coalition.
"Young people have been hammered by the policies of the Obama Administration," Sen Cruz said. "Stagnation is at an all time high, students are graduating college with overwhelming debt and no job opportunities to show for it. I am committed to restoring the economic growth that our nation needs so young people have the same opportunities that their parents and generations before them had, and ensuring that future generations can enjoy the same opportunities."
Alessandra is a sophomore at the University of Texas at Austin. She serves as assistant to the political department at the campaign headquarters in Houston. Alessandra is also a published author with the Center for Security Policy in Washington, D.C.
"It is our duty as Millennials to stand up for the candidate who values this generation, and advocates for our future against the failed status quo of Washington D.C.," Alessandra said. "Millennials must support the candidate who has proven he can be trusted to govern by his moral and religious principles once elected and who always keeps his promises. That candidate is Ted Cruz. The Millennials for Cruz coalition is off to a strong start, and I am confident that the Senator's consistent conservative record and his plans for the future of this generation will win the Millennial vote for Cruz in 2016."
Elliott is a sophomore at Bob Jones University in South Carolina. He serves as Chief Justice and Senator in the South Carolina Student Legislature, a mock government comprised of many South Carolina colleges and universities. He also sits as 2nd Vice Chair of the Pickens County Republican Party.
"Millennials seek truth and demand a candidate who will enact policies that will change the direction of our country," said Elliott. "The Millennials for Cruz coalition is bringing together a grassroots army of Millennials at colleges and universities throughout the U.S. which will be a crucial asset in helping to elect Cruz in 2016. Sen. Cruz has a passion for truth and for the rule of law and has shown a determination to defend both crucial elements of our nation."
Neal Mehrotra is a law student at the University of Texas studying with a Chancellor's full-tuition scholarship. He graduated from Cornell University in 2011 and worked in the banking industry before beginning law school.
"I'm humbled to help." Neal said. "Ted Cruz is the natural choice for young people who are disenchanted with the bipartisan corruption of the Washington Cartel. His bold stances will be infectious to Millennials accustomed to living in a leadership-starved culture who are looking for someone principled to get excited about."
Ted Cruz, Cruz Campaign Press Release - Cruz Names Alessandra Gennarelli, Elliott Kelley, Neal Mehrotra National Co-Chairs of "Millennials for Cruz" Online by Gerhard Peters and John T. Woolley, The American Presidency Project https://www.presidency.ucsb.edu/node/314609