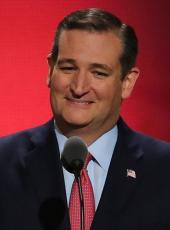 Cruz Campaign Press Release - Cruz for President Announces Texas Leadership Team
HOUSTON, Texas — Presidential candidate Ted Cruz today announced the expansion of his Texas Leadership Team, with the addition of several new Texas elected officials and a host of Congressional and County Chairs for the March 1 Primary.
"Conservatives in Texas have coalesced behind our campaign ahead of the March 1 Primary," said Cruz. "Our leadership team in Texas has continued to expand daily, and I'm proud of the tremendous support we've received from grassroots activists, elected officials, Republican women, Tea Party groups, Libertarian Republicans, and men and women from all across the Republican Party in Texas. I look forward to working together with these leaders all across the Lone Star state to be very competitive on March 1."
The Cruz for President Leadership team is composed of 27 members of the Texas State Republican Executive Committee, 57 Congressional district chairs and co-chairs in all 36 Texas Congressional Districts. Also, the campaign has 462 Texas county chairs and co-chairs.
Rhonda Lacy and Deborah Wall co-chair over 100 Republican women leaders for Cruz. Texas Tea Party Chairwoman, JoAnn Fleming oversees over 100 TEA Party leaders with Bill Hussey, Cindy Schwartz, Mary Huls, Ray Myers, and Maggie Wright as co-chairs. Kaye T. Goolsby, an early supporter of Cruz's Senate run, has an unrivaled grassroots network and deep ties to Texas Republican Women across the state, serves as national grassroots chairwoman.
Cruz has received the endorsement of these Texas elected officials:
Former Texas Governor Rick Perry

Lt. Governor Dan Patrick

Railroad Commissioner David Porter

Railroad Commissioner Ryan Sitton
Congressman Louie Gohmert

Congressman Sam Johnson

Congressman John Ratcliffe

Congressman John Culberson

Congressman Randy Weber

Congressman Michael Burgess

Congressman Brian Babin
Senator Bob Hall

Senator Brandon Creighton

Senator Konni Burton

Senator Lois Kolkhorst

Senator Brian Birdwell

Senator Charles Perry

Senator Charles Schwertner

Senator Paul Bettencourt

Senator Donna Campbell

Senator Don Huffines

Senator Craig Estes
Representative Dan Flynn

Representative Cecil Bell, Jr.

Representative Stuart Spitzer

Representative Bryan Hughes

Representative Matt Schaefer

Representative John Wray

Representative John Raney

Representative Phil King

Representative Dustin Burrows

Representative Mark Keough

Representative Will Metcalf

Representative Rick Miller

Representative John Zerwas

Representative Scott Turner

Representative Andrew Murr

Representative Molly White

Representative Charles "Doc" Anderson

Representative DeWayne Burns

Representative Larry Philips

Representative Ron Simmons New

Representative Matt Shaheen

Representative Jeff Leach

Representative Scott Sanford

Representative Drew Springer

Representative Dwayne Bohac

Representative Doug Miller

Representative Brooks Landgraf

Representative John Frullo

Representative Jodie Laubenberg

Representative Stephanie Klick

Representative Matt Krause

Representative Tony Tinderholt

Representative Bill Zedler

Representative Pat Fallon

Representative Matt Rinaldi

Representative Dan Huberty

Representative Wayne Smith

Representative Allen Fletcher

Representative Mike Schofield

Representative Jim Murphy

Representative Jonathan Stickland

Representative Gary Elkins

Representative Debbie Riddle
Former Texas Secretary of State and Texas GOP Chairman, George Strake

Former Texas GOP Chairwoman, Tina Benkiser

Former Texas GOP Chairwoman, Cathie Adams

Republican Party of Texas National Committeeman, Robin Armstrong

Former RNC Committeewoman, Denise McNamara

The Honorable Paul Pressler

The Honorable Diana Denman
Ted Cruz, Cruz Campaign Press Release - Cruz for President Announces Texas Leadership Team Online by Gerhard Peters and John T. Woolley, The American Presidency Project https://www.presidency.ucsb.edu/node/315136