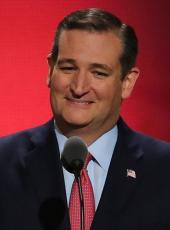 Cruz Campaign Press Release - Cruz for President Announces Missouri Leadership Team
Thirty-two Missouri conservative leaders endorse Sen. Cruz for President
HOUSTON, Texas – U.S. Sen. Ted Cruz, R-Texas, today announced 32 conservative influencers as part of his Missouri Leadership Team, comprised of current and former elected officials, pastors, education leaders, conservative and liberty activists, and pro-life and pro-family leaders. Former Missouri House Speaker Pro Tem Carl Bearden, Rep. Eric Burlison, former State Sen. Jim Lembke, former State Sen. Delbert Scott, Bev Ehlen, and Ryan Johnson will serve as co-chairs.
Following Senator Cruz's remarks to Eagle Forum members this Saturday, September 12, at the St. Louis Airport Marriott, he will hold a press conference with several members of his Missouri Leadership Team in Salon III.
"I am thrilled to help lead Sen. Cruz's campaign efforts in Missouri," said Carl Bearden. "He is a proven, consistent conservative who will lead the fight to dismantle the Washington Cartel, restore power back to the people, renew growth and opportunity, and defend our constitutional liberties."
Co-Chair: Former Speaker Pro Tem Carl Bearden, St. Charles

Carl Bearden served as the Speaker Pro Tem of the Missouri House of Representatives between 2005 and 2007. He is a U.S. Air Force veteran, executive director of United for Missouri, and past state director of the Missouri chapter of Americans for Prosperity. Bearden has 35 years of private business experience.
Co-Chair: Rep. Eric Burlison, Springfield

In addition to his service as a lawmaker, Burlison is a software engineer and a business analyst in medicine. He is also a sportsman and a member of the National Rifle Association (NRA).
Co-Chair: Former State Senator Jim Lembke, St. Louis

Jim Lembke served in the Missouri General Assembly for 10 years as both a senator and representative, where he was known for his well-articulated conservative positions. His background includes leadership in business and at a Christian school.
Co-Chair: Former State Senator Delbert Scott, Lowry City

Now the President of Kansas Christian College, Scott served in the Missouri State Senate between 2003 and 2010. In 2007 he was the sponsor of landmark pro-life legislation that resulted in the closing of two abortion clinics. He served as a delegate to district and state Republican conventions in 1988, 1992, 1996, 2000, 2004, and 2008.
Co-Chair: Bev Ehlen, Warrenton

Bev Ehlen is the director of Concerned Women for America Missouri. She co-chaired the campaign for Amendment 2 (the Missouri marriage amendment) and served as a field director for Missourians Against Human Cloning in 2006.
Co-Chair: Ryan Johnson, Raymore

As the co-founder and president of the Missouri Alliance for Freedom, Ryan Johnson travels the state briefing Missourians on the political landscape and how they can make an impact in government. Ryan is a U.S. Army and U.S. Coast Guard veteran.
Rep. John McCaherty, High Ridge

In addition to his legislative duties, McCaherty is the pastor of First Baptist Church of Murphy. He is a U.S. Air Force veteran.
Rep. Bill White, Joplin

White is an attorney whose practice has focused on representing children, the elderly, and business law. He is a volunteer teacher and U.S. Marine Corps veteran.
Rep. Rob Vescovo, Arnold/High Ridge

Vescovo is a freshman state representative and business owner.
Rep. Rick Brattin, Harrisonville

Brattin is a small business owner, U.S. Marine Corps veteran, and NRA member.
Rep. Charlie Davis, Webb City

Davis is a business owner and U.S. Navy veteran.
Former Sen. Brad Lager, Savannah

Lager is a business owner with a passion for entrepreneurship. He was known in the state senate as a defender of Missouri's taxpayers.
Former Sen. Chuck Purgason, West Plains

Purgason is a farmer and the founder of an Ozarks hatchery and hunting preserve. During his service in the Missouri House and Senate, Chuck was known for the rural common sense he brought to the legislature.
Former Rep. Doug Funderburk, St. Peters

Funderburk is former chairman of the Missouri House Tax Reform committee. He has worked for the Boeing Corporation for more than 30 years.
Former Rep. Bryan Stevenson, Joplin

Stevenson is an attorney in private practice.
Dr. Chuck Hoskins, Hillsboro

Hoskins is executive director and director of missions for the Jefferson Baptist Association.
Dr. Karladine Graves, Kansas City

Graves is a family practice physician and the co-founder of Christian Citizens United. She is the past president of the Lighthouse in Kansas City, a home and adoptive agency for unwed mothers. She is also past president of the Missouri Conservative Coalition.
Pastor Chris Lybarger, High Ridge

Lybarger is senior pastor of First Baptist Church in High Ridge and a counselor. He has served with two crisis pregnancy centers.
Jeremy and Heidi Cady, Jefferson City

Jeremy is the Legislative Director for the Missouri Alliance for Freedom, where he works with the General Assembly to promote individual, religious, and economic freedom. He and Heidi are active in local and statewide politics.
John Elliott, Smithville

Elliott has been active in Missouri politics and conservative issues for 25 years. He is a small business owner.
Cindy O'Laughlin, Shelbina

O'Laughlin is a small business owner, a longtime conservative activist, and a state board member for Associated Builders and Contractors, Heart of America Chapter.
Jill Carter, Granby

Carter works with Missouri Moms Against Common Core and the Missouri Coalition Against Common Core. She led efforts against Common Core at her local school, which became the first school in Missouri to pass a resolution against Common Core.
Calvin Morrow, Mansfield

Morrow is a homeschool father and the president of the Lebanon Area Homeschoolers. He is the founder of Christians Uniting for Political Action, mobilizing Christians to re-engage in the political process.
Kelly Kellenberger, Carthage

Kellenberger is a debate coach, tutor, and an ambassador for homeschooling who has started homeschooling programs around southwest Missouri.
Ben and Naomi Baker, Neosho

Ben is the president of Southwest Missouri Pachyderms and dean of students at the Ozark Bible Institute and College in Neosho. Naomi is on the board of State Board Pachyderm Clubs and Newton County Republican Women.
Christine Yaudus, Joplin

Yaudus is vice president of the Southwest Missouri Conservative Network. She has worked on numerous local and statewide campaigns and occasionally appears as guest host of NewsTalk 1310 KZRG's morning radio talk show.
Cindy Evans, O'Fallon

Evans is the vice chair of the St. Charles County Republican Central Committee.
Dewey Crepeau, Columbia

Crepeau is an attorney, the executive director of A Gift of Hope Adoptions, and finance director of Keyes for President in 1996.
Ike Skelton, Lebanon

Skelton is a locksmith by trade and serves as chairman of the Lebanon Tea Party and founder of Missourians Against Agenda 21.
Shawn Sisco, Rolla

Sisco is a small business owner and conservative activist.
(Titles used for identification purposes only.)
Ted Cruz, Cruz Campaign Press Release - Cruz for President Announces Missouri Leadership Team Online by Gerhard Peters and John T. Woolley, The American Presidency Project https://www.presidency.ucsb.edu/node/315043