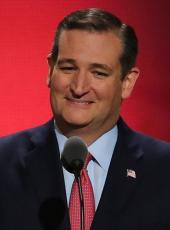 Cruz Campaign Press Release - Cruz for President Announces Kansas Leadership Team
HOUSTON, Texas – Today, Presidential candidate Ted Cruz announced his leadership team in Kansas that demonstrates the campaign's growing grassroots support across the country. The leadership team will be co-chaired by State Senator Tom Arpke, State Representative Amanda Grosserode, State Representative Mark Kahrs, and State Senator Mary Pilcher-Cook. This group will continue the campaign's commitment of running a grassroots campaign that is uniting courageous conservatives across the country.
"I am thrilled to have the support of these elected officials in Kansas," Cruz said. "These men and women are unshakeable forces in the grassroots movement. I appreciate their hard work and I look forward to continuing to coalesce conservatives around our campaign in Kansas, as the March 5th primary approaches."
"There is not a more urgent cause than preserving our nation as a beacon of freedom in the world," Grossrode said. "Ted Cruz's unwavering commitment to individual liberty and limited government makes him precisely the man we need as the next President of the United States."
"I'm excited to see such a strong pro-life candidate and defender of traditional marriage continue to climb in the polls. I am confident that Ted Cruz's message of conservatism will resonate with Kansas voters March 5th," said State Senator Tom Arpke.
"We need someone who will not betray conservative principles, stand for the truth, and fight to retain our liberty in our country and in our states," said State Senator Mary Pilcher-Cook. "Senator Cruz is that person."
The Cruz for President Kansas Leadership Team includes the following:
Congressional Chair

Tim Huelskamp, Congressman District 1
Co-Chair

Tom Arpke, State Senator District 24

Amanda Grosserode, State Representative District 16

Mark Kahrs, State Representative District 87

Mary Pilcher-Cook, State Senator District 10
Leadership Team

Steve Fitzgerald, State Senator District 5

Bill Sutton, State Representative District 43

Brett Hildabrand, State Representative District 17

Blake Carpenter, State Representative District 81

Craig McPherson, State Representative District 8

Dennis Hedke, State Representative District 99

J.R. Claeys, State Representative District 69

John Rubin, State Representative District 18

Kasha Kelley, State Representative District 80

Randy Garber, State Representative District 62

Randy Powell, State Representative District 30

Mike Kiegerl, State Representative District 43

Steve Huebert, State Representative District 90

Tony Barton, State Representative District 41
Ted Cruz, Cruz Campaign Press Release - Cruz for President Announces Kansas Leadership Team Online by Gerhard Peters and John T. Woolley, The American Presidency Project https://www.presidency.ucsb.edu/node/315338