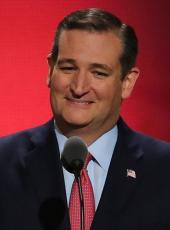 Cruz Campaign Press Release - Cruz for President Announces Growing Leadership Team in New Hampshire
Former Senator Fenton Groen, Representatives Allen Cook, Warren Groen, Rick Christie, Bill Kuch, Guy Comtois, and Walter Koloziej among 66 new endorsements for Sen. Cruz
HOUSTON, Texas — U.S. Sen. Ted Cruz, R-Texas, today announced a second round of members to his New Hampshire Leadership Team in advance of his return to the Granite State this Sunday and Monday. This group of sixty-six courageous conservatives joins forty-one other leaders who endorsed Cruz earlier in the spring, including New Hampshire co-chairs, former Speaker Bill O'Brien, former Sen. Bob Smith, and Executive Councilor David Wheeler. Now totaling 107, Sen. Cruz's leadership team consists of conservative activists, former and current elected officials, and liberty and faith based leaders across all ten counties in the Granite State.
Former Senator Fenton Groen, Rochester

Sen. Groen represented District 6 in the State Senate from 2010-2012 and was a champion for conservative causes while in Concord. He also owns a construction business with his brother, Rep. Warren Groen.
Representative Warren Groen, Rochester

In his fourth term representing Ward 3 in Rochester, Rep. Groen has been a leader in shrinking government, and protecting life and constitutional liberties.
Representative Rick Christie, Goffstown

First term State Rep. Christie has been a strong champion of conservative causes in the State Legislature.
Pastor and Representative Allen Cook, Brentwood

Rep. Cook is in his first term in Concord and also a pastor.  He will chair Senator Cruz's faith-based coalition in the Granite State.
Representative Guy and Barbara Comtois, Center Barnstead

Rep. Comtois is in his 3rd term in the House and represents Belknap-7.  The Comtoises supported Ron Paul in 2012 and are the organizers of Micro-Farmers of New Hampshire.
Representative Bill Kuch, Bow

First term Rep. Kuch of Bow served seven years in the Navy Reserve.
Representative Walter Koloziej, Windham

Rep. Koloziej is in his 4th term representing Rockingham-07 and served in the Marine Corps from 1963-1967.
Former Representative Patrick Bick, Salem

Former State Rep. Bick is also a veteran of the U.S. Navy.
Former Representatives Carol and Lucien Vita, Middleton

Carol represented Stafford-3 from 2009-2013 which included Barrington, Farmington Middleton, Milton, New Durham and Strafford. Lucian also served in Strafford-3 from 2011-2013. The Vitas supported Ron Paul in 2012.
Former Representative Colette Worsman, Meredith

Rep. Worsman represented Belknap-2 from 2010-2014.
Former Representative Harry Accornero, Laconia

Rep. Arrocnero served one term in the Legislature and is a liberty activist in Belknap County.
Pastor Andrew Dean, Mont Vernon

Pastor of Village Chapel Baptist Church in Mont Vernon.
Pastor Ron Moore, Merrimack

Pastor of Church of the Intersection In Merrimack.
Pastor Ray Pouliot, Merrimack

Pastor of Riverside Christian Church in Merrimack.
Pastor Thomas Peetz, Concord

Pastor of World Life Christian Church in Concord and the Regional Director of Christians for Israel.
Nancy and Warren Kindler, Epping

The Kindlers are longtime Party activists in Rockingham County.
Linda Twombly, Nashua

Former President of Nashua Federation of Republican Women.
Di and Chuck Lothrop, Nashua

Conservative activists and Nashua Town Chairs.
Gary Gahan, Merrimack

Veteran and conservative activist.
Barbara Dolloff, Chester

Former Chester Selectwoman.
Marilyn Ewing, Hanover

Hanover Town Chair and conservative activist.
Rosemary Landry, Meredith

Former Meredith Selectwoman and Belknap County Chair.
Dave Meader, Plaistow

Second Amendment activist and Plaistow Town Chair.
Amos Townsend, Madbury

Townsend is a veteran of the U.S. Air Force, conservative activist, and former candidate for office.
Andrew Harris, Epping

Rockingham area liberty activist.
Al Goodwin, Pittsfield

Goodwin is a a conservative activist and former winner of the Civic Recognition Award, given to those who improve and help the well-being of their community.
Sandy Geisler, Londonderry

Conservative activist and Treasurer of the Nashua Federation of Republican Women.
Josh Hebert, Concord

U.S. Army veteran.
Al Rickheit, Fitzwilliam

Cheshire County activist and Fitzwilliam Town Chair.
Cheryl LeBrun, Loudon

Faith-based activist.
Johanne and Eric Landis, Amherst

Eric is a neuroradiologist and Johanne is a dentist. Both are were recently driven to politics because of Obamacare.
Ward Rowley, New London

Businessman and conservative activist.
Russell Payne, Manchester

Tea-Party activist.
Jeffrey Boutin, Merrimack

Businessman and conservative activist.
Loretta and Jeff Muzzey, Plymouth

Both conservative activists, Loretta and Jeff traveled to Texas in 2012 to volunteer on Senator Cruz's 2012 campaign for U.S. Senate.
Mike Anderson, Nashua

Conservative activist.
Missy Womble, Lancaster

Conservative activist.
Jay Berman, Rochester

Conservative activist and UNH Professor.
Hilary Schwoegler, Mont Vernon

First-time campaign activist.
Annie and Jim Conceison, Nashua

Conservative activists.
Cindy George, Salem

Conservative activist.
Linda McGrath, Derry

Conservative activist and state organizer of NH4Israel.
Mark McInnis, Salem

Conservative activist.
Lorraine Paul, Center Harbor

Conservative activist.
Virginia and Tony Pereira, Bennington

Small business owners and conservative activists.
Ray Ross, Brookline

Conservative activist and Brookline Town Chair.
Valerie and John Blomstedt, Wakefield

The Blomstedts are long-time conservative activists dating backing to serving as Pat Buchanan's Carroll County Chairs.
Alicia Hudon, Nashua

First-time campaign activist.
June Marshall, Manchester

Started the first Ted Cruz for New Hampshire Facebook page.
Jean Ferreira, Gilford

Conservative activist and Gilford Town Chair.
Linda Luhtala, Rumney

Long-time conservative activist in Grafton County.
Anita Hinkle, Merrimack

Conservative activists.
David Love, Derry

2nd Amendment and liberty activist
Monica Shannon, Manchester

Faith-based activist.
Dennis Giannotti, Goshen

Conservative activist and Sullivan County organizer.
Ted Cruz, Cruz Campaign Press Release - Cruz for President Announces Growing Leadership Team in New Hampshire Online by Gerhard Peters and John T. Woolley, The American Presidency Project https://www.presidency.ucsb.edu/node/315259