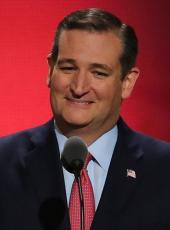 Cruz Campaign Press Release - Cruz for President Announces Endorsement of Reverend CL Bryant
Bryant: Cruz is the "right choice" on Martin Luther King, Jr. Day
HOUSTON, Texas — Presidential candidate Ted Cruz today announced the endorsement of Reverend CL Bryant, an African-American Baptist minister, author, radio host, and Crystal Dove award-winning filmmaker.
"I believe the greatest responsibility placed upon the free people of America, is the duty to make the right choices when selecting our leaders," Reverend Bryant said. "I have prayerfully considered and listened to all candidates who would be this nation's next Commander-in-Chief. I have no doubt that Ted Cruz has the faith, strength, and content of character to reestablish our nation as the undisputed leader of the free world, to restore the prosperity and economic strength of our free-market economy, to reverse the assaults upon our religious liberty and other unalienable rights, and to do so based upon the Judeo-Christian, Constitutional principles that are the underpinning of our nation's greatness. These are the foundations of what the Rev. Dr. Martin Luther King referred to as right."
Bryant says his decision to support Cruz is rooted in a quote from Dr. King, who said, "There comes a time when one must take a position that is neither safe, [n]or politic (politically correct), nor popular, but he must take it because conscience tells him it is right."
"Those words contain the reasons I have complete confidence in my full voiced endorsement of Senator Ted Cruz for the office of President of the United States of America... because it is right!," said Reverend Bryant. "Today is a national holiday honoring a man of great courage and deep personal conviction, the Rev. Dr. Martin Luther King, Jr. This is a perfect day to look toward America's future with the courage and optimism of Dr. King."
"Rev. Dr. Martin Luther King Jr. is a man for whom I have the utmost admiration and respect," Cruz said. "King's persistent, patient campaign against injustice, his wisdom, and his legacy continue to inspire generations of Americans. Now more than ever, we must accept King's challenge to give the world an example of harmony and brotherhood. I am honored to have the support of Reverend CL Bryant, a minister who loves freedom and challenges injustice with a passion urgently needed in our times. I look forward to his leadership in the African-American community as we rally against the disastrous policies of the left and toward a bright American future."
CL Bryant is a frequent guest on Fox News, The Blaze, CNN, and MSNBC. In addition to being an African-American Baptist minister, author, and host of The CL Bryant Radio Show based in Shreveport, Louisiana, Bryant is widely recognized as one of America's most dynamic orators and activists.
Bryant brings his fresh perspective on topics such as race, politics, and education. He is a Senior Fellow with D.C.-based Freedom Works, and a former NAACP President in Garland, TX. Reverend Bryant is the founder of "One Nation Back to God" and the creator and star of the Crystal Dove award-winning movie "Runaway Slave." He holds a Master of Theology degree.
*Titles and affiliations provided for identification purposes only.
Ted Cruz, Cruz Campaign Press Release - Cruz for President Announces Endorsement of Reverend CL Bryant Online by Gerhard Peters and John T. Woolley, The American Presidency Project https://www.presidency.ucsb.edu/node/314813