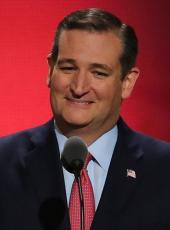 Cruz Campaign Press Release - Cruz for President Announces Endorsement of Mrs. Kayla Moore
Wife of Alabama Supreme Court Chief Justice Supports Cruz 
HOUSTON, Texas — Presidential candidate Ted Cruz today announced the endorsement of Kayla Moore, a religious liberty activist in Alabama.
"Very rarely do I get involved in other political races," Moore said. "However, our nation is at a crossroads. If we do not choose wisely, we may forever lose our country. Many will say anything to get elected, but we must look at what the candidates have done. In studying and watching those running in this race — one stands for the same values I believe in. One is a true defender of the Constitution. The next president will make many critical appointments and tough decisions with regard to the rule of law, the Supreme Court, and national security. Ted has been a consistent Constitutionalist and a faithful defender of life, marriage, and small government."
"Ted is a patriot who has consistently defended the values that made America a 'shining city on a hill,'" Moore continued. "Before the Supreme Court of the United States, as Texas Solicitor General, and in the United States Senate, Ted has not only led the fight against amnesty and Obamacare, but has championed our Second Amendment rights, the Ten Commandments, and our veterans. In a moment when the future of our nation hangs in the balance, I am honored to endorse Ted Cruz for President of the United States."
Kayla is married to Roy Moore, the current Chief Justice of the Alabama Supreme Court. In 2003 Chief Justice Moore was removed from his position by a judicial panel for refusing to remove a Ten Commandments monument he had installed in the rotunda of the Alabama Judicial Building. In 2012, the people of Alabama re-elected Moore as Chief Justice.
"Kayla is a veteran of the struggle for religious liberty," said Cruz. "As the wife of Chief Justice Roy Moore, Kayla played a key role during Alabama's battle with the ACLU over the right to publicly acknowledge God. She knows that law does not grant rights: it simply protects the unalienable human rights given to each of us by God. I am honored to have her support."
Since January 2013, Kayla has served as president of the Foundation for Moral Law. Kayla served key roles in Judge Moore's campaigns for District Attorney, Circuit Judge, Chief Justice, and Governor. She is a past small business owner. The Moore's have four children and three granddaughters and attend First Baptist Church in Gallant, Alabama.
Titles and affiliations of Mrs. Moore and Chief Justice Moore are provided for identification purposes only.
Ted Cruz, Cruz Campaign Press Release - Cruz for President Announces Endorsement of Mrs. Kayla Moore Online by Gerhard Peters and John T. Woolley, The American Presidency Project https://www.presidency.ucsb.edu/node/315128