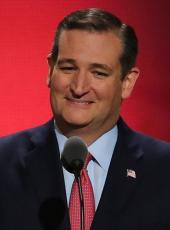 Cruz Campaign Press Release - Cruz for President Announces Endorsement of Lt. General Jerry Boykin
Decorated Veteran and Pro-Family Leader Supports Cruz for President
HOUSTON, Texas — Presidential candidate Ted Cruz today announced the endorsement of Lt. General Jerry Boykin, a retired US Army Delta Force and Green Beret commander and the Executive Vice President of the Family Research Council.
"The next President will appoint three Supreme Court Justices," Lt. Gen. Boykin said. "I want Ted Cruz to do that. He is a man of character, integrity, and courage."
Boykin was one of the original members of the US Army's Delta Force and later commanded the elite warriors in combat operations. He went on to command all the Army's Green Berets, as well as the Special Warfare Center and School. Lt. Gen. Boykin served 36 years in the United States Army, the last four years as the Deputy Undersecretary of Defense for Intelligence in President George W. Bush's administration.
More than 23,000 veterans have endorsed Cruz as members of the "Vets for Ted" coalition.
"I am honored to have the support of Lt. General Boykin," Cruz said. "He has served our nation faithfully, first as a soldier, ultimately as a commanding general, and also as a family man. Our nation needs more service members like Lt. General Boykin: tenacious, focused, and eager to defend innocent human life regardless of the cost."
Lt. Gen. Boykin is a decorated veteran and the recipient of many honors, including the Distinguished Service Medal, the Legion of Merit, the Bronze Star, and the Purple Heart. Between 1998 and 2000 he served as the Commanding General at the U.S. Army Special Forces Command (Airborne) in Fort Bragg, N.C., and from 2000 to 2003, as the Commanding General at United States Army John F. Kennedy Special Warfare Center in Fort Bragg, N.C.
Boykin is also an ordained minister with a passion for spreading the Gospel of Jesus Christ. He and his wife Ashley are the parents of five children and a number of grandchildren. As the Executive Vice President of the Family Research Council since 2012, Boykin has been a leader in the pro-family movement.
*Titles and affiliations are provided for identification purposes only.
Ted Cruz, Cruz Campaign Press Release - Cruz for President Announces Endorsement of Lt. General Jerry Boykin Online by Gerhard Peters and John T. Woolley, The American Presidency Project https://www.presidency.ucsb.edu/node/314789