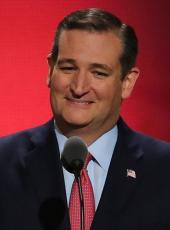 Cruz Campaign Press Release - Cruz For President Announces Endorsement of Jason and David Benham
Religious Liberty Advocates Support Ted Cruz
HOUSTON, Texas — Presidential candidate Ted Cruz today announced the endorsement of Jason and David Benham, Christian entrepreneurs who came under fire for their belief in the sanctity of life and traditional marriage.
In 2014, HGTV canceled a planned reality series, "Flip It Forward," featuring Jason and David Benham's home improvement business, after their Christian beliefs came under attack by left-wing organizations. "Our faith is the fundamental calling in our lives, and the centerpiece of who we are. As Christians we are called to love all individuals, but this does not mean we must embrace all their ideas," the Benhams said in a statement at that time.
Now, as advocates for religious liberty, David and Jason Benham speak around the nation, calling Christians to "reach out with compassion to all people with the love of Christ while resisting with courage the agenda set against our freedoms and faith."
"No one leader can make America great again, only God can do that," the Benhams said. "Ted Cruz has the humility to understand this truth. At this crossroads in American history, we need a President that acts from the inside out, one who relies on principles not polls, and is grounded in the Constitution, not cultural trends. From protecting religious liberty and preserving family values to rejecting big government and rebuking the 'establishment,' Ted Cruz is the convictional leader we desperately need in America today."
"David and Jason Benham are the kind of fighters America needs – the happy warriors," Cruz said, referencing a Wordsworth poem that he often mentions on the campaign trail. "I admire the Benham brothers, their hard work ethic, their sense of humor, and their calm and courageous commitment to their convictions. I'm glad to partner with the Benhams to add more people of faith to our growing coalition."
After spending a few years in professional baseball, David and Jason Benham launched a real estate company in 2003, and now own several companies and have created hundreds of jobs. The Benhams reside in North Carolina. David and Lori have five children: Jason and Tori have four.
In November, the Benhams joined Cruz to emcee his Rally for Religious Liberty in Greenville South Carolina.
*Titles and affiliations are provided for identification purposes only.
Ted Cruz, Cruz Campaign Press Release - Cruz For President Announces Endorsement of Jason and David Benham Online by Gerhard Peters and John T. Woolley, The American Presidency Project https://www.presidency.ucsb.edu/node/315087