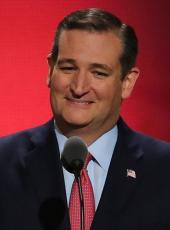 Cruz Campaign Press Release - Cruz for President Announces County Chairs in Every County in First Four States
HOUSTON, Texas – The Cruz for President campaign today announced that it has named a chairman in all 171 counties that comprise the first four early states – 99 Iowa counties, 10 New Hampshire counties, 46 South Carolina counties, and 16 Nevada counties.
"The only way we will turn our country around is through a grassroots uprising of the American people, and I'm grateful for the many courageous conservatives in the early states who have stepped forward to lead that grassroots movement," Cruz said. "I've always known we would have a great organization, but having a leader the 171 counties that comprise the four early states is an incredible achievement."
The campaign is also well-organized beyond the early states, having named more than 500 state team leaders in 19 states and one territory to date.
Full list of 340 county chairs and co-chairs announced in the first four early states to date are below:
Iowa
Robin Schaecher, Adair County

Ed Carr, Adams County

Mary Keatley, Allamakee County

Dennis Keatley, Allamakee County

Revelyn Lonning, Allamakee County

Robin Oden, Allamakee County

Keith Schroeder, Allamakee County

Pastor Duane Smith, Allamakee County (also 99 Iowa Pastors)

Mark Waits, Appanoose County

Rep. Larry Sheets, Appanoose County (also Statewide Leadership Team)

Ranae Schlater, Audubon County

Bethany Gates, Benton County

Janice Kendall, Benton County

Carol Hanson, Black Hawk County

Luke Offner, Black Hawk County

Carole Schoon, Black Hawk County

Jenni Stevenson, Black Hawk County

Tim Tierney, Black Hawk County

Pastor Rob and Jamie Ely, Black Hawk County (also 99 Iowa Pastors)

Aaron Cronk, Boone County

Paul Dayton, Boone County

Mary-Anna Denton, Bremer County

Beth Augustine, Buchanan County

Kay Quirk, Buena Vista County

Pastor Tim Ried, Buena Vista County (also 99 Iowa Pastors)

Jeanette Davis, Butler County

Pastor Michael Davis, Butler County (also 99 Iowa Pastors)

Christy Ramthum, Calhoun County

Tom Schmitz, Carroll County

Emily Rouse, Cass County

Allen Kroeger, Cedar County

Bill Salier, Cerro Gordo County (also Statewide Leadership Team)

Mark Bausch, Cerro Gordo County

Dan Ohlendorf, Cherokee County

Pastor Benjamin Scholl, Chickasaw County (also 99 Iowa Pastors)

Mary Burkheimer, Clarke County

Pastor Bradley Wallace, Clay County (also 99 Iowa Pastors)

Chelsy Askren, Clayton County

Scott Ernst, Clinton County

Sarah Smith, Clinton County

Kendal Esteves, Crawford County

Harrison Hoffmeier, Crawford County

Sandra Waldemar, Crawford County

State Rep. Steve Holt, Crawford County (also Statewide Leadership Team)

State Sen. Jason Schultz, Crawford County (also Statewide Leadership Team)

Reverend David Loeschen, Crawford County (also 99 Iowa Pastors)

Leslie Beck, Dallas County

Shane Blanchard, Dallas County

Kevin Branstetter, Dallas County

Keith Trullinger, Dallas County

State Sen. Jake Chapman, Dallas County (also Statewide Leadership Team)

Joel and Kelsey Kurtinitis, Dallas County (also Statewide Leadership Team)

State Rep. Ralph Watts, Dallas County (also Statewide Leadership Team)

Pastor Bob Deever, Dallas County (also 99 Iowa Pastors)

Pastor Tom Allen, Dallas County (also 99 Iowa Pastors)

Pastor Chris Tjapkes, Dallas County (also 99 Iowa Pastors)

Pastor Spencer Keroff, Dallas County (also 99 Iowa Pastors)

Michael Goodwin, Davis County

Jacqueline Hatfield, Decatur County

Ron Bockenstedt, Delaware County

Shellie Bockenstedt, Delaware County

Brad Cranston Jr., Des Moines County

Rose Kendall, Des Moines County

Mike Roundtree, Des Moines County

Jim Sonneville, Des Moines County

Pastor Bradley Cranston, Des Moines County (also Statewide Leadership Team, 99 Iowa Pastors)

Rev. Charles and Dianne Stevens, Des Moines County (also 99 Iowa Pastors)

Pastor David Selman, Des Moines County (also 99 Iowa Pastors)

Alan Detlefsen, Dickinson County

Patrick Vorwald, Dubuque County

Pastor Edward Mast, Dubuque County (also Statewide Leadership Team, 99 Iowa Pastors)

Pastor Steven Britton, Emmet County (also 99 Iowa Pastors)

LaRae Buhr, Fayette County

Olsen Kent, Floyd County

Sharon Elling, Franklin County

Austin Elling, Franklin County

Gary McVicker, Franklin County

Shawn Dietz, Franklin County (also Statewide Leadership Team)

Jo Stessman, Fremont County

John Berg, Greene County

Kristi Berg, Greene County

Holly Voss, Grundy County

Lee Voss, Grundy County

Karen Lonsdale, Guthrie County

Steven Lonsdale, Guthrie County

Mary Merritt, Guthrie County

Denny Merritt, Guthrie County

Paul Jensen, Hamilton County

Sen. Dennis Guth, Hancock County (also Statewide Leadership Team)

Pastor Gregory Baum, Hancock County (also 99 Iowa Pastors)

Curt Groen, Hardin County

George Nelson, Harrison County

Jason Conner, Henry County

Jessie Davis, Henry County

Philip Palmer, Henry County

Samuel Kramer, Howard County

Michael McKee, Humboldt County

Michelle Ober, Humboldt County

Tom German, Ida County

Kristi German, Ida County

Joseph Brown, Iowa County

Paul Kurt, Jackson County

Adam Vandall, Jasper County

Pastor John Desaulniers Jr., Jasper County (also Statewide Leadership Team, 99 Iowa Pastors)

James Elliot, Jefferson County

Caleb Reynolds, Johnson County

Matt Wells, Johnson County

Roseann Stivers, Jones County

Linda Stickle, Jones County (also Statewide Leadership Team)

Rose Kessler, Keokuk County

Lyle Prunty, Kossuth County

Lorie Seager, Lee County

Amanda Broughton, Linn County

Stephen Hoffman, Linn County

Matt O'Neal, Linn County

Pastor Darran Whiting, Linn County (also Statewide Leadership Team, 99 Iowa Pastors)

Pastor Kenneth Koske, Linn County (also 99 Iowa Pastors)

Pastor William Graham, Linn County (also 99 Iowa Pastors)

Pastor Eric Cleveland, Linn County (also 99 Iowa Pastors)

Josh Mohror, Louisa County

Reginald McMeins, Jr., Louisa County

Pastor Michael McAfee, Louisa County (also 99 Iowa Pastors)

Larry Hirschy, Lucas County

Jason Unger, Lucas County

Randy Freerks, Lyon County

Landon Keim, Madison County

Sarah Keim, Madison County

Matt Schultz, Madison County (also Statewide Leadership Team)

Sandra Plate, Mahaska County

Darrell Rogers, Mahaska County

Teri Rogers, Mahaska County

Pat Scanlon, Mahaska County

Pastor Don Thurman, Mahaska County (also 99 Iowa Pastors)

Katie Eubanks, Marion County

State Rep. Greg Heartsill, Marion County (also Statewide Leadership Team)

Pastor A.J. Potter, Marion County (also 99 Iowa Pastors)

Pastor Andy Tuttle, Marion County (also 99 Iowa Pastors)

Greg Witzenberg, Marshall County

Erin Woods, Mills County

Loeckle Vincent, Mitchell County

Dick and Dorothy Schlitter, Monona County (also Statewide Leadership Team)

Robert Van Sickel, Monroe County

Rod Goodemote, Montgomery County

Karan Johnson, Montgomery County

Carl Kleppe Jr., Muscatine County

Kenneth Miller, O'Brien County

Zach Wilson, Osceola County

Ron Richardson, Page County

Louis Schneider, Palo Alto County

Bert Stellingwerf, Plymouth County

Sen. Bill Anderson, Plymouth County (also Statewide Leadership Team)

Robert Fonder, Pocahontas County

Weston Van Donge, Pocahontas County

Nancy Anderson, Polk County

Steve Bosen, Polk County

Joe Gleason, Polk County

Dominic Godinez, Polk County

Adam Horning, Polk County

Donald Jennings, Polk County

Pam Malone, Polk County

Gregory Malone, Polk County

Vance Nordaker, Polk County

Bianca Richards, Polk County

Anthony Seliquini, Polk County

E. Cecil Stinemetz, Polk County

Pastor Mike Demastus, Polk County (also Statewide Leadership Team)

Adam Steen, Polk County (also Statewide Leadership Team)

Richard and Betty Odgaard, Polk County (also Statewide Leadership Team)

Steve and Amy Deace, Polk County (also Statewide Leadership Team)

Pastor Mike Demastus, Polk County (also Statewide Leadership Team, 99 Iowa Pastors)

Pastor Bob Deever, Polk County (also Statewide Leadership Team, 99 Iowa Pastors)

Pastor Jeff Hill, Polk County (also 99 Iowa Pastors)

Pastor Tim Newman, Polk County (also 99 Iowa Pastors)

Pastor Doug Deford, Polk County (also 99 Iowa Pastors)

Pastor Dan McCoy, Polk County (also 99 Iowa Pastors)

Rev. Shane Wilson, Polk County (also 99 Iowa Pastors)

Pastor Judy Hundley, Polk County (also 99 Iowa Pastors)

Pastor Wayne Almlie, Polk County (also 99 Iowa Pastors)

Pastor David Bush, Polk County (also 99 Iowa Pastors)

Dolores Brandt, Pottawattamie County

Sarah Haldeman, Pottawattamie County

Bill Hartzell, Pottawattamie County

Brenda Lyddon, Poweshiek County

Mary Jane Narigon, Ringgold County

Mark Jansma, Sac County

Rose Jaeger, Scott County

Prof. Gregory Tapis, Scott County (also Statewide Leadership Team)

Michele Jones, Shelby County

Rob Driesen, Sioux County

Levi Vander Molen, Sioux County

Skyler Wheeler, Sioux County

Mick Snieder, Sioux County (also Statewide Leadership Team)

State Sen. Randy Feenstra, Sioux County (also Statewide Leadership Team)

Allan Frandson, Story County

Chad Steenhoek, Story County (also Statewide Leadership Team)

Linda L. Fisk, Tama County

Janie Lemke, Taylor County

Henry Lemke, Taylor County

Scott McLain, Union County

Sherri Hamann, Van Buren County

Rod Stevens, Wapello County

Pastor Travis Decker, Wapello County (also 99 Iowa Pastors)

Steven McCoy, Warren County

Mark Moberg, Warren County

Pastor Jonathan Ribble, Warren County (also 99 Iowa Pastors)

David Harder, Washington County

Tim Harder, Washington County

John Woodward, Washington County

Marlin and Becky Bontrager, Washington County (also Statewide Leadership Team)

Pastor Joseph Brown, Washington County (also 99 Iowa Pastors)

Ann Garber, Wayne County

Barbara Bodling, Webster County

Kirk Kelley, Webster County

Betty Davids, Winnebago County

Paul Rael, Winneshiek County

Mark Anderson, Woodbury County

Christina Lang, Woodbury County

Darla Jean Williams, Woodbury County

Jason Hamann, Woodbury County (also Statewide Leadership Team)

Diane Vanhorn, Worth County

Dan Watkins, Wright County
New Hampshire
Representative Guy and Barbara Comtois, Belknap County

Selectwoman Rosemary Landry, Belknap County

John and Valeria Blomstedt, Carroll County

Sylvia Manley, Carroll County

Al Rickheit, Cheshire County

James Davis, Coos County

Robert Cone, Coos County

Representative Duane Brown, Grafton County

Patrick Wentmore, Grafton County

Representative Rick Christie, Hillsborough County

Chuck and Di Lorthrop, Hillsborough County

Representative Jeanine Notter, Hillsborough County

Representative Tim and Linda Twombly, Hillsborough County

Representative Bill Kuch, Merrimack County

Pastor Tom Peetz, Merrimack County

Representative Carol Bush, Rockingham County

Sandy Geisler, Rockingham County

Steve Goddu, Rockingham County

Representative Dick Gordon, Rockingham County

Warren and Nancy Kindler, Rockingham County

Former Senator Fenton Groen, Strafford County

Representative Warren Groen, Stafford County

Former Representative David Scott, Stafford County

Dennis Giannotti, Sullivan County
South Carolina
Sheila Leviton, Abbeville County

Dale Keck, Aiken County

Mike Crosby, Allendale County

Cheryl Cuthrell, Anderson County

Michael Carr, Bamberg County

Katy and Clifton Baker, Barnwell County

Konnie Wilson, Beaufort County

Scott Bell, Berkeley County

Heidi Mercer Haynes, Berkeley County

Cindy Shafer, Berkeley County

Dwayne McClure, Calhoun County

Greg Gormley, Charleston County

Debbie Jones, Charleston County

Kimberly Moore, Charleston County

Nikki and Chad Hutchins, Cherokee County

Linda Edwards, Chester County

Erin Mosley, Chester County

Zackary Chapman, Chesterfield County

Deborah Ross, Clarendon County

Joseph Harrison, Darlington County

John Smith, Dillon County

Judy and Steven Anderson, Dorchester County

Franklin Y. Smith, Dorchester County

Scott Cooper, Edgefield County

Terry Cummings, Fairfield County

Charlotte Hendrix, Florence County

Kris Alan Kelly, Georgetown County

Nicolle Lutz, Georgetown County

Mandy and Adam Grant, Greenville County

Julie Hershey, Greenville County

Samuel Hogan, Greenville County

Peter Simms, Greenville County

Peggie Bushey, Horry County

Jean Hampton, Horry County

Bill Burns, Jasper County

Shelby Price, Kershaw County

Marcia and Steve Yaffe, Lancaster County

Jon Orcutt, Laurens County

Mary Hill, Lee County

Rich Bolen, Lexington County

L G Winkler, Marion County

Peter Robbin, Marlboro County

Pamela Shumway, McCormick County

Sandra Hunter-Lewis, Newberry County

Carol Hall, Oconee County

Judy Battle, Orangeburg County

Ron Nester, Orangeburg County

Phyllis Kelley, Pickens County

Rick Tate, Pickens County

Deb Marks, Richland County

Justin Scarpaci, Richland County

Sheryl Gootee, Saluda County

Margaret Burns, Spartanburg County

Caroline Richardson, Sumter County

Linda Trotter, Sumter County

Greg Addison, Union County

Chad Cheras, Williamsburg County

Holly Borei, York County

Karen and Duane Christopher, York County

Marlene Mitchell, York County
Nevada
Scott and Leslie Woodworth, Carson City

David Colburn, Churchill County

Mark Howells, Clark County

Dennis Vereschagin, Douglas County

Dave Buser, Elko County

Matthew Yarborough, Esmeralda County

Laurance Etter, Eureka County

David Schirrick, Humboldt County

Doug Stanton, Lander County

David Hurd, Lincoln County

Kimber Crabtree, Lyon County

Robert Canfield, Mineral County

Ed Goedhart, Nye County

Mitch Bruck, Pershing County

Clay Mitchell, Storey County

Mendy Elliot, Washoe County

Jed Peeler, White Pine County
Ted Cruz, Cruz Campaign Press Release - Cruz for President Announces County Chairs in Every County in First Four States Online by Gerhard Peters and John T. Woolley, The American Presidency Project https://www.presidency.ucsb.edu/node/314351