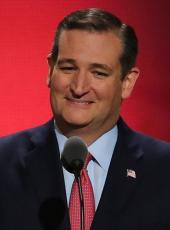 Cruz Campaign Press Release - Clint Howard Endorses Ted Cruz for President
HOUSTON, Texas – Today the Cruz for President campaign announced the endorsement of actor Clint Howard. Howard is an actor who has starred in over 200 films over the past 50 years including How the Grinch Stole Christmas and Apollo 13.
"Clint Howard is an excellent actor and a true patriot," Cruz said. "It is encouraging to see members of Hollywood stand up for principle. Our country is in desperate need of leaders who will guide us toward what is moral and right and Clint is one of those leaders. He understands where our country is headed and what needs to be done and I truly appreciate his support."
"When candidates began declaring their intentions to run for President, I started doing research and quickly landed on Ted Cruz. I discovered a guy who has deep conviction for a set of principles and ideas I believe in," Clint said. "I like Mr. Cruz because he has courage to fight and take the flak from people who want to undermine those ideas. He's not only unafraid, he's anxious to engage these people in a dialogue that puts truth and common sense into the conversation. And then, there's old fashion 'leadership'. As the campaign heats up, it's clear to me that Ted Cruz has what it takes to give our great nation the leadership she deserves."
Howard was born in Burbank, California, the son of actors Rance Howard and Jean Speegle Howard, and the younger brother of actor-director-producer Ron Howard. Clint Howard began his career when he was two, appearing in five episodes of the Andy Griffith Show. As he grew older, he appeared on various shows such as Breaking Point, The Fugitive, Gentle Ben, Night Gallery, various Star Trek episodes, Arrested Development, Seinfeld, and My Name is Earl.
In his film debut he appeared on The Courtship of Eddie's Father, and has since been in Grand Theft Auto, Cocoon, Gun Ho, Backdraft, Parenthood, The Waterboy, Austin Powers, and many more.
Howard is outspoken about his views of conservatism in Hollywood in the midst of much backlash and trepidation.
Ted Cruz, Cruz Campaign Press Release - Clint Howard Endorses Ted Cruz for President Online by Gerhard Peters and John T. Woolley, The American Presidency Project https://www.presidency.ucsb.edu/node/314614