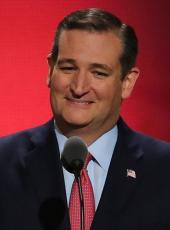 Cruz Campaign Press Release - Catholic Leaders Endorse Ted Cruz for President
Cruz Welcomes Endorsements from Catholic Influencers
HOUSTON, Texas – Presidential candidate Ted Cruz today announced endorsements from more than 50 Catholic leaders, including activists, public servants, pro-life advocates, clergy, and business leaders. Dr. Robert P. George and Ken Cuccinelli are co-chairs of the initiative, leading Cruz's outreach in the Catholic community.
"The Catholic Church is an unwavering voice for life, marriage, and religious liberty," said Cruz. "These three issues have been central to my campaign since the very beginning, and I have been proud to stand with Catholics in the fight to protect the dignity of every life, the sacrament of marriage, and the First Amendment right to religious liberty. In an age when the Obama administration has the audacity to sue the Little Sisters of the Poor, it has never been more critical to stand with those who have dedicated their lives to the service of the Church and its mission of loving the whole world. Especially in this Year of Mercy, we have an opportunity to protect the most vulnerable and safeguard the truth revealed through Scripture and the tradition of millennia."
Dr. Robert George praised Cruz for his loyalty to the rule of law and the principles of a free society. "No one has been stronger than Ted in standing up for religious liberty and other fundamental constitutional freedoms. ...He will foster a culture, from the top down, that honors the Constitution – the one thing that, despite our differences, binds us all together as Americans," said Professor George.
"In addition to his exceptional Constitutional credentials, Ted Cruz is a candidate with specific foreign policy proposals to defend persecuted Christians abroad," said Ken Cuccinelli. "At a time when people of faith are under severe attack internationally, we need a president whose foreign policy priorities will leverage America's leadership to defend the defenseless."
"I am very pleased to give my personal endorsement to Ted Cruz for President of the United States," Monsignor Ed Lofton, Parish Priest at St. Theresa Catholic Church in South Carolina, said. "I have followed Ted's time in office and know that he governs grounded in the essential value of protecting life and liberty for all peoples. I am confident that Ted has the intelligence and the will to lead our nation in a positive direction. The Church must not be silent as the nation chooses the leaders who will shape its future. I am personally working for the election of Ted Cruz, and I urge fellow Catholics to join me in giving Ted Cruz our support and our votes."
"Ted Cruz has been a tireless fighter for the most vulnerable among us – starting with the unborn," said Jason Jones, a pro-life activist and filmmaker. "Ted Cruz has defended the sanctity of life at the Supreme Court, has worked to defund Planned Parenthood in Congress, and I am confident that as president he will create a culture of life."
"While many candidates have sadly conceded on the issue of marriage, Ted Cruz has courageously denounced the Supreme Court's decision," said Brian Brown, President of the National Organization for Marriage. "He has upheld marriage as a sacrament, recognizing that it is foundational to all civilizations. As Catholic institutions are facing increasing threats of fines and punishment for living by the teachings of the Church, we need a leader who has proven he won't back down – that he will always stand for our God-given liberties so that individuals, the Church, and communities are free to practice the faith, hope, and charity that uplifts all members of our society."
The following Catholic leaders have endorsed and are among those building support for Cruz within the Catholic community. More than 45,000 Americans, from a broad spectrum of religious traditions, have joined the campaign's Faith and Religious Liberty Coalition. Titles and any affiliations of all endorsers are provided for identification purposes only.
Co-Chair Dr. Robert P. George

McCormick Professor of Jurisprudence, Princeton University
Co-Chair Ken Cuccinelli

Former Virginia Attorney General
Greg and Cecilia Abbott

Governor and First Lady of Texas
Ryan T Anderson, Ph.D.

Senior Research Fellow, The Heritage Foundation
Bradley Birzer, Ph.D.

Co-founder, The Imaginative Conservative

Russell Amos Kirk Chair in History, Hillsdale College
Marcella Burke

Conservative Activist
Brent Bozell

Founder and President, Media Research Center
Brian Brown

President, National Organization for Marriage
Stephen and Cristina Cox

Conservative Activists
Al DelTufo

NJ Catholics for Cruz Outreach Director
John Eastman

Chairman of the Board, National Organization for Marriage

The Claremont Institute, Senior Fellow and Founding Director, Center for Constitutional Jurisprudence
Barbara Elliott

President, Center for Cultural Renewal, Professor, Houston Baptist College
W. Winston Elliott III

President, Free Enterprise Institute, Co-Founder, The Imaginative Conservative
Jack Fowler

Publisher, National Review
Matthew Franck

Director, Simon Center on Religion and the Constitution, Witherspoon Institute
Joe Fulwiler

President, Fulwiler Law Firm, P.C.
Martin Gillespie

Director of Catholic Outreach, Republican National Committee (2003-2006)
U.S. Congressman Paul Gosar
Jacqeline Halbig vonSchleppenbach

Sovereign Global Solutions, religious liberty litigant
Shak Hill

Past Grand Knight, Knights of Columbus, former candidate for U.S. Senate
U.S. Congressman Tim Huelskamp
John Jakubczyk

Past President, Arizona Right to Life
Jason Jones

Movie to Movement, activist/filmmaker
Jennifer Kimball Watson

Executive Director, Culture of Life Foundation
U.S. Congressman Steve King
Robert Koons

Professor of Philosophy, University of Texas Austin
Adam Laxalt

Nevada Attorney General
Esther Libenschek

Parish Council President, St. Mary's Parish

Ocean County Chair, Cruz for President
Ed Lofton

Parish Priest, St. Theresa Catholic Church, Propagation of the Faith for the Diocese of Charleston, State Chaplain of Knights of Columbus 4th degree South Carolina
Steve Lonegan

New Jersey State Chairman, Cruz for President, member of the Knights of Columbus
Josh Lynch

Former National Director, Catholics for McCain
Ted Meehan

Executive Director, Pennsylvania Catholics Network
Maureen Mooney

Former State Representative
Melissa Moschella

Assistant Professor, The Catholic University of America
Barbara Nicolsi

Screenwriter
William O'Connell

Bonadventure Partners
Dr. Ronald Pestritto

Graduate Dean, Hillsdale College
Steve and Debbie Pfeifer

President and CFO, P.O. & G. Operating, LLC
Dan Proft

Writer at The Spectator, Morning Drive Radio Talk Show Host, AM 560 The Answer
John Radell

Christian Citizens United
Jonathan Saenz

President, Texas Values
Terry Schilling

Executive Director, American Principles Project
Bobby Schindler

President, Terri Schiavo Life and Hope Network
Anne Schlafly Cori

State President, Missouri Eagle Forum
Matt Smith

President, Catholic Advocate
George Strake

Former Texas Secretary of State
Virginia "Ginni" Thomas

Conservative Activist
Trey Trainor

Partner, Beirne, Maynard and Parsons, L.L.P.,

Parish Council, St. Mary Cathedral, Diocese of Austin
Michael Uhlmann

Professor of Government, Claremont Graduate University
Richard Viguerie

Chairman, ConservativeHQ.com
Kevin Vost, Ph.D.

Author and Speaker
Christopher and Mary Anne Yep

President & CEO, Vice President, TRIUNE Health Group
John Zmirak

Author, Bad Catholic's Guide to the Catechism
Ted Cruz, Cruz Campaign Press Release - Catholic Leaders Endorse Ted Cruz for President Online by Gerhard Peters and John T. Woolley, The American Presidency Project https://www.presidency.ucsb.edu/node/314579