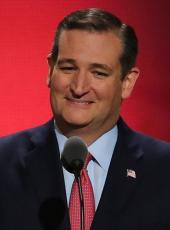 Cruz Campaign Press Release - 50 Additional Wisconsin Faith Leaders Endorse Cruz Over the Weekend
"Ted Cruz Has Demonstrated That He is a Man of Faith and Principle"
HOUSTON, Texas - Presidential candidate Ted Cruz today welcomed the endorsements of more than 50 additional Wisconsin clergy and faith leaders, who joined Team Cruz over the weekend. This announcement follows the endorsement of 50 Wisconsin faith leaders last week. With more than 100 Wisconsin clergy and faith leaders adding their support, the campaign now enjoys the public support of more than 1,100 clergy and faith leaders.
"Ted Cruz has demonstrated that he is a man of faith and principle," said Pastor Wayne Devrou of Grace Bible Fellowship in Oostburg. "He was raised with, and exhibits, the character and desire to stand on principles - not only for political reasons, but for personal ones. His record confirms that he does what he says he will do. In Washington, Ted has been a principled leader and an advocate for religious liberty and constitutional conservatism. Ted has earned my respect and I'm pleased to be one of many clergy who have pledged their support for Ted. We urge people of faith in Wisconsin to cast their votes in support of a conservative champion."
"I am thrilled to have received so much support from faith leaders and clergy in Wisconsin," said Cruz. "Our system of government requires the participation of men and women of integrity, faith, and courage. These leaders have taken the time to research the candidates and make their conclusions known. With their support, and the support of organizations such as Catholic Vote, the Wisconsin Right to Life PAC, and Wisconsin Family Action PAC, we look forward to a strong performance in the Wisconsin primary tonight."
The list of new Wisconsin clergy and faith leader endorsements appears below. Titles and affiliations of all endorsers are provided for identification purposes only.
Pastor Dave Barna, Calvary Baptist Church

Pastor Rose Bellefeuil, Hartford Tabernacle

Pastor Timothy Board, Bible Church

Mary Booker, Christian Education Director, Full Gospel Church

Pastor Lee Bundy, Song of Joy Foursquare Church

Reverend Oliver K. Burrows III, Ark Fellowship

Pastor Mundt Connie, Creek Bible Church

Pastor Brown David, First Baptist Church

Pastor Paul Davis, Kingdom Agenda Church

Reverend Wayne Devrou, Grace Bible Fellowship

Pastor Ed Hays, Cornerstone Christian Life Tabernacle

Pastor and Alderman John Engelhardt, Muskego Apostolic Tabernacle

Deacon Michael Fisher, Living Hope Church

Pastor Carlos Galvin, Bible Baptist Church

Richard Guyer, Treasurer, The Province of St. Joseph

Pastor Joseph Hanthorn, Christian Life Church

Associate Pastor Joseph Helm, Brookside Baptist

Pastor Steve Hollenbeck, East Delavan Baptist Church

Pastor Michael Hook, United Penecostal Church - True Life

Pastor Lonnie Johnson, Oneida Assembly of God

Deacon Lucas Johnson, Living Hope Church

Pastor Gordon Scott Jones, Southport Baptist Church

Pastor & Counselor Robert Karz, Training for Life Ministries

Pastor Terry Kelb, Faith Baptist Church

Pastor Ken Keltner, Brookside Baptist Church

Reverend Timothy Kleiner, Refuge Church

Reverend Jennifer Kleiner, Canaland Christian Academy, Good News Fellowship Church

Pastor James Lambro, UCPI

Mrs. Jill Lemkuil, The Salvation Army

Pastor Robert Loggans, Calvary Baptist Church

James Maillette, Executive Vice President, Wisconsin Family Council

Pastor Don Mallas, Parkway Church

Reverend Deborah Mallek, Refuge Church

Pastor Allen Manser, Calvary Chapel of Wausau

Pastor Constantine Marcus, Hope Community Church

Pastor Jimmy McDonald, New Freedom Church

Joann Meyer, Women's Ministry, Hartford Tabernacle of Joy

Pastor Robert Meyer, Hartford Tabernacle of Joy

Pastor Marshall Newble, Apostolic Worship Center

Pastor Dean Noonan, Faith Baptist Church

Pastor Ben Peterson, Former Pastor, Fellowship Baptist Church

Pastor Raymond Rivera, Sword of the Spirit Ministries

Ted Salter, Men's Ministry, Full Gospel Church

Jerry Simmons, Church Planter, Iron Ridge Mission

Bill Stocks, Director, Living Word Church

Pastor Anthony Tamel, Perkway Apostolic Church

Todd Tisch, traveling evangelist

Pastor Paul Turner, Grace Bible Church

Joshua Watson, Adult Education Pastor, White Stone Community Church

Pastor Bob Wetzler, Woodland Church

Teresa Zellner, Children's Pastor, Woodland Church

Pastor Elwyn Zimmerman, Crossroads Community Church
Ted Cruz, Cruz Campaign Press Release - 50 Additional Wisconsin Faith Leaders Endorse Cruz Over the Weekend Online by Gerhard Peters and John T. Woolley, The American Presidency Project https://www.presidency.ucsb.edu/node/317193