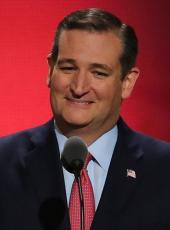 Cruz Campaign Press Release - 41 Texas Lawmakers Endorse Cruz for President
Join 6 Texas Congressman in supporting Sen. Ted Cruz
HOUSTON, Texas — Presidential candidate U.S. Sen. Ted Cruz, R-Texas, today announced the endorsements of 36 Texas State Representatives and five Texas State Senators. They join Texas Congressmen Randy Weber, Louie Gohmert, Michael Burgess, John Culberson, John Ratcliffe, and Brian Babin, totaling 47 Texas lawmaker endorsements for Cruz.
"I am thrilled to have these legislators' support," said Cruz. "They stand on principle and fight at every turn for the people of Texas. With their help, we will continue to grow our campaign and attract the thousands of supporters in the Lone Star State and across the country who want to see real change in Washington."
"Ted Cruz is truly a conservative leader and the kind of person we need in the White House," State Senator Konni Burton said. "He is a passionate defender of the Constitution and a critical voice for keeping our country safe and prosperous. He is the only candidate in the race who has consistently fought for the issues conservatives care about most and I am proud to endorse him for president."
"No one has fought harder to protect Americans from the disastrous policies of the Obama Administration than Ted Cruz," State Rep. Matt Krause said. "That's why I trust him to do what he says he will do and defend our conservative values. We can no longer afford to maintain the status quo and kowtow to the Washington Cartel. It's about time we had someone like Ted in the White House."
The following Texas State Senators and Representatives have endorsed Ted Cruz for President:
State Senator Brian Birdwell

Chair, Senate Committee on Nominations
State Senator Konni Burton

Vice Chair, Senate Committee on Veteran Affairs and Military Installations
State Senator Brandon Creighton

Vice Chair, Senate Committee on Business and Commerce
State Senator Bob Hall

Vice Chair, Senate Sub-Committee on Boarder Security
State Senator Lois Kolkhorst

Vice Chair, Senate Committee on Health and Human Services
State Representative Charles "Doc" Anderson

Vice Chairman, House Committee on Agriculture and Livestock
State Representative Cecil Bell Jr.
State Representative DeWayne Burns
State Representative Gary Elkins

Chairman, House Committee on Government Transparency and Operation
State Representative Pat Fallon
State Representative Allen Fletcher

Chair, House Select Committee on Emerging Issues in Texas Law Enforcement
State Representative Dan Flynn

Chair, House Committee on Pensions
State Representative John Frullo

Chair, House Committee on Insurance
State Representative Dan Huberty
State Representative Bryan Hughes
State Representative Mark Keough
State Representative Stephanie Klick
State Representative Matt Krause
State Representative Brooks Landgraf
State Representative Jodie Laubenberg

House Committee Chair on Elections
State Representative Jeff Leach
State Representative Will Metcalf
State Representative Doug Miller

Chair, House Committee on Special Purpose Districts
State Representative Rick Miller
State Representative Jim Murphy

Chair, House Committee on Corrections
State Representative Andrew Murr
State Representative Larry Phillips

Chair, House Committee on Homeland Security and Public Safety
State Representative John Raney
State Representative Debbie Riddle

Vice Chair, House Committee on Juvenile Justice and Family Issues
State Representative Matt Rinaldi
State Representative Matt Schafer
State Representative Mike Schofield
State Representative Matt Shaheen
State Representative Wayne Smith

Chair, House Committee on Recreation and Tourism
State Representative Stuart Spitzer
State Representative Tony Tinderholt
State Representative Scott Turner
State Representative Molly White
State Representative John Wray
State Representative Bill Zedler
State Representative John Zerwas

Chair, House Committee on Higher Education
Ted Cruz, Cruz Campaign Press Release - 41 Texas Lawmakers Endorse Cruz for President Online by Gerhard Peters and John T. Woolley, The American Presidency Project https://www.presidency.ucsb.edu/node/315152