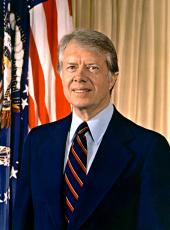 Consumer Product Safety Commission Nomination of Three Commissioners.
The President today announced that he will nominate Susan B. King and Edith B. Sloan to be Commissioners of the Consumer Product Safety Commission.
King, 37, served as Special Assistant to the Chairman of the Federal Election Commission from 1975 to 1977. She was vice president of the Center for Public Financing of Elections from 1973 to 1975 and Washington director of the National Committee for an Effective Congress from 1967 to 1973. She is presently working toward a J.D. at Catholic University Law School in Washington.
Sloan, 39, is director of the Office of Consumer Protection of the District of Columbia. She was executive director of the National Committee on Household Employment from 1969 to 1976. She was with the U.S. Commission on Civil Rights from 1965 to 1968 and with HARYOUACT Project Uplift in New York City in 1965. She was a delegate to the National Black Economic Caucus in 1975. She holds a J.D. from Catholic University.
The President also announced that he will renominate R. David Pittle for reappointment as a Commissioner of the Consumer Product Safety Commission. Pittle was nominated for the position on October 31, 1977, but was not confirmed before the Senate adjourned.
Jimmy Carter, Consumer Product Safety Commission Nomination of Three Commissioners. Online by Gerhard Peters and John T. Woolley, The American Presidency Project https://www.presidency.ucsb.edu/node/245693