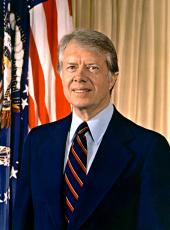 Consumer Agency Legislation Announcement of a Proposal for Establishing the Agency.
Today, a proposal for establishing the Agency for Consumer Protection entirely from existing resources was sent to Congress by Bert Lance, Director of the Office of Management and Budget. It will go into effect when the pending consumer bill becomes law.
The proposal would eliminate or merge 26 Government units that the President's Reorganization Project at OMB has identified as overlapping, duplicating, or conflicting with the functions of the new agency. These units currently spend $11.6 million annually and employ more than 200 people.
In anticipation of passage of the consumer agency legislation, President Carter also will direct all executive departments and agencies to rescind their so called consumer representation plans. These plans, which cost $8.5 million to implement and maintain, were drawn up by the previous administration in an attempt to forestall creation of the consumer agency. The President has directed OMB to eliminate these funds in the next budget period.
In all, these actions will make more than $20 million available. The first year budget of the proposed agency is only $15 million. In his letter, Lance said, "Prompt congressional action on the consumer agency legislation will result not only in more efficient conduct of consumer representation functions, but also in a savings to American taxpayers."
Esther Peterson, Special Assistant to the President for Consumer Affairs, said "today's release of the consumer reorganization proposal will answer charges of some opponents of the bill that the new agency will create more bureaucracy at increased cost."
The legislation currently provides that the President submit a consumer reorganization plan to the Congress within 180 days after passage of the bill. Release of the elements of the proposed plan now will "give a concerned Congress advance knowledge of the President's proposal and the information needed to make a positive decision on this bill," Peterson said.
Note: The White House press release also included the text of the letter which was sent to the Speaker of the House and the President of the Senate by Mr. Lance.
Jimmy Carter, Consumer Agency Legislation Announcement of a Proposal for Establishing the Agency. Online by Gerhard Peters and John T. Woolley, The American Presidency Project https://www.presidency.ucsb.edu/node/243622