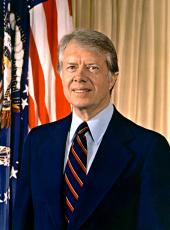 Commission on Presidential Scholars Appointment of 26 Members.
The President today announced the appointment of 26 persons as members of the Commission on Presidential Scholars. The Commission each year selects Presidential Scholars from each State, as well as the District of Columbia, Puerto Rico, and American student overseas. The scholars are selected on the basis of outstanding scholarship and demonstrated leadership capabilities. Each scholar is presented with a medallion at a Rose Garden ceremony during the summer.
The 26 persons appointed to the Commission are:

SAM F. ABRAM, assistant superintendent of secondary schools in Muncie, Ind.;

MARI C. APONTE, associate counsel of Blue Cross of Greater Philadelphia and a former high school teacher in bilingual and regular programs;

ELAINE BARBOUR, 1978 Teacher of the Year, who teaches sixth grade at Cole Creek Elementary School in Montrose, Colo.;

NORMA C. BARKER, of Humboldt, Tenn., active in civic affairs and a former PTA president;

CAROLYN M. BENNETT, a 1974 Presidential Scholar now attending Johns Hopkins University as a premedical student;

JOAN F. BERMAN, chairperson of the economics department at Baret College, Lake Forest, Ill.;

ARTHUR J. DECIO, chairman and chief executive officer of Skyline Corp. in Elkhart, Ind.;

LINDA M. DONALDSON, employed by the Minnesota State Senate;

RUTH P. FENTON, of Carmel, Calif., a member of the California Department of Education's State-Wide Advisory Committee on the Gifted;

JOHN N. FOY, senior vice president of the financial services division and executive coordinator of Arlen Shopping Centers Co. in Chattanooga, Tenn.;
JAMES J. GALLAGHER, director of the Graham Child Development Center and professor of education at the University of North Carolina;

W. A. "NICK" GREENE, JR., vice president of Greene's Fine Foods in Augusta, Ga., and president of the Lynndale School and Training Center;

F. RICHARD HSU, president of the China Institute in America in New York City, N.Y.;

THOMAS H. HUDSON, a Louisiana State senator and Baton Rouge attorney;

ABRAHAM M. LINDENBAUM, a New York attorney and former commissioner of the New York City Housing Authority and the New York City Planning Commission;

FRANK J. McGUIRE, basketball coach for the University of South Carolina;

DON MITCHELL, an actor in television, motion pictures, and the theater, and a founder of the Watts Training Center;

GERALD L. OVEL, president and owner of Iowa Pipe & Supply Go. in Cedar Rapids, Iowa;
WILLIAM L. PRESSLY, administrator of the Atlanta Historical Society and founding president of the Westminster Schools in Atlanta (also designated Chairman of the Commission );

ARTHUR H. PURCELL, director of Technical Information Project and adjunct associate professor of engineering at George Washington University;

MURRY SIDLIN, music director and conductor of the New Haven Symphony Orchestra;

CONSTANCE I. SLAUGHTER, an attorney in Forest, Miss., and instructor in the prelaw department at Tougaloo College;

JOHN M. STALNAKER, president emeritus and honorary director of the National Merit Scholarship Corporation:

MANUEL VASQUEZ, an attorney in Coral Gables, Fla., and adjunct professor of law at the University of Florida's Cuban-American Law Institute:

MICHAEL A. WEISS, a 1975 Presidential Scholar and a senior at Harvard University, majoring in biophysics;

YVONNE J. WYNDE, vice president and academic dean of Standing Rock Community College in Fort Yates, S.D.
Jimmy Carter, Commission on Presidential Scholars Appointment of 26 Members. Online by Gerhard Peters and John T. Woolley, The American Presidency Project https://www.presidency.ucsb.edu/node/244944