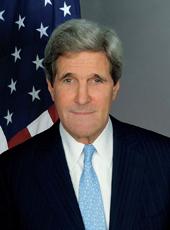 Commencement Address at Southern University at New Orleans
Knights, Chancellor Jackson, Congressman Jefferson, parents, family, friends, faculty, and most importantly the great graduating Class of 2004 – I'm honored to be with you.
You've given me more power today as a presidential candidate than I've had in all my years in public office – my speech this afternoon is all that stands between you and your degree.
When I was called by Chancellor Jackson, he told me that the students at Southern wanted a commencement speaker who was in public office, someone who was in amazing physical shape for his age, a man who would mesmerize them with his speaking ability while dazzling everyone with his charm. I told him I was honored and flattered and then he said, "since you're friends with Arnold Schwarzenegger, see if he's available." Well, he wasn't – and now here I am.
I asked my daughter Vanessa, who is now a medical student, for help with this Commencement address. She said, 'Dad, you remember college -- up 20 hours a day, grabbing some pizza and a beer whenever you can to keep going, petrified about being called on and not knowing the answer to a question.' I said to her, "that doesn't sound like college, that sounds like running for President."
Driving here late last night from Baton Rouge, I tried to think of the most important thing I can say to you today. I think there is only one piece of advice that will really affect you over the next 24 hours. Do not forget to call your mom tomorrow on Mother's day. One phone call can save you weeks of guilt and pain!
I could talk to you today about the world of opportunity you're about to enter. But there's not much I can share that you don't already know. You came to college seeking higher education and wider horizons. And now the great concern is jobs. Twenty five years ago, economists didn't even contemplate many of the jobs you're about to begin, providing we create them. But they were right about one thing: those with a college education would end up on the winning side of the economic divide. Through your hard work, with the help of your families, in all the fields you're entering, you'll be the innovators. You'll push the curve of discovery, so that twenty five years from today, SUNO graduates will be taking their place in an even newer and more advanced workplace that you helped to pioneer building on the lessons you learned right here.
Nearly half a century ago at one of Southern's first commencements, one of your first Presidents, Dr. Felton Clark, made it clear he wanted to prove something to America. He said "they put us out here on this bluff, not expecting much of anything from us. But we are going to fool them."
SUNO long ago exceeded the expectations of cynics and doubters decade after decade. Since the first graduating class of fifteen donned their caps and gowns in May, 1963 just three months before Dr. Kings 'I Have a Dream' speech, the Southern University system's distinguished alumni -- like Dean Millie Charles -- have taken their place in the line of leaders to represent America's historically black colleges and universities. We honor the contributions of your own Congressman Bill Jefferson, the first African American from Louisiana to serve in Congress since Reconstruction; Dr. Ruth Simmons, the first African American woman to earn a Ph.D in political science; and Dr. Charles Drew, the physician who pioneered the medical advance of saving blood plasma that in turn saves millions of lives today.
So today you have big footsteps to follow in, and much is expected of you because much has been contributed – not just from the more than 150 campuses of our nation's historically black colleges and universities, but from individuals who believed they could make a difference.
But the fact is, there's a different kind of challenge today.
Because of the day to day focus on just making ends meet, because of a culture that too often puts self over community, too many people have lost sight of a basic truth about America. The fact is, our greatest strength, our greatest responsibility, and our greatest need today, is service and citizenship.
I know that many of you may be skeptical. I don't blame you. It's hard to find faith and answer the call of citizenship and service when you believe today's call to arms may be tomorrow's broken promise.
But America needs your generation to surprise those who underestimate the idealism and commitment of young people in the United States of America.
Just look around Louisiana and around our country, and you'll see great challenges that should matter to all of us. These are not challenges that can just be left to other people or nobody. Families working longer for less. Middle class parents sometimes working two or three jobs just to pay the mortgage and basic necessities.
Health care costs up by 49 percent in the last three years. College tuition rising by as much 28 percent. Working Americans saddled with a new deficit: a deficit of time – time with children, time with our aging parents, time to teach and learn, and really live.
The truth is we can help change that – but only if you're willing to get involved. Our democracy is only as good as the people involved in it, and today too many people aren't involved.
America needs you on the frontlines. We need you to give some of your time and energy to the great cause of reducing illiteracy, preserving our environment, providing after-school care, helping our seniors live in dignity, building new homes for those who need them – and in all of this, building a nation that really is one America.
The fact is, this kind of service will not only change every American's heart, it will also change the way America works. More senior citizens will be able to live independently in their own homes instead of nursing homes. Teachers can have the assistance they need so every child knows how to read. We can make the hardest job in the world – being a parent – a little easier by giving moms and dads more support in the uphill struggle to balance work and family.
And through service we can help America live up to the fullest meaning of our values and traditions in the world. My wife Teresa was born in a dictatorship in East Africa. She never saw her father vote, and she first came to know America not as her home, not as a place on the map, but as an idea. It was an idea that drew her and millions of other people to America. Every day she reminds me of the ideals of America through the eyes of a naturalized American. She reminds me how people all over the world should always see our country.
But in the last days we've all seen photos of horrific abuses in an Iraqi prison that do a disservice to the courageous efforts of over 100,000 American soldiers in Iraq and our entire military. Those abuses have done enormous damage to our country. They've hurt us in our objectives in Iraq, and empowered those who find fault with America. It requires us to work even harder to present who we really are, and if you choose to, you can help to do that. You can do it here at home and you can do it around the world. The Peace Corps is the most powerful symbol of non-military service in our history. If there was ever a time when everyday people in the most deprived countries, cities and villages of the world need to see idealistic Americans working to help them, it is today, when we are engaged in a struggle to win the hearts and minds of people everywhere. Yet today there are only 6,700 Peace Corps volunteers, far fewer than in the 1960's - when much of the globe was off limits due to the Cold War. We need once again for young Americans to serve in all the places where we can make a difference - from the Middle East to African nations ravaged by AIDS. Living up to the real definition of citizenship matters to the hopes and aspirations of people all over this planet.
So I ask you to reject the cynicism that says you can't make a difference. And I ask you to remember the lessons and legacy that proves the cynics dead wrong. We got a Civil Rights Act because people were willing to march. We got clean air and clean water protection because 20 million people joined together on one day to demand it.
Remember what a 26-year old minister from Montgomery, Alabama did to help ensure that all women and all men are treated equally in this country. Martin Luther King Jr. led us from bus boycotts to the march on Washington and to the mountaintop to begin to change the hearts of a divided nation. But that journey is still unfinished.
Women achieved the right to vote not because it was just given to them, but because they fought for it and demanded it.
Remember the millions of students who were your age and organized to stop the war in Vietnam, and the young veterans who struggled to help a weary nation tired of war keep faith with soldiers who returned home.
Remember the young firefighters and police officers and EMT's who rushed to Ground Zero on 9/11. They stayed and worked in the rain and in the dark until the last load of debris was carried out.
Remember the Americans who woke up on September 12th committed to serve their country in the military, many of whom are in harm's way today in Iraq and Afghanistan.
Remember the every day acts of individuals keeping faith with family and friends. Think of the great gift of your classmate Michael Alexander Smith who today receives his Master of Arts in Criminal Justice. He encouraged his mother to return to school, they relied on each other, and together they received their bachelor's degrees. But that's not the end of the story. He met a young woman whom he also encouraged to come to school here. He married her, adopted her beautiful children, became a family, and they are graduating here today. That's the kind of individual gift that makes a difference to our community and our country. That's how you got here today – through the love of your family and those around you.
My parents also taught me about responsibility and service – not with their words, but by how they lived their lives. My mother was a lifelong volunteer in our community and an environmental activist before it was popular. My father was a proud member of the Greatest Generation -- World War II, Army Air Corps.
During the war, while he was off on duty, and my mother was volunteering, my mother sent him a letter. "You have no idea of the ways in which one can be useful right now," she wrote. "There's something for everyone to do."
Half a century later, in a very different but equally fateful time, there is work for all to do, a place for all to serve, and no room on the sidelines. America needs you.
So promise yourselves, promise your parents, promise the teachers who have mentored and guided you through this university – that somehow you will find a way to serve your country in ways big and small. Don't doubt you can change the world. Only doubt those who say you can't. Remember, Martin Luther King told us: "Everybody can be great because everybody can serve."
So go out of here and be great -- Congratulations, graduates -- Good luck and Godspeed.
John F. Kerry, Commencement Address at Southern University at New Orleans Online by Gerhard Peters and John T. Woolley, The American Presidency Project https://www.presidency.ucsb.edu/node/216809