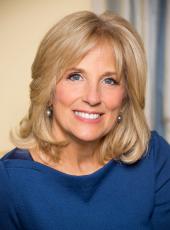 Commencement Address by Second Lady Jill Biden at the University of Delaware Winter Commencement in Newark, Delaware
[As Prepared for Delivery]
Thank you Provost Apple and thank you President Harker. It is an honor and a thrill to be here today at my alma mater.
Just three years ago, I was sitting right where you are…and it was one of the best days of my life.
Through many long nights of studying and writing papers, I dreamed of earning my Doctorate in Education, and I was proud to finally receive that diploma in January of 2007. I will never forget walking across this stage and having my husband Joe hand me my diploma.
I was looking forward to Joe being with me today as I delivered my first commencement speech at a major university - the university he loves so much.
As many of you know, we lost Joe's mother yesterday, and we thank all of you who have kept us in your thoughts and prayers this week. She was an amazing woman and we will miss her tremendously.
Education was one of the values that Mom-mom treasured the most in life for herself and her children.
I will never forget driving down our driveway after my commencement - and Mom-mom being the first to proudly point to the signs the family had made which said: "Welcome to the home of Dr. and Senator Biden."
I know that none of you will ever forget this day. YOUR day. Nor will those who supported you – your proud mothers and fathers; your husbands and wives; your sons and daughters; your grandparents and friends.
So I feel truly fortunate to be here with all of you, and I want to wish each of the graduates my heartfelt congratulations. I know all of the hard work that you did to get here…and you did it! You all deserve a round of applause.
It's also great to be back on a campus that I've called my home throughout the many years of my own education– and one that is truly special to so many members of my family, who also attended this university.
As an undergraduate, I remember riding my bike all over campus. I remember running to my English classes in Memorial Hall. I remember feeling especially moved by Lou Arena, one of the many professors here on campus who sparked my lifelong passion for teaching.
Years later, as a doctoral student, I was back on campus – spending many hours in night classes, taught by unforgettable professors like Dr. Bob Hampel, Professor Joan Delfatore, Dr. Jim Broomall, and my advisor Barbara Curry, who helped steer me through the doctoral process.
The University of Delaware transformed me—and not only because it was here that I met my husband Joe.
The University of Delaware transformed me because that's what education does. Your best professors can inspire you. Your peers can motivate you to be better than you ever imagined. Your favorite courses can literally alter the path you take in life.
I know this because of my own experience. But I also know this because of yours.
One graduate here today is Michael Popovich from Lewes -- just four years ago, you weren't sure you'd ever get your B.A. You'd spent four years in the U.S. Coast Guard and found yourself on the first Coast Guard ship, since the Vietnam War, to see combat. But then, with financial support from the GI Bill and academic support from mentors at Delaware, you began taking classes at Delaware Tech, where I'm proud to say I taught for many years. Today, you are graduating with a degree in Agriculture and Natural Resources, and you are already employed, conducting cutting-edge research here on campus on the development of "green" fertilizers.
Another graduate with us here today is Barbara Burlingame. Barbara, you are here this morning with your two children and five grandchildren. At age 59, you are the class's oldest graduate—it was 42 years ago, in the summer of 1968, that you first stepped foot on a college campus. But today, after four decades as a working woman supporting your family while taking night classes, you are graduating this afternoon with a B.A. in English.
In some ways these stories reflect all of your stories: all the challenges and obstacles you overcame to be here today…and even as you accept your well-earned degrees, there are many stories you have yet to write…
Some of you are familiar with my story. I became a teacher.
I've spent the past 16 years teaching English in community colleges. I taught for 15 years nearby at Del Tech, where 20 of you graduates today started your studies…and now I continue to teach at a community college in Northern Virginia, not too far from the White House.
People often ask me why I continue to teach, and my answer to this is simple: it's you. It's the students—students who overcome obstacles, students who dare to think and dream big.
I am inspired by my students – some who have returned to school to improve their job prospects, others spending two years at a community college before transferring to a four year school, and still others who have come from all parts of the world to get an education and pursue their dreams of working in America.
Though my students may differ in age and background from many of you, their stories are ultimately the same as yours – and of mine.
They are the stories of education changing lives, building confidence, and opening doors.
Nelson Mandela once said, "Education is the most powerful weapon you can use to change the world."
By changing your life through your own education, you are readying yourself to change the world for others—whether you are one of the undergraduates here today or one of the graduate students; whether you are from Delaware or from another state or country altogether; whether you are 19 years old like Hannah Stradley and Kelsey Burris, or 59 years old like Barbara Burlingame.
Because while you all came to this college at different stages in life, after sacrifice and hard work, you all walk across the same stage today having accomplished something no one can ever take away from you: Your education.
And now, graduates, it's your turn to pass on that priceless gift.
Some of you have made education itself your calling, like I have.
You are elementary and special education teachers, earth-science instructors, and principals; you are aspiring college professors and ambitious school reformers.
You are Amanda Finn, who became a teacher as a way of showing appreciation for the educational opportunities you received in life. After receiving her Master's of Instruction, Amanda will be teaching in the same Catholic school that her grandparents attended 80 years ago!
You are Lulu Song, who, before she ended up at this ceremony about to receive her doctorate in education, was a journalist in China. But after meeting Roberta Golinkoff, Lulu's Delaware professor and, as she put it, her "life-changing mentor," she is now an aspiring professor of childhood development, focusing on language and the interplay between culture and education.
But my message this morning is for all of you, not just the teachers—and it has to do with someone else in our midst… Thomas Jefferson.
As you may have heard, several weeks ago, a long-lost letter by Jefferson finally emerged right here on Delaware's campus—after two centuries.
Now, I bring this up because everyone knows Jefferson was a brilliant scientist, writer, diplomat, philosopher, and, of course, our second Vice President and third President.
What you may not know is that one of the accomplishments he had chiseled on his gravestone was his founding of the University of Virginia…..not that he was the Vice President or even President of the United States, but that he had a role in educating a new generation of Americans.
And to me, it's no surprise that one of the most gifted thinkers in our history knew that one of his greatest legacies was to inspire and educate others.
While the vast majority of you are not going to be teachers in a classroom next year—I believe that you too have an obligation to teach or mentor or inspire someone in your lives. In fact, I hope you do.
In this class, so many of you graduates have already begun to pursue your passions—whatever the field.
Graduates like our wonderful National Anthem singer today, Luke Williams, who met his mentor as a junior, switched to vocal performance, and is now auditioning for top opera grad programs—or graduates like Sergio Olaya, who, after losing his mother to brain cancer and his home to the sky-high health bills, was inspired to pursue political science so he can soon help Americans who also find themselves in need—or graduates like Carl Menning, who is earning his Ph. D. today from the University of Delaware's world-renowned Chemical Engineering program after winning a national award in surface science.
I have no doubt that each and every one of you has the power to mentor and inspire our future generations of business leaders, artists, statesmen, and scientists.
You can do whatever it is that you love, and by mentoring or volunteering outside of the classroom and in your community, you can inspire others to love that something else, too.
Your mentorship can be formal—you can teach others through one of the many great programs like Teach for America—or it can be informal: as simple as finding neighborhood students to work with every Friday afternoon.
Or, like two of your professors—Fritz Nelson and John Byrne, who jointly won the 2007 Nobel Peace Prize with former Vice President Gore for their climate-change research—you can apply your specialized knowledge to educating the world on a global scale.
So while I encourage all of you today to let your education continue wherever you go next—to open your eyes to the world around you and to be curious about everything in your path—I encourage you, like Jefferson, also to keep your eyes open to others: to imagine what they are capable of being and becoming.
Because after today, you owe it not only to them, but also to yourselves to pass it along—that knowledge, that passion, and now, that well-deserved University of Delaware degree.
So congratulations, graduates, and good luck!
Thank you all so much.
Jill Biden, Commencement Address by Second Lady Jill Biden at the University of Delaware Winter Commencement in Newark, Delaware Online by Gerhard Peters and John T. Woolley, The American Presidency Project https://www.presidency.ucsb.edu/node/336786