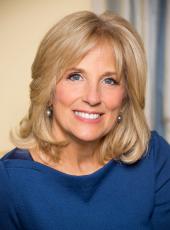 Commencement Address by Second Lady Jill Biden at Broward College in Fort Lauderdale, Florida
[As Prepared for Delivery]
Good afternoon, everyone!
It's wonderful to be here in Fort Lauderdale to celebrate such an important day with all of you.
Thank you, President Armstrong, for that very kind introduction. To my colleagues – congratulations on your selection as Professors of the Year.
One of my very first community college visits as Second Lady was to nearby Miami Dade College with Education Secretary Arne Duncan. So it's great to be back in the area.
Some of you know my story. I've been a teacher for more than 30 years, and I continue to teach full-time at a community college in Northern Virginia, just outside of Washington, DC.
In fact, just yesterday I finished up grading and have finished my semester. So I know how some of your teachers feel … and I know how you feel, to be graduating.
Proud. Relieved. And, yes – excited about the next challenge.
When I'm not in the classroom teaching, I'm often on the road visiting community colleges. Earlier this year, Labor Secretary Hilda Solis and I toured five states to see some of the incredible industry partnerships that are taking place all over the country.
I've continued that tour with several other stops this Spring – and what I've seen at every community college along the way is the story of hope.
Hope for workers, who have gone as far as they can go in their jobs … and are getting the skills they need to go to the next level.
Hope for moms, juggling kids and a job, learning new skills for a new career.
Hope for recent high school graduates, taking a critical step toward a four-year degree.
Hope for people in their forties, fifties and even sixties – who have been out of work so long they've nearly given up – getting the second chance they deserve.
Some of these descriptions might sound familiar to you.
College is a place that changes lives, for the better. I've seen it firsthand.
From my perspective as a teacher, it's easy for me to see how my students change. But one thing I've realized is that the students don't always see it themselves.
Every day, you're working hard. Every day, you're learning something new. Every day, you're investing in yourselves.
So as you're finishing all those papers and finals and projects, you might not realize the dramatic growth that you've gone through.
What you've done these past few years – putting in all those hours – has given you the tools with which you can build a career and pursue the life you've dreamed of.
As you embark on that journey, there are three lessons I've learned that I'd like to share with you. Three lessons that really stand out to me. Three lessons that can apply wherever you are in life – inside or outside a classroom.
They are pretty simple.
The first is: lift up others.
Today, Cara and Hilary Malave are going to walk across the Broward College stage together for the second time. The first was in 2010 when they received their associate degrees in nursing.
They have faced obstacles along the way … in their teenage and young adult years, caring for their grandparents who were fighting cancer, more recently caring for parents who have faced serious illnesses.
Today, they are both graduating with Bachelors of Applied Science degrees in supervision and management. On the route to these degrees, they cared for and lifted up loved ones. With their degrees in hand, they will care for – and lift up – hundreds more.
Cara and Hilary, I know you will keep lifting those around you as you move forward – Cara, toward graduate school and eventually higher education, and Hilary, as you pursue neonatal and maternal nursing.
Congratulations to you both.
The second lesson is: go to your strength.
This is about following your heart, and trusting yourself to do whatever it is that you know you do best.
William Miller is no stranger to war zones. An Army veteran who has completed three tours in Kuwait and Iraq, William used his post-9/11 GI Bill benefits to pursue his education after retiring with 30 years of service.
And – he was encouraged to do so by his fellow graduate, veteran and fiancée – Edna Frazier.
During Operation Desert Storm, William received a commendation for designing the living quarters for troops stationed in Kuwait.
So when he graduates today with an associate degree in building technology, William will be going to his strength. He plans to study for his general contractor's license so he can go work in Iraq and Afghanistan as a civilian – and continue doing what he does best.
William and Edna, thank you for your service to our country, and congratulations.
The final lesson is: never stop learning.
I always say my students are my heroes. It's true – every day I am in the classroom, I am learning from them. And I am inspired … by their hard work, by their dedication, and by their sacrifice.
Lonnie Hennequin is someone graduating today who has never stopped learning. As the grandfather of 11, he knows a little something about kids. And he says he "always had teaching in the back of [his] head."
So when he was laid off in 2009, he took a chance, enrolled in Broward's Teacher Education Program and decided to become an elementary school teacher.
During his time in the program, Lonnie faced some heartbreaking personal challenges.
A teenager under the influence of drugs rear-ended a car with several members of his family inside – killing his six-year-old granddaughter and severely injuring several other family members.
Lonnie says his family will never be the same again, and they won't.
But despite seeing the loss of a young life… he has not lost his passion to change young lives.
Today, at 59 years old, he'll be certified to teach pre-K through 12th grade.
The kids he'll meet in the classroom couldn't ask for a better role model – Lonnie, we're so glad you have never stopped learning. Congratulations. I'm so proud of you.
…Lift up others
…Always go to your strength
…And never stop learning
Three lessons to live by…
Three lessons exemplified by everyone in this room. All of the graduates. All of you.
Because no matter how hard it got…and I know there've been hard times…you never lost your faith in yourself and what you can do.
Maybe you took a chance. Maybe you learned something new. Maybe you discovered a strength you never knew you had.
But one thing is certain – whatever it was that got you here today – it's lifting all of us up. Making us better. As individuals. As communities. As a country.
I will close with a quote by Michelangelo.
Most people think of the famous ceiling of the Sistine Chapel when they hear the name Michelangelo. But interestingly enough, Michelangelo resisted painting – he considered himself a sculptor.
It was as a sculptor that he shared these words: "I saw an angel in the marble and carved until I set him free."
There is an angel in each of you. You might not see it today, but it's there.
The degree you've earned is your chisel, giving you the tools you need to help build the life you want to live.
You all have something that makes you come alive. That's your angel. Find it – and carve and carve – until you set it free.
So today, reflect on how far you've come. Tonight, celebrate your hard-earned achievement with your friends and family.
You have a whole world in front of you, and the determination to take you anywhere you want to go.
On behalf of President Obama, the First Lady and the Vice President, my husband Joe – we are proud of you. We look forward to all that is to come – congratulations!
Jill Biden, Commencement Address by Second Lady Jill Biden at Broward College in Fort Lauderdale, Florida Online by Gerhard Peters and John T. Woolley, The American Presidency Project https://www.presidency.ucsb.edu/node/336782