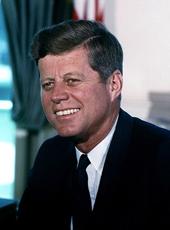 Columbus Day Statement by Senator John F. Kennedy
Columbus Day commemorates modern man's greatest achievement in pressing forward the frontiers of the world. A young man, Christopher Columbus defied the scorn of geographers at home and the perils of the uncharted sea to conquer the Atlantic and open the way to the great civilization which has been built in America.
Today we honor not only Columbus, the discoverer, but also the millions of Americans of Italian ancestry who have contributed so mightily to the development of the United States. They brought with them the pioneering spirit of the ancient Romans, and they have done much to keep our democracy fresh in spirit and strong in action. From them have come distinguished Members of the Senate and House of Representatives, and Governors of some of our greatest States. The names on any war memorial testify to their patriotism in war, and enshrine their devotion to duty, accepting the supreme sacrifice - the giving of life itself.
The friendship that binds America and Italy in close alliance finds dynamic testimony in the North Atlantic Treaty Organization, which unites our peoples in common cause for the defense of freedom against totalitarian aggressors.
May the spirit of Christopher Columbus abide with us today, as we honor the contributions of all our citizens who have ever called Italy their homeland - as we push forward toward new frontiers of human happiness for this America, to whose building we have pledged our hopes, our labors, and our loyalty.
John F. Kennedy, Columbus Day Statement by Senator John F. Kennedy Online by Gerhard Peters and John T. Woolley, The American Presidency Project https://www.presidency.ucsb.edu/node/274514